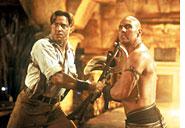 Movies
The Mummy Returns (Universal). Several critics refer to this movie as a roller coaster of action (babes doing martial arts), plot twists (including flashbacks and reincarnations—click here for David Edelstein's catalogue in Slate), and special effects ("probably the most expensive Saturday matinee serial ever made" says Kenneth Turan of the Los Angeles Times). They either love or hate the ride. The happy coasters find its visual references comforting. "There's much mumbo-jumbo about past lives and symbolic tattoos, but who cares when you can gaze at a sight as lovely as a dirigible floating in the night sky?" (Susan Wloszczyna, USA Today). "In telling this story, writer-director Sommers has not neglected to throw in a lot of old-fashioned elements to make us feel at home, including chests that really shouldn't be opened, birds that deliver messages, and scenes reminiscent of the Biblical pageantry of The Ten Commandments" (Turan). The rest simply think its computer-generated desert battle looks fake, its multi-climactic ending feels unmoored, and its winks at old and recent films are derivative (actually "the least original motion picture ever" are the exact words of New York Times' Elvis Mitchell). (Click here for the official site. Click here for a mummy filmography.)
The Golden Bowl (Lions Gate). Most critics cheer for Kate Beckinsdale and Nick Nolte, who play a father-daughter team of rich Americans in Europe at the start of the 20th century. But the reviews for their amorous spouses are mixed—depending on whom you ask, Uma Thurman is gawky or gorgeous and Jeremy Northam has a great Italian accent or a horrible one. Consensus overall is that this lush, sudsy Merchant-Ivory adaptation of the novel by Henry James doesn't do justice to the subtlety of its characters. Interestingly, opinions about the film don't split down standard art-house-vs.-lowbrow lines: Andrew Sarris says the filmmakers' "taste is particularly refreshing when so much of filmmaking has descended to the most vulgar level of the bottom line" (the New York Observer) while Jonathan Foreman of the New York Post thanks the filmmakers for taking a book that's unreadable by many and making it accessible to most. According to Stephen Holden, the film is Merchant-Ivory's "profoundly ambiguous statement about their own passion for the cultivated, high-culture sensibilities, as opposed to the cruder mass culture that has eclipsed these literary heroes" (the New York Times). (Here's a site on the Merchant-Ivory oeuvre.)
Pavilion of Women (Universal-Beijing). Another adaptation (from a novel by Pearl S. Buck), another historic moment (the eve of Japan's invasion of China during World War II), another foursome (wife falls for her son's teacher, and her son falls for his father's concubine). But this one gets uniformly bad reviews. At least five reviewers call it melodramatic and clunky. All say this drama reminds them of classic Hollywood weepies. Though the movie was filmed in China, its Chinese actors struggle to speak the dialogue in English, which makes everyone uncomfortable. But the Washington Post's Rita Kempley revels in the kitsch others criticize with these bad metaphors: The movie is "as bland as a fortune cookie and as trite as the message inside" and "you could be one chopstick short of a set and still have no doubt about what's going to happen next." (Click here to read about producer and lead actress Yon Luo.)  

Music
Survivor, by Destiny's Child (Columbia). The latest from the Grammy-award winning divas gets mixed reviews. Critics disagree about the source of the group's musical strength: Either it "has always been in their vocal prowess" (Steve Jones, USA Today), or "maturity and conviction don't entirely hide a lack of vocal power" (Natalie Nichols, the Los Angeles Times). But a few things about the album have all the critics nodding: 1) The uptempo booty-shakers are a plus (but the hypocritical preaching on tracks like "Nasty Girl" is annoying); 2) the album is a showcase for leader Beyoncé Knowles, who dominates as the group's principal singer, producer, and songwriter (lots of comparisons to Diana Ross and the Supremes). The Village Voice's Jessica Winter has this gloss: "Beyoncé is the most beautiful, most popular seventh-grader, drunk on her own power, and the reverend's daughter to boot. She's a mean drunk, too, rubbing everybody's face in her Chosen status until she looks around one day and finds she only has two friends left." (Click here to link to the "Survivor" video.)

To purchase this CD from 800.com, click here.

Reveling/Reckoning, by Ani DiFranco (Righteous Babe). Critics say this two-CD set, produced at a home studio, is one of the folk singer's most musical and eclectic efforts yet, with a slew of instrumental tracks; DiFranco playing an assortment of instruments; guests like saxophonist Maceo Parker, trumpeter Jon Hassell, and pedal-steel man Lloyd Maines; trademark deeply felt, thought-provoking lyrics that are both personal and political; plus new funky and jazzy sounds. A highlight: " Garden of Simple" is a "veritable distillation of all the elements that make this singer-songwriter tick—defiant anti-consumerism, wistful romanticism and a rough-hewn strumming style that brings to mind Woody Guthrie's insistence" (David Sprague, Variety). (Click here for links to listening samples; here for DiFranco's official site.)

To purchase this CD from BestBuy.com, click here.

Books
Glue, by Irvine Welsh (W.W. Norton & Co.). Early reviews are calling this a more literary sequel to Welsh's Trainspotting. Reviewers say the author focuses here less on the interior thoughts of his four protagonists than on their outward struggle to stick together into adulthood and the new millennium. "Glue gives its characters histories and futures, and a generational canvas to move across" (Alexander Linklater, Prospect). Glue's also got plenty of brutality, drugs, rebellion, and street-talk obscenity (as well as his usual Scottish dialect). Welsh turns "the multigenerational epic novel of self-discovery … into a mere playground for the glorious energy, wit and poetic sensibility of his prose. … Glue is a great example of why Welsh caused such a fuss in the first place" (Dennis Cooper, the Los Angeles Weekly). Most reviewers agree, focusing on the novel's ability to cement Welsh's place as "the grand old man of in-your-face Scottish fiction" and "a writer to be taken seriously" (Publishers Weekly). Flaws: bad editing that failed to get rid of a moralistic section in standard English and a contrived plot line. (Click here for a Welsh site.)

To purchase this book from barnesandnoble.com, click here.

Sputnik's Sweetheart, by Haruki Murakami, translated by Philip Gabriel (Knopf). Though not the best from this Japanese novelist, and perhaps best appreciated by fans with an "acquired taste" for his style (Janice P. Nimura, the Washington Post), this surreal, metaphysical mystery generally gets good reviews. A young schoolteacher is in love with Sumire, an aspiring writer, who is in love with her boss. Murakami uses the image of Laika—the dog sent up in a Russian satellite—as the central metaphor of "a passive explorer, a speechless hero who never chose her adventure and never returned from it. … [W]ithout belaboring the point, Murakami makes us see that the distant dog could equally well be the lover, the beloved or the artist" (Polly Shulman, Newsday). Kirkus raves: "Nothing is spelled out, but worlds of implication exfoliate from this stunning, beautifully structured novel: a moving depiction of the mystery of other people, ever capable of 'disappearing' into 'places' where we cannot, try as we may, follow them." (Click here for a selection.)

To purchase this book from barnesandnoble.com, click here.
---