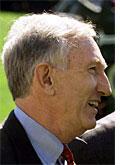 Control of the Senate will switch to the Democrats. Sen. James Jeffords, R-Vt., announced he will leave the GOP and become an independent. With Jeffords' promised support, Democrats will replace Senate Majority Leader Trent Lott and all GOP committee chairs. Jeffords' spin: Conservatives in the Senate GOP are steamrolling us moderates. I don't agree with Bush on abortion, judges, spending, defense, or the environment. What am I doing in this party? Angry GOP spin: Jeffords is "Benedict Arnold." Bush's spin: He's a good man who should work with me on tax cuts and education. Political CW: Jeffords will work with Bush on tax cuts and education. Other than that, Bush's agenda is DOA. Democrats' spin: Jeffords is "courageous." Besides, we promised him a committee chairmanship.—W.S.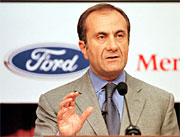 Ford will spend $3 billion to replace 13 million Firestone tires on its vehicles. Ford accused the Firestone Wilderness AT tire of defects and offered to replace the tires with Goodyear or Michelin models on all its Explorer SUVs. Two days earlier Firestone ended its decadeslong tire-supply relationship with Ford and denounced the Explorer as a dangerous vehicle. Both companies have faced hundreds of lawsuits from victims of Explorer rollover crashes, many of which occurred after tires lost their treads. Ford's spin: Wilderness AT tires lose their treads three times more often than other brands do. We're protecting our customers. Firestone's spin: Ford Rangers have 10 times fewer accidents than Ford Explorers do with the same tires. Analysts' spin: A corporate PR war will leave no winners.
Hindus in Afghanistan may have to wear identifying tags. Afghanistan's Ministry for the Promotion of Virtue and the Prevention of Vice proposed clothing labels to distinguish religious minorities from majority Muslims, who must follow government dress codes and prayer regulations. Taliban's spin: "Hindus should not look like Muslims, for their own protection, so that they are not bothered by the religious police." International spin: This is a pretext for oppression, perhaps even a pogrom. It cannot be justified.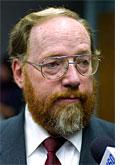 Utah convicted a polygamist. The state had charged Tom Green with bigamy and failure to support several of the 25-30 children he fathered by approximately 10 women. Prosecutors claimed Green is currently "married" to five wives (he has divorced the others). Most of the "marriages" were not licensed by the state, but Utah claimed that multiple nonlicensed marriages are still illegal. Green will be tried separately on charges of child rape stemming from one marriage to a 13-year-old. Utah allowed polygamy until it became a state in 1896. Mormon Church's spin: Don't look at us. We don't recognize Green as a Mormon, and we don't condone his behavior. Green's defenders' spin: Most polygamists are not prosecuted. This is a political case designed to clean Utah's image in time for the 2002 Winter Olympics. Utah's spin: Green bragged about his wives on television. We have to draw the line somewhere. Green's spin: I work hard to feed my family. Polygamy is part of my religion, "Mormon fundamentalism." Jurors' spin: We don't judge Green's lifestyle, but his behavior is clearly illegal.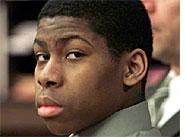 A boy who shot his teacher when the boy was 13 was convicted of second-degree murder. Nathaniel Brazill, now 14, had been charged as an adult with first-degree murder. He is the second boy in Florida to be so tried in the past five months. (In January, 14-year-old Lionel Tate was convicted of first-degree murder—which carries a mandatory life sentence—for killing a 6-year-old playmate when Tate was 12.) A judge will determine Brazill's sentence. Spins: 1) The second-degree conviction was a sensible compromise between manslaughter and first-degree murder. Maybe Florida juries take age into account after all. 2) He got second-degree only because the jury determined that the gun went off by accident. His age had nothing to do with it. 3) Yes, but these cases might force Florida to review its juvenile law.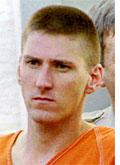 L ouis Freeh apologized for the FBI's misplacement of McVeigh documents. The FBI director told a House panel that he took full responsibility for the thousands of legal documents never given to Timothy McVeigh's lawyers. Earlier this week, McVeigh's lawyers indicated that he may seek to delay his execution—now scheduled for June 11—or even seek a new trial. Last week the Justice Department delayed the lethal injection of McVeigh, originally scheduled for May 16, after the FBI discovered the missing documents; this week a field office discovered 10 more documents. Oklahoma bombing co-defendant Terry Nichols, who was convicted of conspiracy and involuntary manslaughter and sentenced to life in prison, has asked the Supreme Court to reopen his case. Justice Department's spin: The documents do not cast reasonable doubt on McVeigh's guilt, but this is about fairness. We will investigate why this happened. Critics' spins: 1) Six years after the bombing, and a week before the execution, they discover the documents? It's suspicious. 2) No, it's just another FBI screw-up. McVeigh lawyers' spin: Yes, McVeigh has admitted to the bombings, but if he was part of a larger conspiracy, wouldn't the public want to know? (Read this"Frame Game" for an argument against killing McVeigh.)
Fewer than one in four U.S. households contain a married couple with children. In 1960, 45 percent of households contained such families. The Census Bureau also reported that 1) single-mom-with-kids households (7 percent of all households) are growing at more at than four times the rate of husband-and-wife-with-kids households; 2) nearly 10 percent of couples living together are unmarried; 3) more than a quarter of households contain just one person; and 4) a third of U.S. households are non-family (i.e., singles living alone or with non-relatives). Spins: 1) The nuclear family is dead. 2) No, rates of divorce and single motherhood actually slowed in the '90s. But the elderly are living longer, and couples are taking longer to get married. 3) Because single mothers are poorer than married couples, and because fewer households have kids, schools and kids suffer.
The XFL died after one season. The flashy football league started by World Wrestling Federation owner Vince McMahon drew record ratings on NBC prime time during its opening week, but viewership plummeted from there. After NBC dropped the league, McMahon failed to get a cable TV contract. XFL announcer (and Minnesota governor) Jesse Ventura's spin: The media jackals couldn't handle our brash attitude, so they ignored us. Analysts' spins: 1) The XFL is the third failed NFL alternative in 30 years. You can't beat the champ. 2) You don't have to beat the champ—the Arena Football League is thriving after 15 seasons, but it doesn't waste its time comparing itself to the NFL or flaunting "attitude." (To read Moneybox's prediction that the XFL would fail, click here.)
---