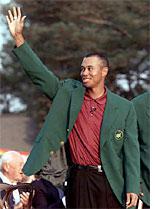 I don't generally go around rubbing salt in the wounds of people who have disagreed with me and then been proven wrong. But that's just because the opportunity doesn't generally arise.
I refer to Slate's intramural disagreement over whether Tiger Woods is omnipotent and omniscient or merely a great golfer. In several columns published over the past year, I leaned toward the former interpretation. I argued that Woods is "the most dominant player in the history of golf" (and could become "the most dominant athlete in the history of sports") and that he " might as well be a visitor from an advanced civilization in another galaxy." And, going out on a limb, I also suggested that Woods is an appreciably better golfer than I am and tried to uncover the secret of his success.
Then a few weeks ago in Slate's "Sports Nut" column, my esteemed colleague Brad Reagan wrote that maybe Woods' cheerleaders (that would include me) have been overextrapolating from last year's hot streak. "Seemingly lost in the glare of Tiger's blinding celebrity is the possibility that his recent dominance is an anomaly, not an indicator of things to come. Heresy, you say?"
Now I do, yeah. Yesterday Woods won the Masters, becoming the first man ever to win consecutively pro golf's four major tournaments—the U.S. Open, the British Open, the PGA, and the Masters. The last comparable feat came in 1930, when Bobby Jones won the four majors of that era—the U.S. Open, the British Open, the U.S. Amateur, and the British Amateur.
However, like Tiger, I am magnanimous in victory. In a sense Reagan is right: Last year's hot streak was unsustainable. Woods won the U.S. Open by the biggest margin of victory ever and the British Open by the biggest margin (eight strokes) since 1913. He definitely can't keep that up. But that's the point: He is so far beyond his peers that he can go through a relatively cool period—like now—and still vanquish them all.
Of course, he could cool off further. He almost certainly will not win all three of this year's remaining majors, and he may never again win four majors in a row. Still, unless he out-and-out self-destructs—booze, drugs, dames—he will continue to be in a league of his own for most of the next 15 years and easily break Jack Nicklaus' career record of 18 major victories. (Woods, at age 25, has won six majors, and golfers generally peak between 25 and 35.)
Actually, Woods might be more likable if he did have a bout with booze and drugs, or show some other form of human frailty. Though it's easy to admire him, it's hard to relate to him. Yesterday I was rooting for Phil Mickelson—not just because he's too good to have not won a major by now, and not just because he seems like a nice guy (unlike David Duval, the other PGA golfer who should have won a major by now and hasn't); but also because Mickelson is so plainly human: Like the rest of us, he suffers little lapses that keep him from realizing his full potential. I like that in a man.
Tiger, on the other hand, is nearly lapseless. I was barely joking when I titled one of last year's columns about him "the brother from another planet." Yesterday after the tournament he described his state of mind as an "eerie calmness." Eerie is right. Admirable but eerie.
Speaking of inner calm: One part of my theory of Woods' greatness—that the Buddhist teachings imparted by his mother help him "live in the moment"—got some support yesterday, when Woods said that out on the course he wasn't thinking about the landmark significance of this victory. "I was so attuned to each and every shot that I focused so hard on just that one golf shot," he said. Then, "I finally realized I had no more to play. That's it. I'm done." No he's not.
---