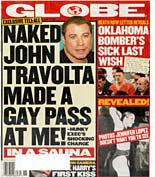 In their anthropological inquiry into the nature of celebrity-hood, the tabloids often exhibit a fundamental ambivalence. It's never quite clear whether they prefer to show that deep down, celebs are really just ordinary folks like the rest of us—foibles, bad-hair days, mundane errands, and all—or whether they would prefer to revel in celebs' exotic otherworldliness. A Globe story about how Nicole Kidman's friends are trying to help her out of her post-Tom Cruise funk, for example, claims that "there's a standing offer for a private jet to take her to any resort or spa in the world on a moment's notice," while the Star reports that Puffy—er, P. Diddy—Combs spent $500 on "hand-embroidered French silk panties" in an attempt to woo back Jennifer Lopez. That duality has been unusually salient of late, with the tabs delighting in the stars' essential normalcy then vilifying them for being, well, normal.
The Globe is all aflutter, for starters, over photos of actress Jacqueline Bisset pruning tree branches. Yes, you heard right. "Just because [Bisset] is rich and famous doesn't mean she won't get down 'n' dirty around the yard of her Beverly Hills home," enthuses the Globe. After the tree trimming, an eyewitness reports that Bisset "raked up the branches and brushed the leaves off her car all by herself." (What? The celebrity pruning fairy didn't swoop down and take care of that part?) "I was amazed to see her doing stuff like that," a "surprised eyewitness" reports. "But I guess she's not afraid to go out on a limb and do her own chores." (There appears to be a minor epidemic of people speaking to the Globe in unbearably cheesy and punny clichés. One anonymous source notes that Nancy Reagan, spotted on her way to deal with a dental emergency, is "normally happy to flash her smile, but these days she can't help looking down in the mouth.")
Then there's the Globe's story about how a "crushed" Meg Ryan is licking her post-scandal wounds by "shedding much of the attitude and trappings of the pampered superstar," plunging headlong into domesticity and soccer mom-hood. "She's returned to doing her own housework," gushes a friend. "She does crafts and cooks meals at home for her son and friends." At her building in New York, neighbors are reportedly "still in shock that Ryan is now as nice as the characters she plays on the big screen! It used to be she wouldn't give anyone the time of day, but now she stops to chitchat." A "New York pal" avers that Ryan is "definitely as much a mom and homebody as I've ever seen a movie star be." The National Enquirer marvels at Oscar-nominated actress Elisabeth Shue, photographed on an outing with her week-old daughter, Stella. She "leaves the trappings of Hollywood behind when she switches into her coveted mom role," says the Enquirer. "She just lugs around the diaper bag just like other dutiful parents." And certainly all those other dutiful, diaper bag-lugging moms can relate to having a publication like the National Enquirer tactfully point out one week post-partum that they are "still working on losing [their] pregnancy weight."
At times the tabs seem positively giddy over fueling the fantasy that a celebrity lurks, butterfly-like, inside us all. Witness the Globe's unflattering spread of photos of Jennifer Lopez during her early days as a dancer in the late '80s ("Who's That Cheeky Girl?"). The photos, says the Globe, document Lopez's "humble beginnings as a plain and pudgy wannabe" and even show her—no!—munching on pizza and birthday cake. ("I don't know if you'll catch her eating pizza and birthday cake anymore," notes a friend. "She had a sweet tooth back then and liked rich, fattening goodies.") Surely if J. Lo. could get beyond a sweet tooth and that "old-fashioned hairdo" to become worthy of $500 hand-embroidered silk panties, you can too! The Star's "Night and Day: How Hollywood's Most Glamorous Stars Really Look" reports that "when she's jogging, Meg [Ryan], 39, doesn't sweat the way she looks." Oh my God! Keeping Tabs doesn't look glamorous while exercising, either!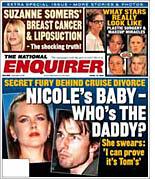 The Enquirer takes it one step further, devoting a 32-page cover special to "What Stars Really Look Like," which begins with the obligatory aw-shucks introduction: "Don't hate them because they're beautiful! Without makeup artists, hairdressers and professional stylists, not to mention pricey plastic surgery, glam gowns and big bucks baubles, Hollywood stars are just everyday people." There's a spread called "Check It Out" showing stars engaging in that favorite Tabloidland pursuit, grocery shopping. "Stars have to eat too, don't they?" asks the Enquirer. "Sometimes they even dress down and do their own grocery shopping!" ("The man behind the shades is no ordinary dad out with his daughter—it's dapper Antonio Banderas!") And let's not forget the "Scars of the Stars" spread, which features closeups of all the various cicatrices that mar seemingly flawless celebs like Catherine Zeta-Jones (tracheotomy), Joaquin Phoenix (cleft lip), and Sharon Stone (neck injury).
But when it comes down to the actual photos of celebs caught with their hair down, the Enquirer turns all catty and standoffish. "On the silver screen, the mall screen or magazine covers, these stars are primped to perfection," the story explains. "But when they're out and about, these lovely ladies can be flat-out unattractive!" Look what they say about Sopranos star Edie Falco: "On an off day, makeup and hair styling might be an offer she shouldn't refuse." Sarah Jessica Parker is "a different woman when she can't find a comb." And those photos of Oprah caught on the street after a trip to Barneys? "On a charge of blahness while shopping, the verdict is: Guilty," sniffs the Enquirer.
The strangest celebrity demystification, however, comes from the Star, which weighs in with "Madonna Unmasked!" which appears to be nothing more than an elaborate excuse to run a series of photos of the singer taking a walk with her husband in flip flops and no makeup. "Madonna has been unmasked and it's not a pretty sight!" the story begins. "While MTV and VH1 were banning the pop diva's violent new car-crash video, a dressed-down Madonna was seen out for a stroll with husband Guy Ritchie looking like a messy wreck herself." If you're struggling to find the connection between those two events, you're not alone, but the Star conveniently provides one: the photos supposedly show that Madonna's "life as a tousle-haired homemaker at her $6.5 million Beverly hills estate" is "far-removed from the calculated ultra-hip image she projects." (We're shocked. Shocked!)
The requisite "music insider" is called in to reassure us that the violent video, in which Madonna mows people down in her car and sets a gas station on fire, "is just her latest gimmick to drum up publicity." Ohhhhhhh. See, Keeping Tabs thought she really did all those things, but the insider explains that the anger is "just an act" and lets on that Madonna's mission—in case you've been on, say, Saturn, for the last 15 years or so—"has always been to sell albums by shocking and outraging the public."
"This video shows a lot of pent-up rage," the insider continues. "But I find it hard to believe. Madonna's rich, famous, has two beautiful kids and is happily married. What reason, other than selling records, does she have to be so angry?" Let's see. Maybe it has something to do with the fact that she can't go for a goddamned walk without the Star tagging along?
---