Movies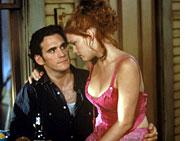 One Night at McCool's (USA films). Critics call this a "Kmart Tarantino" (Wesley Morris, the San Francisco Chronicle) film-noir parody about three chumps who fall for the same no-good girl. They say the movie feels dated and is all effort, overbroad humor, and nihilism. It's told like a "Mad Libs version of Rashomon" (Elvis Mitchell, the New York Times), with each man confessing his side of the story; this makes it "overly talky" (Kevin Thomas, the Los Angeles Times) and "never really gives us anyone to identify with" (Roger Ebert, the Chicago Sun-Times). Everyone likes looking at Michael Douglas' polyester pompadour and capped teeth and Liv Tyler's suds-covered body, though they say she's acting way out of her range. The most positive reviews say it's funny if you go in for froth and cynicism. (Click here for Tyler shots.)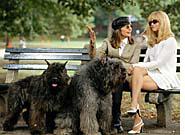 Town & Country (New Line). Bad reviews for this unfunny infidelity farce about two upscale, middle-aged Manhattan couples (Warren Beatty runs around on Diane Keaton, Garry Shandling on Goldie Hawn). Lots of unfavorable comparisons to Woody Allen pictures. Many say it's a jumble of styles—comedy of manners, physical slapstick—and complain that the plot arbitrarily whisks the protagonists out of the city when it has no place else to go. More complaints: It's full of loose ends and says nothing meaningful about marriage. Kenneth Turan is particularly adamant (and arguably over-the-top) in his pan: This film, "nearly three years in production, is so convoluted and the results so painful you'd need a war crimes tribunal, not a critic, to properly apportion blame" (the Los Angeles Times). The scene that provokes the most talk—critics love it or hate it—involves Beatty's visit to the home of Andie MacDowell (one of his extramaritals), where he meets her parents: a gun-toting friend of Ernest Hemingway's played by Charlton Heston, and a wheelchair-bound, profanity-spouting, sex-starved Marian Seldes. (Click here for the official site.)
Driven (Warner Bros.). Lots of flashy racing footage—plus a script and a backseat role by Sylvester Stallone, who plays a veteran driver called in to coach the young blood. Owen Gleiberman labels director Renny Harlin "a poor man's Tony Scott" (Entertainment Weekly), but A.O. Scott thinks the movie is full of the "leathery macho self-pity" of Ridley Scott's Gladiator (the New York Times). All say the plot lines are predictable, the dialogue is ridiculous, and the characters carry "so much baggage that you wonder if Samsonite is the team's sponsor" (Scott). More car-talk about the cast: "[T]he supporting players possess the acting chops of traffic cones and, seemingly, IQs lower than the speed limit in a school zone" (Rita Kempley, the Washington Post). Mike Clark of USA Today calls it a definite early contender for worst-of-the-year status. (For fans, here's a Stallone site.)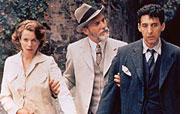 The Luzhin Defence (Sony Picture Classics). An even-more-intense-eccentric-and-tormented-than-usual John Turturro plays a Russian chess genius who falls in love with an aristocratic and rebellious Emily Watson at the 1929 championships in a beautiful Northern Italian villa. Critics love the acting and the visuals, though they find the central love story unbelievable. Two main concerns: 1) chess on film. Director Marleen Gorris knew what she was up against and tried to appeal to audiences by playing up the relationships and romance, sometimes in overly sentimental and melodramatic ways; critics particularly disdain her juxtaposing Luzhin's lovemaking scenes with his chess moves. 2) Does it do justice to Nabokov's original story? Some say yes ("Ms. Gorris has captured both the novel's heartfelt romanticism and its dashing intellectual vigor," according to the New York Times' A.O. Scott), most say no. "It's as if the filmmakers realized that Nabokov's ending would not work but were afraid to abandon it. Instead they keep it and append a kind of cop-out coda that makes things worse" (Andy Seilor, USA Today). (Click here for a Nabokov portal; here for more on Nabokov's version; here for an interview with the director.)

Books
Three Apples Fell From Heaven, by Micheline Aharonian Marcom (Riverhead). Critics praise the lyricism and authenticity this first-time novelist achieves in her tragic account of the Turkish expulsion and extermination of Armenians during World War I. All say Marcom, a third-generation Armenian-American, has provided much needed and moving testimony. "Like those who write about the Jewish Holocaust, Marcom faces the well-nigh impossible task of speaking the unspeakable; unlike them, she cannot count on her readers to be familiar with the outlines of the story already. She rises to this double challenge not with a diatribe. … The fierce beauty of her prose both confronts readers with many breathtaking cruelties and carries us past them" (Margot Livesey, the New York Times). The novel is divided into short chapters comprised of different voices (a young girl's, a soldier's) and styles (a consular report, a fable). Reviewers say this effectively conveys a sense of fragmentation and suffering as well as the historical facts and a glimpse of life before the genocide. "She has chosen an unusual structure, a tapestry of many vignettes that depict a shattered Armenian culture and way of life through the memories of victims and bystanders, those who hid, those who died, and those who tried vainly to help" (Kirkus). (Click here for a selection.)— Y.S.

To purchase this book from barnesandnoble.com, click here.

The Raymond Chandler Papers: Selected Letters and Non-Fiction 1909-1959, edited by Tom Hiney and Frank MacShane (Atlantic Monthly Press). Some say this collection of correspondence (largely on the craft of writing and the work of other writers, often boozy-toned and dictated late at night) provides insight into the lonely and opinionated mastermind of Los Angeles crime stories of the 1930s through the '50s. "Chandler knew surprisingly little about detectives … [and he] bore scant resemblance to his hard-boiled alter ego; indeed, he retained an old-school British snobbery" (Roger Lowenstein, the Wall Street Journal). The Nation's Hollywood issue proclaims the professional letters present Chandler "in a wholly unexpected light." But some claim they say more about ourselves: "That this is hardly enough new material to warrant a new edition says something important about the public's insatiability for … his fervent vindications of genre writing … testiness toward publishers … [and] unmatched perspicacity about Hollywood. … These letters, of course, are not Raymond Chandler, any more than Philip Marlowe is" (Donna Rifkind, the New Times Los Angeles). Fans will find gems (Chandler's account of the 1948 Academy Awards and a letter to Hitchcock bitching about the script of Strangers on a Train), but critics say the volume suffers from shoddy organization and annotation, such as "Hiney's maddening refusal to flag those selections appearing for the first time" (David Kipen, the San Francisco Chronicle) and a questionable "special effort to publish the great man's dreck" like his early poetry (Kirkus). (Here's a good Chandler portal.)—Y.S.

To purchase this book from barnesandnoble.com, click here.  

Music All for You, by Janet Jackson (Virgin). Critics say this album is polished but unremarkable R&B-dance-pop-diva fare—except for some super-sexy tracks. It's what you'd expect from an upbeat Jackson: "[a] frothy butt shaker and skilled throwback to old-school disco" (David Browne, Entertainment Weekly) that is "self-consciously provocative, filled with enough sultry slow jams as well as her trademark dance tunes to keep heads nodding through the summer" (Renee Graham, the Boston Globe). But it's more X-rated than anything she's done yet; critics are taken aback by the heavy breathing and very sexy lyrics on "Would You Mind." "Always a lightweight singer, Jackson is most in her element when whispering and moaning through a series of ever-more-specific tunes about what she'd like you to do to her" (Natalie Nichols, the Los Angeles Times). One embarrassing moment many critics boo is Carly Simon's attempt to rap during Jackson's remake of "You're So Vain." And, to make things even juicier, there's talk that the expletives on this track are directed at Jackson's second husband, who's suing her for $10 million. (Click here to listen to samples and to read an interview with Janet.) – Y.S.

To purchase this CD from 800.com, click here.
---