Movies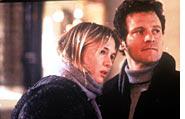 Bridget Jones's Diary (Miramax). Renée Zellweger gets raves from the critics who say she's a super-sympathetic Doris Day- or Judy Holliday-version of Helen Fielding's chubby, self-conscious, charming, bumbling single girl torn between a sexy cad (Hugh Grant) and a dull sweetheart (Colin Firth). Washington Post critics are notable dissenters, focusing instead on praising the performances of the male leads and pointing out that Zellweger "never quite seems smart enough" (Stephen Hunter). Some female critics find Zellweger's Bridget preferable to the book's Bridget. "She's lost her victimhood. While Ms. Fielding's Bridget delighted readers with endless tales of her humiliation, the very presence of Ms. Zellweger changes that" (Janet Maslin, the New York Times); "She removes the sting of the book's portrait of generic women whose only purpose in life is to marry despite ghastly images of wedlock, and makes Bridget entirely, delightfully particular" (Molly Haskell, the New York Times). (David Edelstein is charmed by Zellweger's Bridget but disappointed that the film lacks many of the book's details. Click here for his review in Slate. Click here for the Guardian's interview with Zellweger.)— Y.S.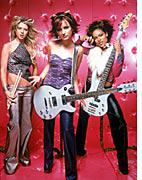 Josie and the Pussycats (Universal). Mostly bad reviews for the Spice Girls version of the original "Archie Comics" girl-band. Critics say this upbeat spoof of youth consumer culture has hints of Spinal Tap and Clueless moments, but overall it's more like a wannabe Charlie's Angels. The plot is fluffy and, many critics pun, "im-purr-fect" (Susan Wloszczyba, USA Today) "pop-cultural piffle" (Rita Kempley, the Washington Post), so most turn their attention to the state of preteen fads in America. The conclusions: Pussycats is self-referential and ironic in just the way teens like— it's "an orgy of knowingness" (Mike Poterma, National Review)—and is perfectly in line with "the new anti-corporate Zeitgeist, gone Hollywood" (Jane Horwitz, the Washington Post) appropriate to the age of the anti-advertisement. (Click here for Rob Walker's explanation of this type of advertising; here for Pussycats creators' spin.) Because it's full of intentionally obvious product placements, all critics accuse it of wanting to have its cake and eat it, too. (Click here for the official site and here for a look at the original characters.)— Y.S.
Kingdom Come (Fox Searchlight). Mixed reviews for this family serio-comedy based on the play Dearly Departed. The plot: funeral, fights, forgiveness. Some find it funny until the fart-filled finale. But a comedy about death and family squabbling, most critics say, is bound to be a mixed bag, especially when you add retro small-town African-American stereotypes to the mix. Critics veer between two points of view: 1) Its broad jokiness is "bluntness as a badge of pride," and its sappy sentimentalism is so heartfelt it's hard not to like (Stephen Holden, the New York Times); 2) the material is too "all over the map" and bloated like that of a sitcom pilot (Roger Ebert, the Chicago Sun-Times). The film's combination of farce and pathos is evident in that critics compare it to The Nutty Professor II: The Klumps; Soul Food; Steel Magnolias; and A Thin Line Between Love and Hate. The acting also varies: Critics say Whoopi Goldberg underplays well; LL Cool J's performance provides nuance; Jada Pinkett Smith's character is unbearable. (Click here for the film's official site.)—Y.S.

Books
This Is Not a Novel, by David Markson (Counterpoint). True to its title, This is erudite and experimental—a pared-down poetic compendium of literary history, musings, and quotations. Markson, a writer's writer (his last book was narrated by "Reader" and This is narrated by "Writer"), does not disappoint his knowing fans. Critics also note that despite the nonlinear format, Markson's writing seems personal, melancholy, and meaningful—unencumbered despite its erudition. This"memorializes the treasures and detritus of one man's singularly cultured mind" (Michael Dirda, the Washington Post); Markson "seems to have written a book that's entertaining in spite of himself. … This Is Not a Novel may not be a story, but it is something equally addictive: gossip, with a dash of puzzle" (Laura Miller, the New York Times). Kirkus raves: "Markson's list—out-Whitmaning Whitman—touches on death on every page, but also on art and the cost of achieving it. … And so, paying attention, read on through Writer's closing pages: subtle, inventive, ineffably moving. Not to the taste of all, true, but wondrous proof, from one of our few worthy successors to Beckett, that in a literary age mainly of entertainment the art-novel—the true-novel—can still take wing." (Click here for more on Markson.)— Y.S.

To purchase this book from barnesandnoble.com, click here.

Double Fold: Libraries and the Assault on Paper, by Nicholson Baker (Random House). An impassioned indictment of the library profession for its needless destruction of press archives. Critics say Baker is justified but polemical. Yes, microfilm is a pain, paper keeps, and archives are essential, but Baker goes a bit overboard in depicting bow-tie-wearing librarians as conspiratorial villains. For this book to work as a history, one historian writes, Baker had to make a more compelling case for why original newsprint, "studied as sources, open[s] up vast possibilities for deepening or understanding of the past" (Robert Darnton, the New York Review of Books). Others expect more than a jeremiad from the postmodern novelist: "Baker's trademark minutiae here just pile up like so much ballast for his rhetorical dreadnought … in opting so staunchly for the single-minded methods of argument over the more multidimensioned sensibility of fiction writing, Baker missed a chance to make Double Fold speak more amply about its great subtextual theme, which is after all a key conundrum of the Information Age … the fact that information itself is undivorceably both matter and abstraction, occupying not just the boundless head space of image and meaning, but the pricey real space of sagging shelves and bloated hard drives" (Julian Dibbell, the Village Voice). (Click here for an interview with Baker.)— Y.S.

To purchase this book from barnesandnoble.com, click here.

Spontaneous Mind: Selected Interviews, 1958-1996, by Allen Ginsberg, edited by David Carter (HarperCollins). Critics say this is a gem-filled, well-edited, wide-ranging collection that foments the myth of the beat poet: "Above all, we find him continually challenging settled ideas, especially his own. … Each interviewer tries to elicit the Ginsberg of his or her imagination—William F. Buckley Jr., the dangerous radical; Playboy, the homosexual crusader; fellow dropouts, the mocker of squares—and each time, Ginsberg performs judo flips on their expectations, handing back complex, nuanced versions of the attitudes with which they've tried to saddle him" (William Deresiewicz, the New York Times). Most critics say the collection may also convert some of those who never bought the "first thought, best thought" business; here, spontaneity proves "the streaming audio of a fertile intellect" (James Sullivan, the San Francisco Chronicle). And even those who think the interviews prove Ginsberg was "more than capable of being foolish" believe they also reveal him "incapable of being boring" (Kirkus Reviews). (Click here to listen to a Ginsberg poetry reading and here for a Ginsberg feature archive.)— Y.S.

To purchase this book from barnesandnoble.com, click here.
---