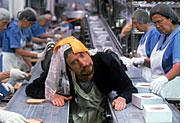 Movies
Freddy Got Fingered (20th Century Fox). Tom Green does not tread lightly—his moronic and obnoxious brand of comedy is frequently compared to Howard Stern's and Andy Kauffman's. In this "vomitorium" (Roger Ebert, the Chicago Sun-Times) of a film, he sprays his father with elephant semen, swings a baby over his head by its umbilical cord, and jokes about sexually molested children. In other words, Ebert warns, "Green's sense of humor may not resemble yours." Some critics call this one of the worst comedies they have ever seen. Several usual Green fans are disappointed, claiming Road Trip was "much funnier" (Gene Seymour, the Los Angeles Times) and that Freddy seems lazy and self-indulgent. "[T]here's got to be more to a feature length comedy than his own mocking, seething, look at how smart I am about being stupid self" (Owen Gleiberman, Entertainment Weekly); "The Green contingent in the theater … started off laughing heartily. But chuckles were soon replaced by groans. And the groans dissolved into a bored silence" (Susan Wloszczyna, USA Today). A.O. Scott remains faithful, claiming Green delivers above average gross-out fare, "a kind of pure and audacious conceptual performance art. … Mr. Green is less an actor than a persona, and he resolutely refuses to mark the boundaries of his imposture or to resort to the winking, supercilious pseudo-irony that remains the default setting for so much second-rate pop culture" (the New York Times). (Listen to Green at his official site. Watch him on MTV here.)— Y.S. Crocodile Dundee in Los Angeles (Paramount). Thin and tame, say the critics; it's so predictably derivative that they have little to add besides deeming it kid-friendly and not worth the price of the theater ticket. (Mike Tyson's cameo is little incentive.) To fill up space, they offer the requisite jokes about how leathery Paul Hogan looks ("the actor doesn't just represent breezy Australian national character, he's also a walking public service announcement for the importance of sunblock," says Lisa Schwarzbaum of Entertainment Weekly) and mention ads for Subaru Outbacks. Of course, since it's a trequel, they say, the movie's a bit self-conscious, but there's no bite to the satire. Since Mate can no longer hunt Aussie crocs, he helps track Hollywood crooks, which, critics say, only begs the question of why he didn't just retire. Those still charmed may "chuckle out of being led by the hand down memory lane, where the best surprise is no surprise" (Elvis Mitchell, the New York Times). (Click here for the official site.)—Y.S.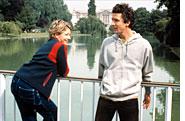 The Low Down (Shooting Gallery). High praise for this low-key, uncontrived, and nonprescriptive depiction of young Londoners going about their daily lives and trying to be happy. "No chic urban-slacker exercise,"The Low Down avoids both "faux-eloquent, self-pitying assertions of ennui and the sweeping presumptuousness of a generational manifesto. It's simply a candid, unpatronizing account of a predicament that might be described as the onset of embitterment" (Dennis Lim, the Village Voice). Critics like the acting of Aiden Gillen (from Queer as Folk) as a reflective art-school graduate unsatisfied with his job and timid in love, whose idiosyncrasies are caught effectively in close-ups by a hand-held 16 mm camera. "The Low Down exudes a seriousness about life and openness about style" (Desson Howe, the Washington Post) that critics say lends it "a ragged edge of authenticity" (A.O. Scott, the New York Times). (Click here and here to read about director Jamie Thraves.)—Y.S.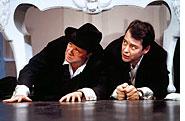 Theater
The Producers, by Mel Brooks and Tom Meehan. (Opens April 19 at the St. James Theater.) To say the critics are raving in advance would be an understatement. Based on Brooks'$2 1968 film, this musical adaptation starring Nathan Lane and Matthew Broderick has been buzzed as the biggest show this season and a shoo-in for the Tonys. Numerous articles analyze the film, the adaptation process, changing audience responses to its politically incorrect story, Hollywood-Broadway synergies, and The Producers' sold-out status. Just in case you haven't seen the movie: Two con men intentionally try to produce a Broadway musical flop but unwittingly score a hit with "Springtime for Hitler."The Producers ran in Chicago before previewing in New York and, though they pointed out some flaws—Brooks' blah new songs, "a lack of momentum in the opening scenes" (Hedy Weiss, the Chicago Sun-Times), and a bogged-down ending—critics generally gushed. Since then, there's been even more qvelling about Mel fulfilling his Brooklyn boyhood dream of making it to Broadway, along with talk of the final springtime of the alter kocker and nostalgia for his old-school Sid Ceasar humor and "the kind of musical-comedy showmanship that doesn't exist much anymore" (Richard Zoglin, Time). (Click here for an interview with Brooks; here for one with Broderick and Lane. Click here for stills from the movie.)—Y.S.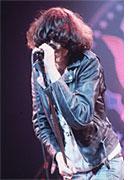 Death
Joey Ramone (May 19, 1951, to April 15, 2001). Obituaries for Joey Ramone, the iconic punk rocker who died on Sunday, predictably shade into hagiography: "As a front man, Mr. Ramone was a revelation" (Ann Powers, the New York Times). In general, the Ramones are described as a hugely influential band that didn't hit the Top 40 and always toured in a van; Joey is portrayed as a gangly, smart outsider with limited playing skills and a lot of innovative genius. Quotes play up his lack of pretension and seriousness regarding punk revolution. Critics label his ideology as both nihilistic ("I'm Against It" politics) or left-leaning (thrashing Reagan in "Bonzo Goes to Bitburg"). Interestingly, few reviewers hype the fact that he died on Easter Sunday, but many note that that his death on the silver anniversary of punk—commemorated on the cover of Spin (and at a time when punk is back on the cover of fashion magazines)—is a bit eerie. (Click here for the Spin feature, with links to sound bites; here for the Ramones' official site, with links to album reviews; here for Rolling Stone's tribute, with a link to their archive, including interviews with Joey; and here to see the first Ramones cover on famed Punk Magazine.)—Y.S.

Music
Until the End of Time, by 2Pac (Amaru/Death Row/Interscope). Reviews of the latest 2Pac posthumous release come with analysis of the gangsta rapper's growing hip-hop martyr myth. Believers say that though it suffers from some overproduction and has too many "mediocre R&B hooks" (Rap Street) that weren't on better bootlegs, Until is well done and a credit to Tupac's reputation as an artist and keeps it real with doses of hedonism, violence, social commentary, and sensitivity. "Deep as he ever was, 'Pac honestly conveys the passion and sentiment of his life" (the Source). Skeptics call the album "a redundant collection of 'thug life' bravado and unfocused anger. … [I]t's the trite, self-destructive sentiment that's tiring" (Neil Drunning, the Washington Post). Jon Caramanica of Rolling Stone blasts the record as "the offspring of the unholy alliance between mother Afeni Shakur's Amaru Records and Suge Knight's Death Row Records. Built partially upon unheard shards of Shakur's verse, the double-disc Until is weighty without being deep, filled out as it is with heavy bluster from Pac's Outlawz crew. … [W]hatever wisdom has been salvaged from the cutting-room floor is undermined by the slapdash beats that have plagued all of Pac's posthumous collections, proving, if nothing else, that it was personality that made Pac a star, not production." (Click here to listen; here for an article on Tupac's legacy; here for one on the rumors he's still alive.)—Y.S.
---