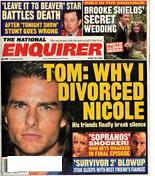 The most recent batch of tabloids left Keeping Tabs feeling unusually satisfied. Perhaps it had something to do with the fact that she read them while cruising at 30,000 feet in an Airbus A320 (lack of oxygen can make even prose like the National Enquirer's read like Tolstoy), but there seemed a certain pleasing well-roundedness to the latest crop, which make use of a commendable mix of the best tricks of the trade and the most reliable tabloid personae. And so, herewith, Keeping Tabs' recipe for a perfect tabloid experience.
1. Start with at least one story with an eye-catching headline that turns out to be about something wholly different. This week's prize goes to the Globe for its "Ricky Martin Rape Scandal" story, which turns out to be about a Ricky Martin look-alike from San Diego who's been charged with three brutal sexual assaults. "He did everything he could to look like Ricky," explains the crack detective on the case. "He did his hair like Ricky's, and if there was a sweater that Ricky was wearing, he'd go and buy it."
2a. Practice wildly hypothetical medicine. As any good tabloid reader knows, the tabs love to postulate about the possible health problems of the rich and famous. But the Globe seems to have taken this practice to a new level with last week's cover story on Sen. Hillary Clinton, which suggests that friends are concerned that she has not one but two hypothetical diseases: hypothyroidism and a "disease connected to [the former president's] womanizing." The requisite specialist, Dr. Yassar Ousman, makes the requisite disclaimer that he's not the former first lady's physician, but he assures us that the combination of the two—assuming Mrs. Clinton is indeed so afflicted—is not good news. If a person with untreated hypothyroidism gets an "intimate infection," they can "slip into deadly coma," Ousman explains. (Deadly diseases, of course, being the ultimate prize in Tabloidland.) The story goes on to say that "the Clinton's political opponents are delighted at the toll the 'pardongate' and White House gift scandals have taken on Bill and Hillary—but they continue to investigate the couple's medical history just in case there is a Clinton comeback." 
2b. Practice wildly hypothetical psychology. The Star weighs in with a story claiming that the "strained relationship" between Jennifer Aniston and her mother, Nancy, "hit a new low when her mom was stricken with life-threatening double pneumonia—and cold-hearted Jennifer refused to help!" Even Aniston's "close friends were shocked that she let Nancy seek medical attention at a dingy public clinic that treats the homeless and destitute," says the Star, and her "callous behavior" supposedly has friends worried that Jennifer is "sick, too—mentally." Sources are said to be "afraid she's cracking up. … How else could a daughter turn her back so completely on her mother?"
But the best part of the story is the cogent analysis of Aniston provided by the Star's favorite mental health professional, "noted New York psychologist" Dr. Jamie Turndorf, who concludes that the actress has "deep, unresolved psychological problems." Turndorf, too, makes the obligatory concession that she has never treated Aniston but has conducted an "in-depth study" of the actress' comments in a recent cover story in that well-known academic journal, Vanity Fair. Turndorf concludes that Aniston suffers from "toxic introject, psychological poisoning caused by the criticism her mother leveled at her when she was a child." Says Turndorf: "It is a dark, emotional disorder." Not to be outdone, Beverly Hills psychiatrist Dr. Carole Lieberman, author of Bad Boys: Why We Love Them, says the "obnoxious comments" recently made by Hugh Grant to an interviewer—he claimed that "no girl wants a nice guy" and that that he finds "the slightly grubby girl in the office" sexy, among other things—show that the actor is "a disgusting jerk!" (Is that a clinical term, doctor?) "His remarks show his hostility toward women," Lieberman continues. "It shows he's a real pig."
3. Bring out the tabloid Welcome Wagon. Keeping Tabs has long been amused at the way the tabloid buzzards so quickly swoop down into the lives of the newly notorious. Spy Kids No. 1 at the box office? Time for the Globe to bring out that " 'Spy Kids' Beauty's Lesbian Shocker" story, which explains that Spy Kids star Carla Gugino was raped on screen by another woman in a 1995 art house film. This week also marked the tabloid debut of The Weakest Link host, Anne Robinson, who passes with flying colors, providing both a relative who died tragically (Alzheimer's disease "ravaged her beloved mother," per the Globe) and marital strife (she was separated from her husband and then "begged to be taken back" says the Star).
4. Don't forget the regulars. Kathie Lee Gifford? Check. The Globe says she's "behaving like a TEEN IN LOVE" with her supposed new man, "hunky Broadway star David Engel." After one apparent public appearance together, insiders are said to be predicting a "long overdue showdown" between Engel and Gifford's husband, Frank.
Prince William? Check. The Globe says that the "hunky prince" is in a "rage" over comments his Aunt Sophie made about his mother to an undercover reporter. "I'll never forgive that woman. She's not fit to even mention my mother's name!" William reportedly "fumed to a friend." As to the inevitable comparisons between the two blonde royals, William knows exactly where he stands: "[T]he truth is she can never be like mother," he supposedly said. "She doesn't have her beauty or her kind heart. Sophie is a mean-spirited pretender who's got a heart like Cruella De Vil."
O.J. Simpson? Check. The Globe claims that a "sexy blond model who had a torrid three-in-a-bed session with O.J. Simpson and his galpal now says she's carrying his baby and is in a family battle over whether she should have an abortion!"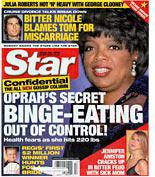 Oprah's weight problem? Check. The Star reports that Oprah went on a "secret vacation eating binge" on a private island in the Bahamas. "One afternoon she asked, real loud for all to hear, that the chef bring her a veggie sandwich to her suite," explains a source. "Then she buttonholed him when she was away from her friends and asked him to include a pecan pie, too. When the staff cleaned later, the veggie sandwich was intact and the pie had vanished. There were just a few crumbs left in the dish."
5. Add at least one story that makes KT shake her head fondly and say, "Ahhh. Only in the tabs." Honorable Mention to the Enquirer for "Jerry Mathers Rushes to Hospital in Life and Death Drama After He Swallows a Worm on Tonight Show" and the Globe for its private tour of former Love Boat doctor Bernie Kopell's house. But the winner is from Enquirer columnist Mike Walker, who reports that while vacationing in the romantic Italian countryside, Kevin Costner "suddenly turned to longtime live-in love Christine Baumgarten and said something like, 'Bella Mia, let's avoid the Hollywood hoopla and pledge our troth here in the magnificent hills of Tuscany.' " Yeah, Mike. Something like that.
---