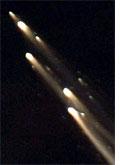 Russia ditched space station Mir. The 15-year-old, 138-ton object mostly burned up upon re-entry into the Earth's atmosphere. Russia's spin: The debris did not hurt anyone. "We will drink to it all having ended well and to us still being able to show we are good at something." Taco Bell's spin: Too bad. If it had hit our floating sign, every American would have received a free taco. Public's spin: You mean it went off without a hitch? How anticlimactic.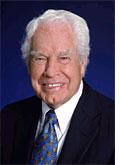 William Hanna died at 90. With his partner Joseph Barbera, he created animated TV series such as Tom and Jerry, Yogi Bear, Scooby-Doo, The Flintstones, and The Jetsons. Entertainment industry's spin: Walt Disney may have pioneered movie animation, but Hanna-Barbera made low-cost, long-running cartoon series possible. They paved the way for The Simpsons.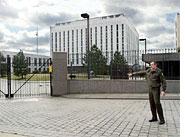 T he Bush administration sent 40 Russian diplomats packing. The expulsion, the largest since 1986, comes in the wake of FBI agent Robert Hanssen's indictment on espionage charges. Bush's spin: We will cooperate with Russia in some areas, but when it comes to espionage, we're just being realistic. Russia's spin: This represents a "relapse into the Cold War era." We are matching the expulsions tit for tat. (To read Slate's Anne Applebaum on the glamour of the KGB, click here.)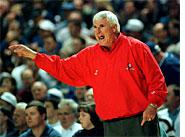 Bobby Knight will coach basketball at Texas Tech. Indiana University fired him last year for rude behavior, such as making sexist comments on television and allegedly choking a player. He had won three national titles in 29 years. About 100 of Tech's 900 faculty members signed a petition opposing his hiring. Meanwhile, the University of Louisville hired Rick Pitino, who had led the Boston Celtics to a dismal record after decades of success on the college level. Pitino pundits' spin: Louisville had better hope they get the old, miracle-working Pitino, not the new, lose-and-quit Pitino. Anti-Knight spin: Tech is selling its integrity to win games. Pro-Knight spin: He regrets his past behavior and has promised to change. Unlike many NCAA coaches, he recruits his players legally and gets most of them to graduate. That's more important than his occasional political incorrectness.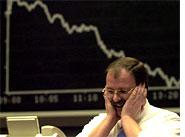 Stocks tanked, then recovered somewhat after the Federal Reserve cut interest rates. The Nasdaq and the Dow Jones each lost about 5 percent in the two days following the Fed's cut, then quickly recovered some of their losses. Fed's spin: The cause of the recent manufacturing decline—overstocked inventories—has almost corrected itself. We might adjust rates again before our next scheduled meeting. Critics' spin: The problem isn't just inventories, it's consumer confidence. The Fed needed to cut rates further. (To read Moneybox on why the market is "disappointed" with the Fed, click here.)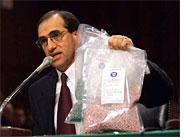 The government tripled jail sentences for selling ecstasy. Acting on a bill passed by Congress, the U.S. Sentencing Commission mandated as much jail time for ecstasy dealers as for dealers of powder cocaine and heroin. (The minimum penalty for dealing 800 ecstasy pills was raised from 15 months to five years.) A study last year found that ecstasy is used by 3 percent of eighth-graders and 8 percent of 12th-graders. Commission's spin: We're not going to jail teen-agers at clubs, just the dealers. Defense lawyers' spin: Sometimes they're the same. Ecstasy is far safer than heroin and cocaine. This is a political decision.
A study found that long-term estrogen therapy for post-menopausal women can cause ovarian cancer. The study of more than 200,000 women concluded that taking estrogen for 10 years or more doubles the risk. (Thirty percent of U.S. women have used hormone replacement therapy for at least five years.) Skeptics' spin: This study is bunk. 1) Ovarian cancer is so rare that the number of women in the study who died of it is not statistically significant. 2) Birth-control pills, which contain estrogen, decrease the risk of ovarian cancer. 3) Modern hormone treatments include progesterone, which decreases cancer risk. Most study participants took only estrogen.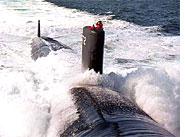 The sonar technician on the U.S. sub that sank a Japanese ship ignored his instruments. Testifying with immunity, Petty Officer Patrick Seacrest stated that he disregarded computer information that the Ehime Maru was nearby because his commander had not spotted the vessel during a periscope check. Seacrest admitted to ignoring proper procedure. Cmdr. Scott Waddle, who testified without immunity, later took responsibility for the accident. He said he did not realize until afterward that many of his sub's command posts were staffed by unqualified technicians. Conventional wisdom: Waddle ran a lax ship, but Seacrest made the crucial error. The big fish will take the fall, however.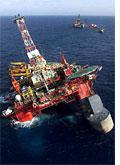 The world's largest oil rig sank. After an explosion last week killed 10 workers and knocked out a support beam, the 40-story structure sank in a mile of water about 75 miles off the coast of Brazil. It was expected to leak about 400,000 gallons of diesel gas and crude oil, most of which will be carried out to sea. (The Exxon Valdez spilled 11 million gallons.) Critics' spin: Brazil's state oil company, Petrobas, puts workers at risk to increase profits.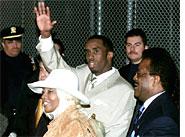 Puff Daddy was acquitted. A Manhattan jury acquitted hip-hop mogul Sean "Puffy" Combs of five counts of bribery and weapons possession stemming from a 1999 nightclub shooting. Puffy protégé Jamal "Shyne" Barrow, who fired shots in the nightclub, was found guilty of assault charges and could face five to 25 years in prison. Tabloid spin: Puffy beat the criminal rap but now must fend off lawsuits—including one for child support. Puffy's spin: I'm a changed man. My gangsta image got me in trouble. Cultural critics' spin: This was a trial about suits and celebrity, not assault. 
---