Movies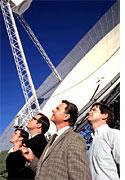 The Dish (Warner Bros.). The critics enjoy this quirky, feel-good, almost-true comedy about the Australian satellite scientists who, after much ado, successfully relayed TV images of Neil Armstrong's moon walk into 600 million homes via their huge radio telescope. "The dish in question is plopped like a futuristic stuffed mushroom in the middle of a sheep farm" (Jami Bernard, the New York Daily News) and "no shot of its looming particularity comes without Field of Dreams-style musical beatitudinizing" (Michael Atkinson, the Village Voice). Critics praise the movie's ability to sidestep jingoism while "capitaliz[ing] on cosmic awe" (Atkinson) by "presenting the great space adventure from a fresh perspective and context" (Kevin Thomas, the Los Angeles Times). The movie works, they say, because it portrays the small town's sense of involvement in a giant leap for mankind. "What gives the film a sharp edge of pathos to offset some often very broad humor is its pervading sense of how much it means for Australia to play a crucial role in a key achievement of Western civilization" (Thomas); it's "a sidelong, homegrown view of the mission" that "maintains a tone of wry nostalgia" through a "vision of Australia at the time as a jolly provincial backwater yearning for recognition on the world stage" (Stephen Holden, the New York Times). Consensus: corny, cheeky, charming, schmaltzy, poignant, makes you smile and get misty-eyed. (Click here for a picture of Armstrong's step and here for the film's official site.)— Y.S.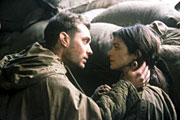 Enemy at the Gates (Paramount). Reviewers respond more negatively to the perspective and schmaltz of this nostalgic, possibly-partly-true World War II epic about rival snipers (Ed Harris and Jude Law) during the siege of Stalingrad. Critics note its Russian and German slant versus the standard American viewpoint and praise its impressive Saving Private Ryan- ish war scenes. But they generally find it too melodramatic (especially the dialogue, the score, and the Titanic- ish love triangle) and fault director Jean-Jacques Annaud. "If Enemy at the Gates were going to work, Annaud would have had to set up some kind of ironic relationship between the hundreds of thousands of people dying randomly and the almost absurdly focused, mano-a-mano fight-to-the-finish between the rival sharpshooters. But the director … seems oblivious to the abrupt shifts in scale" (David Edelstein, Slate); it's "a war movie in which the Nazidom of the Germans and the Commiedom of the Russians is barely noted—a World War II movie deracinated from history and politics … at its dumbly effective romantic heart, the movie is a simplified 'happy' hero's story. … The entire Battle of Stalingrad, in which some 800,000 Axis troops and over a million Soviet soldiers died, ultimately, comes down to a class struggle between two handsome men with rifles?" (Lisa Schwarzbaum, Entertainment Weekly). (Click here to read Edelstein's review; here for the Guardian's piece on the historical accuracy of the movie, and here for its official site.)— Y.S.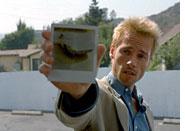 Memento (Newmarket). Reviewers say the crafty cleverness of this time-bending, labyrinthine film noir about memory and identity is a challenge to watch. The movie is told backward over a series of overlapping flashbacks and takes some effort to follow because a psychological puzzle is at its heart. (Click here for David Edelstein's explanation in Slate.) Leonard (Guy Pearce), a former insurance-claims investigator traumatized by the murder of his wife and a blow to the head, has lost his short-term memory so that in each scene he must reestablish how he got there. Since the film runs in reverse, viewers don't know why he's there either. "[P]aradoxically, the more we find out, the more pieces we can identify, the less we can be sure just what the truth is. … We learn … in fragments" (Kenneth Turan, the Los Angeles Times). All find the movie frustrating but disagree about its ultimate impact. "Memento is a brilliant feat of rug-pulling, sure to delight fans of movies like The Usual Suspects and Pi," but "doesn't in the end leave much of an impression. Like a day in Leonard's life, it slips easily from memory, favoring sensation over insight and the frisson of artificial confusion over any contemplation of human reality. … Memento, for all its undeniable formal dazzle, is a triumph of mind in the absence of matter" (A.O. Scott, the New York Times). "Watching Memento is a unique experience: tense, irritating, and all-absorbing. … Throughout, Leonard insists on the importance of fact over memory and, bravely pragmatic, argues against his own subjectivity. … The movie's final trick plays on the audience's similar faith … it snaps like a slingshot in jolting you back to linear time. Now where was I?" (J. Hoberman, the Village Voice). Reviews of Memento keep up the trickery: Newsweek's backward headline reads "Cool So Is Thriller This," and the first paragraph of Anthony Lane's review in The New Yorker ends "backward runs thing whole the, see you."Entertainment Weekly goes two ways at once: The headline urges readers to "Fuhgeddaboudit," but the subhead calls it "memorable." (Click here for the official site.)— Y.S.

Book Seabiscuit: An American Legend, by Laura Hillenbrand (Random House). This "amazingly true tale of the little horse who could" and the owner, trainer, and jockey who believed in him has the critics pining for that bygone day when all the nation huddled around the radio, elated, listening to the greatest race in history (Sherryl Connelly, the New York Daily News). Though the book's "slow out of the gate" (Karen Valby, Entertainment Weekly) and runs into occasional "patches of purple prose" (Michiko Kakutani, the New York Times), Hillenbrand's swift, vivid storytelling and meticulous reporting win critical appreciation by the end. And her allegorical rags-to-riches tale about America's need for hope, heroes, escape, and diversion during the Depression has everyone woozy from its sepia-steeped earnestness (yes, a film is in the works). "Call it heart. Call it being game. Seabiscuit raced to win" (Deirdre Donahue, USA Today); "As noble and honest as heroes come, Seabiscuit was an extraordinary athlete who embodied the heart and spirit of a nation" (Jim Squires, the New York Times). (Click here to read about the writing of the book, here for a first chapter, here for Seabiscuit's site, and here for a picture of Seabiscuit's most famous finish.)— Y.S.

To purchase this book from barnesandnoble.com, click here.

Music The Tijuana Sessions, Volume 1, by Nortec Collective (Palm Pictures). A compilation of Mexican electronica—a combination of traditional norteño accordion, ranchera guitars, banda tubas, and snare drums with techno dance beats—from the border town. The band, a diverse group of artists including DJs, writers, fashion and graphic designers, architects, and filmmakers, is promoting the album as border music in the vein of Talvin Singh's Indian electronica. Critics hail it as "wonderfully effusive musical fusion" (Robert Hilburn, the Los Angeles Times); "truly unusual music … sort of a bugged-out cousin to Fatboy Slim, or a south-of-the-border salute to the wigged-out sounds of the Boutique club" (James Lien, CMJ); "a computerized, international dance-music hybrid, and by grounding it in local music they suggest both a sense of history and a sense of humor" (Jon Pareles, the New York Times). A detractor wants more from these artists, whom he considers the real Latin music boomers: "The Tijuana-based musicians mean to show how Mexican beats can pound as hard as the latest drum-n-bass rhythms. They also want to prove that a city often known for its poverty can still have access to the latest dance-music technology. Unfortunately, the players seldom exploit the full zest of the Mexican beats and their command of synthesizers rarely seems more fresh than '70s Kraftwerk. So file this under: nice idea, poor execution" (Jim Farber, the New York Daily News). (Click here for profiles of some Nortec musicians and here to listen to samples.)— Y.S.

To purchase this CD from 800.com, click here.

Scorpion, by Eve (Ruff Riders/Interscope). The sophomore album from the only woman on the tough Ruff Ryders label gets mixed reviews. Fans call the high fashion rapping diva's latest "near perfect" (Jen Gordon, Vibe) and "the first female hip-hop project that even attempts to fill the void left by The Miseducation of Lauryn Hill" (David Browne, Entertainment Weekly), praising its diversity of styles, especially its gospel and reggae-infused tunes. Still, critics mostly agree Eve's lyrics lack emotional weight and psychological complexity and that the album veers toward the too-conventional. "Scorpion finds her mired in the sound of her heyday" (Arion Berger, Rolling Stone), "boasting endlessly about 'gangsta purse, gangsta shoes, gangsta verse, gangsta song, gangsta brawn, gangsta thong.' Gangsta, please" (Neva Chonin, the San Francisco Chronicle). Imagewise, critics debate whether the self-proclaimed pit bull in a skirt has "softened the snarl surrounding rap just enough" to become a "style-and-fashion trendsetter as well as a rap royal among the mainstream" (Audrey Edwards, Vibe) or whether she now "delivers an even harder-edged manifesto" (Marie Elsie St. Leger, People). (Click here for Newsweek's Eve profile, here for information on her label, and here to listen to samples.)— Y.S.

To purchase this CD from Amazon.com, click here. 
---