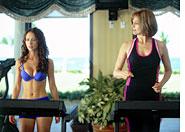 Movies
Heartbreakers (MGM). Heartbreakers is either a bad con or a "suave comedy" (A.O. Scott, the New York Times), depending on which critic you ask. The tale tracks a "bitter mom-and-tot team" (Jessica Winter, the Village Voice) who make money tricking rich men into marrying the older woman (Sigourney Weaver) and committing quick, actionable adultery with the younger (Jennifer Love Hewitt). Weaver gets a couple of high marks: Her "dry-ice intensity in dramatic roles sometimes threatens to freeze the gears on the projector, [but she] has an underappreciated gift for comedy" (Scott); Slate's David Edelstein thinks she is "gorgeous, glittery-eyed, and titanically silly" in this movie. Reviewers praise the veteran chameleon actor Gene Hackman, Weaver's last mark: Rita Kempley says he "all but saves the picture" (the Washington Post). The comments about Hewitt center on her lack of wardrobe and on her breasts, which "come so close to her chin that it's a wonder the poor child can open her mouth" (Kempley). In the end, consensus finds that these performances (and breasts) can't undo the damage of a too-long, terribly written script. (Mr. Showbiz features a star bio of Sigourney Weaver and an interview with Jennifer Love Hewitt's bosoms; read David Edelstein's Heartbreakers review here.)— S.G.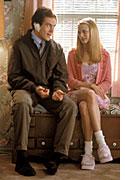 Say It Isn't So (20th Century Fox). Most fans of the Farrelly brothers' movies (Dumb and Dumber; There's Something About Mary) find this one tiresome, claiming its gags are just plain bad. (Slate's David Edelstein, a die-hard fan of the Farrellys, is an exception.) The plot: Dimwitted and nice Chris Klein and Heather Graham fall in love, learn they're biological siblings, and split up. Klein finds out they're not and then rushes to Oregon—road trip!—to get Graham back. The protagonists: Klein exudes "dewy, clean-cut blandness" and seems "a lobotomized baby brother of Keanu Reeves," while Graham is a "buxom, wide-eyed chirp without a personality" (Stephen Holden, the New York Times) who comes off like an "infantilized child woman dressed in somebody's idea of 'zany' clothes" (Stephen Hunter, the Washington Post). The jokes: Klein gets his hand stuck up a cow's ass; Graham's paraplegic dad gets attacked by bees and smattered with bird doo; a car accident sends leg prostheses flying. In other words, critics claim, unfunny low-comedy overkill. (Click here for the official site and here for Farrelly features.)—Y.S.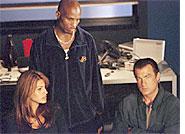 Exit Wounds (Warner Bros.). Reviews for this cops-and-drugs street-action movie mock the hyped comeback of Steven Seagal: "[H]e's pudgy enough to make some of those martial arts leaps look as if they were shot in an antigravity space station" (Owen Gleiberman, Entertainment Weekly). Critics say the filmmakers craftily use fast cutting to compensate, besides "cynically and patronizingly aim[ing the movie] at Seagal's predominantly 'urban' audience" (Jonathan Foreman, the New York Post) by casting rapper DMX opposite him. Still, Seagal fans who prefer fights, shootouts, and car chases to good dialogue, plot, or acting will be gratified. For everyone else, critics offer two tips: 1) Look for Canada, "The use of Toronto to stand in for Detroit has resulted in some pretty humorous sights" (Todd McCarthy, Variety); 2) come very late, "there's a closing-credit sequence in which Anthony Anderson … and Tom Arnold as a nerdy Jerry Springer engage in a hilarious give-and-take that's funnier than most full-length comedies these days" (Gene Seymour, the Los Angeles Times). (Click here for clips of the cast, here for Seagal's official site, and here for one devoted to DMX.)— Y.S. 

Music Discovery, by Daft Punk (Virgin). The perpetually disguised French duo known for its progressive dance music took its name from a dis they got from a British music critic. Almost a decade later, Mixmag, the UK's biggest-selling dance publication, has hailed Discovery as "the greatest album ever," and the robot-costumed DJs have made the cover of URB and CMJ (which already calls this "2001's brightest breakthrough moment"). The band also scored features or reviews in Nylon, Revolution, Rolling Stone, and Billboard, which calls it "an early contender for the year's best dance/pop album." But the response is not all raves: Some Brit crits ponder whether Daft Punk has been conquered by a very English "excessive irony" (Andy Gill, the Independent), though they remain painfully aware that the band's sustained freshness and fun are totally French, with their coveted "cocksure Gallic disregard for the accepted canon of cool" (Alexis Petridis, the Guardian). The playfulness of Discovery (the title hints at its disco emphasis) has prompted critics to call it giddy, glossy, "[e]ighties in smiley face" (Neil Spencer, the Observer). Some think excessive use of retro radio pop lowers them to the level of their own popular imitators. Most American reviewers are impressed with the way the album is both popular and subversive, serious and comic. Ben Ratliff of Rolling Stone praises this doubleness—celebrated anonymity, positive commodification, and parody that's both "generous Cher-level overkill" and the "overkill of a smirking weenie." But he also claims he's "baffled" by the album as a whole and that its later songs seem "anonymous" and "muddled."Discovery is a "disjointed," "up-and-down, all-over stylistic affair … with all the aplomb of a driver's-ed student manhandling his first clutch" (Bill Werde, the Washington Post). (Click here to read about the Daft Club, here to read a transcript of the duo chatting with Moby, and here for their official site.)— Y.S.

Books
On Histories and Stories, by A. S. Byatt (Harvard University Press). Critics say the seven essays in this book are good examples of the kind of critical and creative writing Byatt describes in them: "The two-way street between fiction and history is, on Byatt's patrol, busier than ever. … Byatt believes that this is where the action is, 'that there is a new aesthetic energy to be gained from the borderlines of fact and the unknown' " (Thomas Mallon, the New York Times). Her essays look at writing about war, narrative history, and the borders between characters and biographical subjects in books by Martin Amis, Simon Schama, and Penelope Fitzgerald, among others. Byatt also defends her own historical fiction and cites several examples from her own work. Critics see these self-references as testaments to her postmodernist leanings."Self-conscious, eclectic literariness is the hallmark of postmodernism, and she pays tribute to Calvino and Borges. … Byatt is a writer actively searching for sources of energy outside the comfort zone of British social fiction"(John Updike, The New Yorker). Critics say she effectively "refutes the image of the postwar UK novel as terminally cozy, unambitious, and genteel" (Kirkus). (Click here for a page devoted to Byatt and here to read what the critics thought of her most recent novel.)— Y.S.

Novel History, edited by Mark C. Carnes (Simon & Schuster). In this book the perspective is reversed: Twenty historians write about the use of history in American novels, emphasizing the divergent ways novelists and historians memorialize the past. Critics say the quality of the essays vary and that the tone can grate: "We read a few too many times that historians are 'quite willing to recognize—and to learn from—the novelist's license to reconstruct the past in the interests of a reality deeper than literal truth' … and almost all the living novelists who responded offer some variant of … 'Shit, I was writing a novel, not a Ph.D. thesis' " (Publishers Weekly). Still, critics say there is a lot to learn here about the development of a narrative voice rooted in history and interesting commentary about the way novels influence historiography. (Click here for Carnes' introduction to Novel History, here for Freeman's essay on Gore Vidal's Burr, and here for links to other titles considered "novel history.")— Y.S.
---