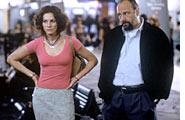 Movies The Mexican (DreamWorks). So-so veering toward bad reviews for an easygoing but flat small-time comedy caper that's been casted-up with big names. Lots of talk is devoted to 1) the fact that Julia Roberts and Brad Pitt don't spend much screen time together (the Washington Post's Desson Howe speculates star-ego demands they strut solo); and 2) how James Gandolfini from The Sopranos steals the show (and, many critics say, allows the stars to relax). The plot: A bumbling Brad is sent down to Mexico by the mob to retrieve an antique gun while Julia, jilted and self-helpy, bonds with Gandolfini after he takes her hostage for the gun. While Roberts spouts hysterics and psychobabble and puffs her "Firestone upper lip" (Howe), Pitt, "chipmunk cartoon Robert Redford," generally overdoes it, like with the "o"s he adds when trying to speak-o to the locals (David Edelstein, Slate). Key film characteristics: an awshucks softy mobster; sepia-tinted clichés of the West; tequila-swilling Mexicans; lots of shticky, facetious, self-conscious, and "shaggy-dog" stuff. (The number of critics who used the shaggy-dog description was staggering. Just to name a few: Mike Clark, USA Today; Bob Graham, the San Francisco Chronicle; Jane Horowitz, the Washington Post; Todd McCarthy, Variety.) (Click here for Edelstein's review in Slate and here for the film's official site.)— Y.S.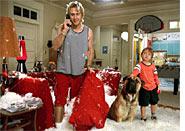 See Spot Run (Warner Bros.). More mobsters and shaggy dog in this crappy (literally and figuratively) family movie about a Big Daddy-ish postman (David Arquette) who steps in a lot of dog do and an FBI-trained bull mastiff who's on the run since biting off the head goon's gonad; the caca is for the kids, and the "off-color castration" stuff is presumably for the adults (Desson Howe, the Washington Post). Memorable scene mentioned by the critics: While Arquette baby-sits, the child's mom tries to make it back home "crammed into the back of a truck toting a flatulent zebra" (Stephen Holden, the New York Times). (Click here for the trailer.)— Y.S.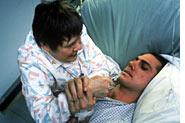 Series 7: The Contenders (USA Films). This effective satire of shows like Cops and Survivor has the critics pondering who's to blame for the reality-TV craze. The parody: Six contestants are followed around by cameras as they try to gun each other down. Some critics point to the ways the movie implicates the networks and the authorities (a suspicious lottery is used to choose contestants and those who don't want to play are killed). But most say the film's main target is the conforming masses who, rather than protest, are mesmerized by those who play by the rules (the young niece of the pistol-packing pregnant champion tells her, "I saw you on TV. I love you."). Others are convinced we play along out of spite: "The murders are comic high points because they so deftly capture what television is becoming: not drama, or even voyeurism, but an invisibly orchestrated series of camera ready one-upmanship rituals in which people compete like children to act out their knee jerk disdain for each other, that disdain echoed in the audience's ironic detachment from everyone on screen" (Owen Gleiberman, Entertainment Weekly). Still others partly implicate director Minahan: "[W]ho's manipulating you more?" (David Edelstein, Slate). A lone critic who believes the American viewing audience is more than just a bunch of "vacant droolers" finds the film reductive, "overdeliberate" and "facile" (Elvis Mitchell, the New York Times). (Click here for the official site; here if you love Survivor and here if you don't.)— Y.S.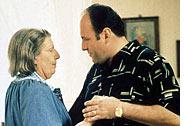 Television
The Sopranos, season premiere, March 4, HBO, 9 p.m. ET. America's favorite clutch of New Jersey mobsters "returns in excellent form" (Matthew Gilbert, the Boston Globe) for their third season in back-to-back episodes that "display more wit, emotion, humanity and brutality than ever" (Caryn James, the New York Times). The first episode focuses mainly on the feds and their efforts to bug the casa Soprano and gives Tony little screen time. Not all critics like the Tony-lite episode, though. John Carman of the San Francisco Chronicle says it's "scarily close to routine TV. I almost felt like pistol-whipping the screen and shouting, 'Hey, we're payin' for this! Get Tony out here!' " Episode 2, which deals with the death of Tony's mother (played by actress Nancy Marchand who died last year before taping began), gets an almost universally warm reception from the critics. But producer-creator David Chase's decision to create a death-bed conversation between Tony and his chilly mom using old footage and video gimmickry, is a serious misstep. "When we hear her voice while seeing the back of her head (or, more accurately, a double's head), it brings to mind Norman Bates's mother in 'Psycho' " (James). (Read Slate's take on the resurrection of Marchand here.)— L.S.

Books
Marginalia, by H.J. Jackson (Yale University Press). A bibliophile's dream on "bookish graffiti" filled with anecdotes the critics appreciate (Publishers Weekly). Professor Jackson, who plowed through hundreds of used copies of Boswell's Life of Samuel Johnson for her nuggets, writes that early in the 19th-century readers had no qualms about responding in writing on the text at hand (the first Fray!) and laments today's comparative lack of communication, criticism, and community in the margins. Reviewers call this "the major text on this minor subject" and compare it to good recent histories of footnotes and pencils (Melvin Jules Bukiet, the Los Angeles Times). But they are also painfully aware that marginalia vary in quality and that too much meaning can be invested in them. Consider this: You are now reading a review of reviews of a book reviewing the marginal notes of reader-reviewers. (Click here for Time's spoof that brings this point home.) Generally, though, they find Jackson's account curious, witty, and scholarly, if sometimes dry and too insistent on the nobility of scribble.— Y.S.

Chester Himes: A Life, by James Sallis (Walker). A well-received biography of the long neglected African-American writer best known for his surreal detective stories set in Harlem. Reviewers loudly cheer Sallis on with repeated references to his jazzy style, though they recognize that he sometimes gets a bit carried away. (Sallis, whose own detective novels were inspired by Himes' work, is clearly a fan of his subject.) All claim the bio is a "fascinating" fast-mover that combines "social history and literary explication" in showing how Himes' work connects with his life (Tom Nolan, the San Francisco Chronicle). The minor problems mentioned: Sallis' prose can get ostentatious, his allusions can be distracting, and his chronology hard to follow. Though the Washington Post's Michael Dirda doesn't agree with Sallis' claim that Himes is America's central black writer, he's moved by his thoughtful attempt to prove it. "Sallis's astute, writerly riffs on American inequities and literary vagaries zero in on what haunted Himes … an 'outsider' writer who forged unsettling social panoramas through violent fiction" (Publishers Weekly). (Click here to read a first chapter and here for info on Himes.)— Y.S.

Music Standards, by Tortoise (Thrill Jockey). Positive reviews focus on what the title of this album signifies coming from an unconventional band known for its experimental fusion of electronica, jazz, and kraut rock. Some critics see the title as characteristically wry—a wink that these songs are the standards of the future. The album is mostly trademark Tortoise—abstract, multilayered instrumental tracks that rely heavily on percussion to build a trancey atmosphere. But it's more organic and recognizable than their last effort, and is in fact a kind of "back to the future" to their '94 debut (Peter Orlov, CMJ). Its "strange beauty" may appeal to a broader base because it avoids "empty technical trickery" (Josef Woodard, Entertainment Weekly) and is tighter, more "grounded," and better edited than their past work (Anthony De Curtis, Rolling Stone). (Click here for links to listening samples and here for Tortoise's official site.)— Y.S.
---