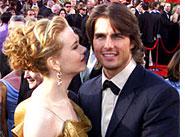 Celebrity Divorce
Valentine's Day Special: The Tom Cruise-Nicole Kidman Break-Up. Reasons offered for the split of Hollywood's power couple: 1) work kept them apart; 2) religious differences (specifically Cruise's Scientology versus Kidman's Catholicism, and how to raise their two adopted kids) drove them apart; 3) Kubrick (while filming Eyes Wide Shut) drove them crazy. Tom fares worse than Nicole in media reports, especially since Nicole released a statement Saturday stating the divorce came as a complete shock to her. (People's cover story reports she canceled a photo shoot with InStyle to sob while Tom continued filming Vanilla Sky, with Penélope Cruz, who's been fingered as a possible marriage wrecker.) More dirt on Tom: He supposedly needs to get rid of a TNN (Tom 'N' Nicole) tattoo on his bum; one of his lines from Magnolia ("Respect the cock") has reportedly been sampled into a dance song and become a cheer at gay nightclubs; his divorce papers declare the stated date of separation Dec. 21, 2000, three days short of their 10th anniversary, in order to sidestep California laws regarding "long-term" marriages and spousal support. What's worse: The couple apparently renewed their vows at Christmas. Kidman hasn't gotten off totally scot-free: Rumors about her and co-star Ewan McGregor have circulated, along with talk of her plotting a creepy dramatic putdown by starring in Ibsen's Lady From the Sea, a play about a woman in an unfulfilled marriage. The Australian media are already dealing with the consequences of the break up: The season debut of the entertainment news show Premiere has been delayed because host Antonia Kidman is busy comforting her sister in the States.(Click here for Newsweek's collection of the couple's broken promises.)— Y.S.

Book
Love, etc., by Julian Barnes (Knopf). Critics say the latest import by the ever-clever British novelist is too mordant to spread much Valentine's Day cheer but is a breezy read nonetheless. The book, which "would make an excellent play, in the Tom Stoppard vein" (Publishers Weekly), revisits the love triangle Barnes set up in his 1991 Talking It Over. In Love, etc., his middle-aged characters continue to express their feelings, now tinged with disappointment, in first-person monologues. Barnes tells the story of their reunion with "his customary intelligence and wit," but his characters can sound too much like "cynical talking heads" (Michiko Kakutani, the New York Times) for some reviewers' taste. (Click here to read the first chapter.)— Y.S.

Music
From the Desk of Mr. Lady, by Le Tigre (Mr. Lady). This 17-minute EP has been deemed more musical than the post-riot grrrl, New Wave punk, feminist upstart band's self-titled debut a couple of months back. "It's not like Le Tigre has gotten musically deep or anything. But there's a much stronger acquaintance with hooks and song structure, and they've figured out how to play those instruments—primarily guitar, samples, keyboards and bone-basic but stunningly effective drumming—a bit better" (Amir Hijazi, CMJ). Some claim that the three women have come to "understand that simplicity and catchy choruses can convey complex issues more acutely than the most baroque polemics" (Neva Chonin, Rolling Stone). Skeptics insist screamer Kathleen Hanna (formerly of Bikini Kill), videomaker Saddie Benning, and zine queen Johanna Fateman are still less catchy than caustic; "sarcasm is their lead instrument" of subversion (James Sullivan, Entertainment Weekly). (Click here for the band's official site, here for interviews with and articles on Le Tigre, and here to hear samples from the CD.)— Y.S.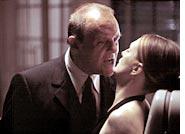 Movies
Hannibal (MGM). Surprise, surprise: The sequel to The Silence of the Lambs is a bit of a letdown. Why? Critics say the original's fear, suspense, and dread have been diminished and replaced by camp and gore that leaves a bad taste in everyone's mouth. Julianne Moore makes a fine Jodie Foster but doesn't get to do much. Anthony Hopkins as Hannibal Lecter still thrills but "on the loose loses power" (Roger Ebert, the Chicago Sun-Times). (In this film he's a kind of Jekyll-Hyde, living large as a Renaissance scholar in Florence, Italy, and wearing a Panama hat that two reviewers say makes him look like Truman Capote, but Lecter's still dining Titus style.) Critics laud director Ridley Scott's "operatic staging" (Elvis Mitchell, the New York Times) and give in to the film's Grand Guignol with lots of talk of "just desserts" and other cannibal puns. There's a sense among some reviewers that "[p]robably nothing any critic has to say can keep the public away from the seductive Dr. Lecter" (David Ansen, Newsweek), so why not indulge a little? Best of all are their descriptions of the mauled and made-up Gary Oldman, who plays Mason Verger, Lecter's only victim to survive. He looks like "Michael Jackson in about 10 years" (Owen Gleiberman, Entertainment Weekly); "a melted Muppet" (Desson Howe, the Washington Post); "steak tartare" (Todd McCarthy, Variety); and "a blood brother to Lon Chaney's Phantom of the Opera" (Kenneth Turan, the Los Angeles Times). (Click here for a "behind-the-screams look at the making of Hannibal,"here for the film's official site, and here to read David Edelstein's review in Slate.)— Y.S.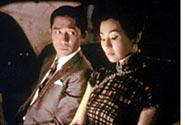 In the Mood for Love (USA Films). Critics are swooning over Wong Kar-wai's latest award-winning masterpiece about unconsummated passion in Hong Kong. (The New York Times' Elvis Mitchell goes so far as to claim it has a unique "romantic spirit that has been missing in the cinema forever.") The film tells the story of gorgeous Su Li-zhen (Maggie Cheung) and dapper Chow Mowan (Tony Leung), decorous, lonely neighbors who discover their spouses are having an affair. Critics say the film is all about ambience and manners and the way the camera plays the nosy neighbor, peeking at the protagonists' awkward, repressed encounters in cramped hallways and rain-drenched back streets. Best of all, the movie—touted as one of the best of the "Asian new wave"— has something for everyone: highbrow (cinematic gestures like absent presence and negative space); pop (lots of Nat King Cole songs and period kitsch); fashion (according to the Los Angeles Times, Cheung's wardrobe of cheongsams has made them all the rage); and history (a nostalgic depiction of the Shanghainese community in early 1960s Hong Kong). Critics feel a bit frustrated by the sexual restraint, but only one, longing for kung-fu action, finds the film "painfully laborious" (Mike Clark, USA Today). (Click here to read an interview with the director and here for the film's official site.)— Y.S.
Saving Silverman (Sony Pictures). This dumb comedy by the director of Big Daddy and Happy Gilmore strikes critics as unfunny and downright offensive. The plot: Wayne (Steve Zahn) and J.D. (Jack Black) connive to save their best buddy Darren Silverman (Jason Biggs) from marrying his mean fiancée (Amanda Peet) by getting him back together with his nice high-school girlfriend (Amanda Detmer). Reviewers are most offended by the film's gratuitous violence and bad gags (electro-shocked nipples, butt-cheek implants, and wrestling with fake raccoons, for example), "racist Asian jokes" (Lisa Schwarzbaum, Entertainment Weekly), and "unreflective misogyny" (A.O. Scott, the New York Times). The comic talents of Black and Zahn are squandered, but "their antics were the only things that stopped me from battering my head bloody against the seat in front of me" (Desson Howe, the Washington Post). (Click here for the film's official site.)—Y.S.
---