You can probably guess that the tabloids have taken more than just a passing interest in the surprise split of Tom Cruise and Nicole Kidman. In fact, it feels like it's been quite some time—the JFK Jr. crash,  perhaps ?—since one story so thoroughly dominated the checkout counters. And so, here is Keeping Tabs' Kidman-Cruise tabloid coverage scorecard, your handy guide to all the highlights: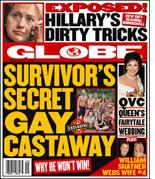 The Globe: D-minus. Lukewarm, unoriginal. The "shocking reason" for the breakup in the Globe's Week One story turned out to be—yawn!—Cruise's supposed preference for palling around with his "rough-and-tumble buddies." Kidman-Cruise didn't even make the Globe's cover this week (to make room, apparently, for the wedding of former QVC yenta Kathy Levine—go figure), but the Globe does win points for melodrama. A "heartsick" post-breakup Nicole reportedly "collapsed in her mother's arms, sobbing, 'My life is over!' " Most disappointing, especially given what the Star was able to come up with (see below), was the Globe sidebar on the "bizarre body language" that "bares [Nicole's] sex secret." The secret in question? She's shy. "Noted psychologist" Dr. Pat Hudson tells the Globe that she tends to adopt a modest stance in public because she's "constantly been forced into immodest positions during her career. She's claiming her body back because she's had to expose it to the world." Body language expert Dr. Donald Giddon concurs: "She's saying, 'I'm not giving it away any more!' "
Highlight: The Globe easily wins the "Tabloid prose that sounds most like Shakespeare" award for having a source floridly suggest that the breakup was so devastating and unexpected for Nicole that "it was like he plunged a dagger deep into her heart. Poor Nicole is beside herself with misery." (KT hopes she'll be feeling a little less melancholy on the morrow.)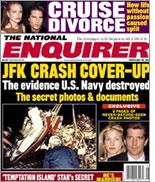 The National Enquirer: B-plus. The Week 1 cover had the Enquirer suggesting that Cruise gave up on the marriage because it had turned into a "passionless hell." (Although it should be noted that the Enquirer's main cover story was dedicated, for the umpteenth time, to a supposed cover-up surrounding the plane crash that killed John F. Kennedy Jr. Five pages of mangled wreckage photos, anyone?) According to the Enquirer, the Kidman-Cruise marriage had reportedly "disintegrated into an ugly firestorm of fights, competing egos, unrelenting jealousy and an ulcer to Tom." The Enquirer loses points, however, for a scattershot, unfocused approach that floats far too many theories about the reason for the split, from Scientology to career jealousy to the idea that the two "don't even like each other," perhaps in hopes that one might actually be on target.
Highlight: The Enquirer's assertions that Cruise has been acting like a "tyrant of Howard Hughes-like proportions" on the set of his latest movie, Vanilla Sky. He reportedly got "creeped out" by a particular shade of paint on the set, saying it was making him sick and insisting that it be redone, and is now "afraid to go outside, afraid to leave the lot. Sometimes he won't eat if he's not alone. He doesn't want anyone around watching him or even looking his way."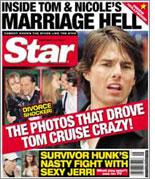 The Star: A. Keeping Tabs especially liked last week's to-the-point cover headline, "Tom Cruise Dumps Nicole!" and the photos of Nicole having lunch with her agent just three days before the split became public: "It was a warm day, but she was wearing dark clothing, a black coat over a black T-shirt and pants. It was almost as if she was in mourning." (I mean, why else would an actress in L.A. dress in all black?) This week's "Inside Tom & Nicole's Marriage Hell" story is chock-full of juicy details, especially the notion that Tom was fond of a "weird" type of foreplay: He supposedly liked to "get Nicole in the mood" by watching reruns of his own movies. A former employee reportedly said Cruise's favorite was Risky Business, "in which he strips down to his undies. At first, Nicole was a bit surprised, but she eventually joined in."
Highlight: The exclusive "Photos That Made Tom Crazy!" spread. The pictures in question show Nicole and actor Iain Glen, her co-star from the play The Blue Room, backstage on opening night, and, according to "famed body language expert Maxine Fiel," depict Nicole in "flirtation overdrive." "I can tell from her face and body posture that Glen's driving her wild with desire, and he is responding to her sexual signals," asserts Fiel. "It's the kind of interaction you would normally see between a husband and wife, not between two people who are simply working together." Tom was reportedly "crazed with jealousy" over the "best pals" intimacy that Nicole shared with Glen. "The biting jealousy eventually got to be too much for either of them," says one "friend."
Incidentally, the Kidman-Cruise household is not the only place in Tabloidland where the green-eyed monster has reared its ugly head of late. According to the Globe, Kathie Lee Gifford is "seething with jealousy" and in a "jealous fury" over the announcement of her successor on Live, soap opera actress Kelly Ripa. "Kelly Ripa has ripped off my style," Gifford reportedly fumed to friends. "She's a clone of me! She's got my style, my mannerisms, even my patented shrug!" Oh, God, Kelly! Take anything but the patented shrug!
On the whole, it's been a dismal few weeks for Tabloidland marriages: Extracurricular activity is the scourge of the land. And while it didn't seem to play a role in the Kidman-Cruise parting (although the Enquirer does obliquely suggest that the "good feelings" between Cruise and his Vanilla Sky co-star Penélope Cruz "continue after the cameras stop," and the Star takes pains to point out that Nicole and Iain Glen were once spotted having dinner a deux), it may have spelled the end for General Hospital alums Jack and Kristina Wagner ("The only thing that has shocked pals is that Kristina put up with his roving eye for as long as she did," a source tells the Star) and could come between Arnold Schwarzenegger and Maria Shriver. ("He's acting like a boorish, womanizing pig. It's humiliating Maria and the Kennedys are furious," a "family insider" tells the Star.) And then there's Don Johnson, who's been accused of inappropriately grabbing and propositioning a woman at a San Francisco sushi bar. Not to worry. His attorney reportedly told the Globe that "in fact, 25 women hit on Don that night and he rebuffed them all."
Finally, what would a tabloid trend be without a good Prince William iteration? The Globe has a story claiming that Prince William's "skirt-chasing" was a source of such concern to his father, Prince Charles, that the elder royal was "behind a sophisticated scheme to spy on [William] when he goes off to college." Supposedly "worried that his handsome 18-year-old son would use his new freedom to plunge into an orgy of girl-chasing," Charles reportedly had Wills' campus dorm room bugged so that he could monitor his telephone calls and e-mails. A chagrined Charles reportedly had to confess his scheme when security agents discovered the surveillance equipment during a sweep. When a furious William learned of the caper, he reportedly confronted his father: "How could you do this to me? Have you forgotten how bugging devices can destroy private lives?"
Interestingly, the Enquirer also reports on the bugging of William's dormitory but says that it was the work of a "fanatical group of renegade Irish terrorists" who were targeting the prince "because they're desperate for publicity." Prince Charles is said to be "worried sick" about the plot but is never fingered as its mastermind. How to explain the disparity? Keeping Tabs can only respond with—what else?—her very own patented shrug.  
---