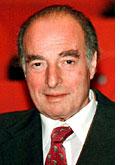 Federal attorneys opened a criminal investigation of the Marc Rich pardon. As a result, the House Government Reform Committee withheld its offer of immunity-for-testimony to Rich's ex-wife, Denise. Denise Rich gave $450,000 to Bill Clinton's presidential library in the three years before he pardoned her ex-husband of 50 counts of racketeering, wire fraud, income tax evasion, and illegal oil trading with Iran. She contributed $70,000 to Hillary Clinton's Senate campaign and has given $1 million in soft money to Democrats. Justice Department lawyers' spin: We had no idea the pardon was coming. Denise Rich's spin: I take the Fifth. House Republicans' spin: We're subpoenaing the records of every major contributor to the library. Congressional Democrats' spin: One of Rich's lawyers is now Vice President Cheney's chief of staff. Besides, "there is a crucial distinction between bad judgment and a presidential scandal." Clinton's spin: "This was not a political [pardon]. But I take full responsibility for it." President Bush's spin: Let's stop investigating Clinton and move forward. Democrats' counterspin: Then tell your attorney general to drop the criminal probe.
DARE is changing its curriculum. Drug Abuse Resistance Education, a program that reaches about three quarters of American students, will shift its emphasis from anti-drug lectures to discussions about values and the consequences of addiction. Many studies have found no correlation between the existing program—focused on the elementary schools—and high-school drug use. DARE receives $215 million a year indirectly from police departments that pay salaries to cops who teach the curriculum. DARE will test the new program in 40 randomly chosen high schools. DARE president's spin: "I'm not saying it was effective, but it was state of the art when we launched it. Now it's time for science to improve upon what we're doing." National Academy of Sciences' spin: DARE does more for police-community relations than it does for drug abuse.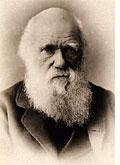 The Kansas Board of Education restored the mandatory teaching of evolution. The 7-3 decision reverses a 6-4 decision in August 1999 that removed evolution-related questions from state tests and allowed local school districts not to teach evolution. Last August Republican primary voters removed three conservatives who had voted for the '99 guidelines. Kansas Board's tactful spin: Christianity can be taught, just not in science class. "While students may be required to understand some [scientific] concepts… they may accept or reject [them]." Conservatives' spin: We never mentioned Christianity, you did. We merely want students to learn about "intelligent design," an "alternative scientific theory." Prohibiting dissenting opinions is unscientific.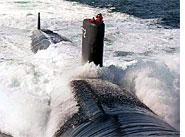 C ivilians were at the controls of a U.S. submarine that collided with a Japanese fishing boat. The USS Greeneville was conducting a rapid-surface test when it hit and sank the Ehime Maru. Nine of the ship's 35 occupants are missing and presumed drowned. Sixteen civilian VIPs were aboard the sub when the collision occurred. Three days after the accident, the Navy revealed that civilians were sitting at two of the sub's three control panels. Japan's spin: The U.S. military is arrogant and careless, and our own prime minister is insensitive for golfing throughout the tragedy. Navy's spin: The civilians were sitting at the controls but were never in control. Civilians' spin: We flipped levers during the drill but a sailor was by our side. And we saw crew members do two 360-degree periscope checks. Maru crew's spin: Our ship sank in just a few minutes. The fatal drill is "absolutely unforgivable if a civilian was operating it."
Over 100 wealthy Americans are lobbying to keep the estate tax. A group including George Soros, Bill Gates Sr., Ben Cohen, and several Rockefellers will argue that President Bush should not eliminate the estate tax, the New York Times reported. A petition organized by Gates, the father of the Microsoft chairman, will appear in newspaper ads. The tax, which ranges from 37 percent to 55 percent, applies to the 2 percent of estates valued at more than $675,000 (the floor rises to $1 million in 2006). Last year Congress passed a repeal, but President Clinton vetoed it. Gates' spin: The estate tax is progressive and egalitarian. Scrapping it would be anti-meritocratic. (To read a "Dialogue" on the estate tax, click here.)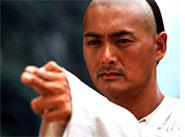 Gladiator and Crouching Tiger, Hidden Dragon dominated the Oscar nominations. Ridley Scott's Roman epic earned 12 nominations—more than last year's American Beauty—while Ang Lee's Mandarin-language action flick captured 10. They will compete with two Steven Soderbergh films, Erin Brockovich and Traffic, for both Best Picture and Best Director. (The fifth nominees for Best Picture and Best Director were Chocolat and Billy Elliot, respectively.) (For other nominees, click here.) The awards ceremony is March 25. Surprises: 1) No Best Picture nominations for Cast Away (the first Robert Zemeckis-Tom Hanks movie since Forrest Gump) and Almost Famous (which won the Golden Globe for Best Comedy). 2) No Best Actress nomination for Björk (who won at Cannes and was nominated at the Globes). Conventional wisdom: Traffic and Brockovich will split the Soderbergh vote, and he will win nothing. Cynics' spins: Mirimax's shameless lobbying won a Best Picture nod for an inferior film, Chocolat. DreamWorks'Gladiator and Universal's Brockovich aren't much better. Critical favorites like Wonder Boys (three minor nominations), Chicken Run (none), High Fidelity (none), The House of Mirth (none), and Yi-Yi (none) were stiffed. (To read David Edelstein on the nominations, click here; to read Chatterbox's investigation into Oscar voting, click here; for a "Movie Club" discussion of last year's films, click here.)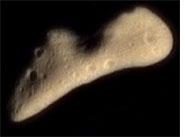 An unmanned spaceship landed on an asteroid. NASA's "NEAR Shoemaker" circled and photographed the Eros asteroid for a year before scientists decided to land the craft. (It was designed only to orbit, but scientists decided to try a landing rather than leaving the spent satellite in orbit.) Spins: 1) We came one step closer to landing a human on an asteroid. 2) Human missions are a waste of money. We simply need to study asteroids so that we can destroy one if it ever heads for Earth. (See pictures from the craft here; to read a discussion of the Eros landing in "The Breakfast Table," click here.)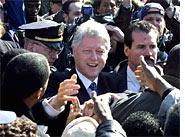 Former President Clinton will work in Harlem. Reacting to a public outcry over his proposed $738,700-a-year office in Midtown Manhattan, Clinton instead decided to rent a $210,000-a-year office on 125th Street, inside an economic "empowerment zone" that he signed into law. Black leaders' spin: Clinton was one of the best presidents that we have had, and this shows his loyalty. Clinton's spin: "I called Hillary and I asked my senator first how she would feel if I came to Harlem, and she loved it." Mayor Giuliani's spin: Actually, the city holds the lease to that space. But I'm willing to negotiate … (For the real reasons black people support Clinton, click here.)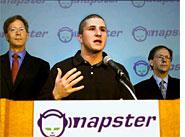 A judge ordered a lower court to shut down Napster. A federal appeals court upheld an injunction issued last July against the free music-download site. (In December 1999, five major record labels sued Napster for copyright infringement; the appeals court had delayed July's injunction while it decided the case.) In November, German publishing giant Bertelsmann—which owns Random House, BMG Music, and CDNow.com—dropped its lawsuit and lent Napster money to develop a subscription service. In return, Bertelsmann received an ownership stake. Napster's spin: We enable users to make legal copies for personal use. Record labels will suffer for shutting us down. Legal analysts' spin: Napster is the tip of the iceberg. Other, more legally savvy sites will replace it. Napster users' spin: Download now, before it's too late! (To read "Moneybox" on why the file-swapping won't destroy the record companies, click here; to read why the labels should co-opt Napster, not kill it, click here; to read "The Earthling" on how musicians can survive a world without copyright, click here and here.)
Genome scientists said that humans have fewer genes than expected. Celera Genomics and the Human Genome Project—two groups decoding the genome—announced that humans have 30,000 genes, about a third of the number first estimated. Only about 300 are unique to humans. Moreover, unrelated humans have almost entirely similar genomes; unrelated primates are two to three times more genetically variable than unrelated humans are. Spins: 1) It's not genes that make us unique; it's proteins. 2) We actually have 120,000 genes, but Celera and HGP will institutionalize an epic mistake. 3) Narrowing down the number of genes will make it easier to discover how they work. 4) Given our genetic similarity, Earth's 6 billion humans are probably descended from just 10,000 originals. (Two science writers discuss the genome revelations in this week's "Breakfast Table.")
---