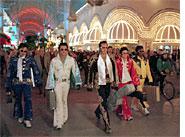 Movies 3000 Miles to Graceland (Warner Bros.). All the critics hate this trite Woo/Tarantino rip-off of a heist movie full of shoot-outs and bad-boy posturing that "literally and figuratively, smacks of overkill" (Todd McCarthy, Variety). The plot: A group of ex-cons dressed as the King and packing guns in their guitar cases plunder and destroy a Las Vegas casino during an Elvis impersonator convention and then squabble over the loot. Tone of the critics: Don't even get me started! A taste of the level of critical disdain: It's "vile, vicious and violent. Oh, and incoherent and stupid. A mess. A mean-spirited completely worthless film that can never give back the two hours it seizes from you" (Stephen Hunter, the Washington Post). The movie's violence is so cartoonish it elicits mockery in Flintstones jargon—"blam! blam!" cries Desson Howe (the Washington Post) and "boom-boom-boom" boos Kenneth Turan (the Los Angeles Times). All agree it's nice to see Kevin Costner play a "deliciously nasty character who reps the diametric opposite of Eliot Ness and Wyatt Earp" (McCarthy), but this is "not enough of a pleasure" to make the film remotely palatable (Elvis Mitchell, the New York Times). (Click here for the film's official site.)— Y.S.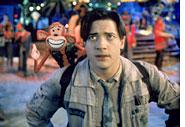 Monkeybone (20th Century Fox). Reviewers are only somewhat more appreciative of this bizarre comedy by the maker of The Nightmare Before Christmas and James and the Giant Peach. The story's hard to summarize, but here's a bite of the plot: A nice cartoonist named Stu (Brendan Fraser) is trapped in a coma and haunted by his own comic strip-creation (a stop-animated smutty simian). The main criticism: clutter. "[T]he movie is booby-trapped with so many loud gags that some of its sneakier humor is nearly lost in the din" (A.O. Scott, the New York Times). Critics say many subplots and characters aren't fully developed, and most of the talent (Whoopi Goldberg, Bridget Fonda) isn't given room to act. We're left with a helter-skelter mix of fart jokes, Freudian theory, Star Wars costumes, slapstick tricks, special effects, and pointless cameos. Most useful review device is the "mix-of" description: A few critics compare the movie to a combination of Beetlejuice and Nutty Professor; Scott writes the visuals are like "David Lynch's Eraserhead… remade for Nickelodeon" and calls the title character a "synthesis of Bart Simpson and Curious George." Funniest part of the movie: "Chris Kattan, from Saturday Night Live, as an organ transplant donor snatched from the hospital in mid-operation and lofted over the city by hot air balloon, while spare parts fall from his incision and are greeted below by grateful dogs" (Roger Ebert, the Chicago Sun-Times). (Click here for trailers and here for a shrine to Mango, one of Kattan's characters on Saturday Night Live.)— Y.S.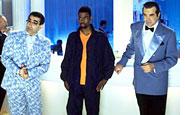 Down to Earth (Paramount Pictures). A bland romantic comedy remake of a remake starring a subdued Chris Rock as a wannabe comedian who dies before his appointed time and returns to Earth in the body of a rich, old white guy. Director Chris Weitz said he was going after Rock's "more self-deprecating" (not his Bigger and Blacker) side, and reviewers say therein lies the film's folly. Critics rehash the plot and point out occasional funny scenes, but note that the movie's premise feels old on its third time around, even with the race switch thrown in. They simply thank Rock for keeping it under 90 minutes and claim he "hasn't found himself as an actor yet" (Elvis Mitchell, the New York Times). (Click here for the film's official site and here for interviews with the cast.)—Y.S.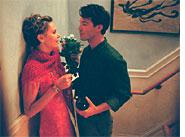 Sweet November (Warner Bros.). Another bad remake the critics say is full of clichés and feeble heart tugging. The plot: Sara, a hippy-type (Charlize Theron) makes Nelson, an insensitive workaholic (Keanu Reeves) relax and soften up, but then breaks his heart with the news she's terminally ill. The response: 1) They're just too J Crew: "Nelson and Sara dwell in a woozy cinematic fairy-tale land … in which a happy couple accompanied by twinkly music are seen frolicking in the surf, ambling through the park, selecting perfect red Delicious apples from a fruit stand and relaxing in a PG-13 bubble bath" (A.O. Scott, the New York Times). 2) I hate you, Keanu and I want you to die already, Charlize: "I don't know who I disliked more intensely" (Robert Ebert, the Chicago Sun-Times). 3) Cut the dude some slack: "I know I've been hard on Reeves in the past because of that frustrating, flat affect of his … Well, here it's the movie itself that's boxed in." (Lisa Schwarzbaum, Entertainment Weekly). (Click here for the film's official site and here to stare at Keanu.)—Y.S.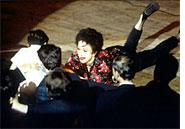 Television Live With Judy Garland: Me and My Shadows, ABC, Feb 25-26, 9 p.m. ET. The four-hour miniseries about the troubled diva surprises critics with a frank portrayal of a life ruined by drugs, dieting, and despair. They're shocked because family involvement with a TV biopic—this project's based on a book by Garland's daughter Lorna Luft—usually translates into the yellow brick road to schmaltzville; if anything this version "could have used fewer warts" (Marc Peyser, Newsweek). The story follows Judy from her first acting gig at age 2 to her death from a drug overdose at age 47 in 1969. The acting is terrific. Critics get metaphysical, with more than one saying Australian Judy Davis channels the adult Garland, far transcending the drag-queen caricatures of the star. But it's Tammy Blanchard as the Dorothy-era actress who "sets the film's poignant tone": In one scene, after Garland's boyfriend runs off to marry Lana Turner, Blanchard falls to the floor wailing, making "it seem the worst thing in the world to be Judy Garland" (Caryn James, the New York Times). All aren't satisfied: "like so many rags-to-rehab biopics," this one "gets the what of its story better than the why" (James Poniewozik, Time), and the "upbeat closing narration rings hollow" (Terry Kelleher, People). (Check out a fan's tribute to the tragic star here.) — L.S.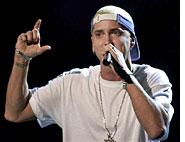 The 43rd Annual Grammy Awards. The show was dominated by the Eminem controversy but also touched by the mockery of old-timers who snagged top awards. While a small group of Gay and Lesbian Alliance Against Defamation protesters got drowned out by fans and cameras outside, a notably polite, meek Eminem accepted the awards for Best Solo Rap Performance, Best Rap Album, and Best Rap Performance by a Duo for his collaboration with Dr. Dre. The backstage and onstage buzz was all focused on Em. Radiohead said they'd "feel like George Bush" if they beat him, while Moby said Eminem's hateful music shouldn't be supported. Onstage: Eminem got a lecture about artistic freedom from Recording Academy president Michael Greene before his performance and a hug from Elton John afterward. (Though the rapper's rendition of "Stan" was not as explicit as usual, the network let a few profanities go by unbleeped; on the other hand, CBS ran three public service announcements during commercial breaks to appease those opposed to his homophobic and violent lyrics.) But the award for Best Album went to veteran rock band Steely Dan, whose earlier albums were nominated back in the '70s and '80s and whose lecherous lyrics some say are worse than Eminem's. (Click here to read John Pareles argue this point in the New York Times.) They thanked Eminem for "taking the heat" and the academy for giving them "plenty of time" to prepare their speeches. Shelby Lynne, who's also been around awhile, accepted the Best New Artist award with the quip, "Thirteen years and six albums to get here." Of course, some popular newcomers, such as Destiny's Child, won as well. The critics are spinning the results in different ways: trophies spread out among many, rather than heaped on one artist (like last year's Santana sweep and Lauryn Hill's in '99); "a victory of smarts over sales" in the pop category, where the big losers were top-selling teenyboppers Britney Spears and 'N Sync (Edna Gunderson, USA Today); a victory for Interscope (Em's label, as well as that of U2, who took three top awards). Extra Gossip: Though J. Lo wasn't around, Toni Braxton did her best impression in a skimpy white number. And Christina Aguilera had a bit of trouble descending from the "hydraulic pod" that brought her to the stage (James Sullivan, the San Francisco Chronicle). (Click here for a complete list of the winners, as well as photos and interviews.) – Y.S.

Books
The Bonesetter's Daughter, by Amy Tan (Putnam). Mostly positive reviews for Tan's fourth novel about mother-daughter conflict, Chinese-American experience, legend, and storytelling. This one's reputedly semiautobiographical, inspired by Tan's recent loss of her mother to Alzheimer's. In Bonesetter, a middle-aged ghostwriter in San Francisco finds her voice and her sense of self after she reads the memoir of her fading mother's life in China. Critics agree Tan is treading on familiar territory and sticking to her usual multinarrative technique; they debate whether she's broken any new ground or taken to uninspired recycling. The responses: 1) A large chorus of critics say this is no bad remake (Publishers Weekly calls it an equal to The Joy Luck Club) and beg fans to forgive Tan any rehashing in the name of maturity. "Tan enlarges the emotional scope of her material" with "marvelous" characters (Nancy Willard, the New York Times Book Review) and a style that's "lively, witty, suspenseful and rich in historical detail" (Valerie Miner, the Los Angeles Times). 2) Others like the book overall but point out a number of trespasses: It's "enjoyable" if "predictable" (Kate Flatley, the Wall Street Journal) … "woe-is-me chatter" takes up the first 150 pages while the last 200 pages are "rich" with "imagination" (Danielle Svetcov, the San Francisco Chronicle) … "tenderness, sympathy and humor bring this tale to life" and allow it to overcome some of its more pushy "contrivances" (Nicole Mones, the Washington Post Book World). 3) A merciless minority shred the novel, calling it a "colorless" "bogus pop-psych life lesson" that's "lousy with the hokiest sort of 'spirituality,' " filled with "hackneyed images and feeble descriptions," "strained parallels and forced New Age symbols" and saying it "feels like a second-generation copy" of Tan's former work (Troy Patterson, Entertainment Weekly). (Click here to read the first chapter.)— Y.S.

Speaking With the Angel, edited by Nick Hornby (Riverhead). A well-received anthology of first-person narratives by hip fiction writers. Publishers Weekly declares that "[n]one of these 12 stories disappoints," but others are more picky. Some particularly like Patrick Marber's "perfect love story … told in the spirit of a punk song" (Lisa Levy, Entertainment Weekly) while others prefer Dave Eggers' "tour de force" (Michiko Kakutani, the New York Times) in the voice of a pit bull and give only middling reviews to Zadie Smith's teen-age monologue. Most call Roddy Doyle's entry a masterpiece , find Irvine Welsh's contribution tiresome, and appreciate Hornby's moving introduction about his son, which explains that proceeds from the book will benefit schools for autistic children. Kirkus dissents vigorously, calling the collection "competent and pointless" and generally redundant with the exception of Welsh's "authentic graininess." (Click here to read an interview with Nick about his son.)— Y.S.

Winter Journey, by Isabel Colegate (Counterpoint). A warm reception by critics for this British writer's first novel published stateside in nearly a decade. Colegate (The Shooting Party) tells the story of emotionally distant, middle-aged siblings who spend the holidays together at their family farm in Somerset (one reviewer compares it to the movie You Can Count on Me). In a "spare, polite and often hilarious style" (Erica Sanders, Newsday), the book examines the sometimes chilly relationship between Alfred, a famous photographer, and the elder, ever-efficient Edith, a former member of Parliament who runs a language school in London. Both are basically alone: The brother never married; the sister divorced twice. Although the plot sounds packed with melodramatic revelations on family, this is "not the Lifetime Channel"; the book's "chief pleasures are its sneaky humor and frank delight the author takes in her characters" (Patricia T. Conner, the New York Times Book Review). One gripe: The writing can be "static, with overlong passages of interior thought" (Sanders), but nevertheless, the book "stays in the mind long after the last page has been read" (Jonathan Yardley, the Washington Post). (Read the first chapter here.)— L.S.

Music
O-Town,by O-Town (BMG). O-Town is the boy-band product of ABC's reality TV show Making the Band and Backstreet-'N Sync mastermind Lou Perlman. More reasons to use this as your cultural-studies thesis topic: Their songs are all about body parts, human emissions, and are full of celebrity name dropping and blatant product tie-ins. The lyrics to their lame hit single "Liquid Dreams": "I dream about a girl who's a mix of Destiny's Child/ Just a little touch of Madonna's wild style/ With Janet Jackson's smile/ Throw in a body like Jennifer's/ You've got the star of my liquid dream." Critics are not impressed: "Alas, in their overzealous bid to make cash registers sing, the folks behind O-Town squashed any flashes of individual personality or youthful whimsy," (Elyse Gardner, USA Today), and the album feels "strained and desperate" (Barry Walters, Rolling Stone). (Click here to "share their world,"here to listen to songs from the album.)— Y.S.

Stephen Malkmus, by Stephen Malkmus (Matador). Though the band's broken up, Pavement's indie-rock icon sounds refreshed in his solo debut, critics say. They also say the album sounds familiar: If you liked Pavement's obtuse lyrics and referential riffs, you'll like Malkmus. But the album's "the musical equivalent of black licorice–a sweet, adult taste" (Alec Foege, People), and if you always thought Pavement self-indulgent and elitist, you'll probably hate Malkmus solo, too. Of course, some die-hard Pavement fans are complaining: "What Stephen Malkmus does not transfer from his previous band's mythic arsenal are the quirks, endearing 'mistakes' and sense of wonder" (Peter Orlov, CMJ). Others, however, insist that Malkmus, rid of band baggage and relocated far from New York City (he's now stationed in Oregon with his girlfriend), has lightened up and adopted a breezier and catchier sound. He looks like "he's finally getting laid," and his new songs "have a kind of Paxil-ated chirpiness to them within which the familiar sinister vibe of a Pavement record lurks" (Thomas Beller, Spin). The angsty "flannel man-cub troubadour … stands reborn as a mellow folk-rock dude" (Rob Sheffield, Rolling Stone); some even say that in the song "Church on White" the notorious cynic can be heard "genuinely emoting" (Josh Tyrangiel, Time). (Click here to watch a video of an acoustic performance, and here to read an interview with Malkmus, and here to listen to music from the album.)— Y.S.
---