Movies
Best (and Worst) Movies of the Year Lists. Many roundups note that critics were already calling 2000 a terrible year for film back in August and that picking top films was especially tough this year ("dreck" is the word the Washington Post uses). The best of the best: 1) Crouching Tiger, Hidden Dragon; 2) You Can Count on Me; 3) Traffic. Honorable mentions: Chicken Run, Almost Famous, Before Night Falls, Dancer in the Dark. Actually, Dancer made both "Best" and "Worst" lists, as did Bamboozled and Humanité. Hands-down winner for worst movie: Battlefield Earth. (The Los Angeles Times devotes an entire section to mocking it.) Funniest films: Chuck and Buck, Best in Show, Meet the Parents. Best foreign films: Yi Yi, Beau Travail, The Decalogue,  Amiee & Jaguar, Human Resources. Best American indies: George Washington, Requiem for a Dream. Finally, trends noticed by the critics: digital filming, dramatic documentaries, and lots of movies about mentoring. Critics' favorite director: Steven Soderbergh. Favorite actors: Billy Crudup, Russell Crowe. I originally mislisted Ratcatcher with American indies. It has now gained its rightful place among the best foreigns films. (Click here for Slate's discussion of the year in film by David Edelstein, Roger Ebert, Sarah Kerr, J. Hoberman, and A.O. Scott.)—Y.S.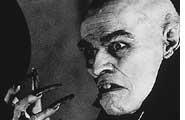 Shadow of the Vampire (Lions Gate). Everyone is raving about a "career-peak" performance by Willem Dafoe in this film about the making of F.W. Murnau's classic Nosferatu (Susan Wloszczyna, USA Today). It is Dafoe's vampire, critics say, that saves this from being an unscary, overly self-aware spoof of method actors and high-falutin' auteurs. (Mad-genius Murnau is played by John Malkovich, who, as usual, masters the art of being arrogant and domineering.) Dafoe lightens the film's "mannered, pretentious air" (Kenneth Turan, the Los Angeles Times) and lofty "chin-stroking intellectualism" (A.O. Scott, the New York Times) by playing a ghoulish, but sensitive, bloodsucker. Critics praise the meticulous restaging of scenes and inclusion of footage from the original but criticize the film's pacing as slow and unsuspenseful. (Click here for the film's official site and here for Roger Ebert's review of the original film.)— Y.S.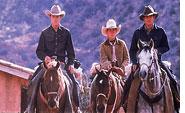 All the Pretty Horses (Miramax). Mostly bad reviews for this stripped-down adaptation of Cormac McCarthy's prize-winning novel-elegy to the West about teen-age cowboys who ride from Texas to Mexico in 1949. Top complaints: 1) too condensed—"There's not enough time to evoke a book like this" (Desson Howe, the Washington Post); 2) too restrained—"The dialect coached set piece exchanges between [Matt] Damon and [Henry] Thomas fall flat … while the smoky, sexy danger meant to rise off Alejandra [Penelope Cruz] is tamped and banked" (Lisa Schwarzbaum, Entertainment Weekly). Though some think the film's understatement manages to capture McCarthy's mood, many turn to puns about how unpretty this movie is, even with all its gorgeous faces and vistas. (Click here for the film's official site and here for a clip of Brad Pitt reading from the novel.)— Y.S.
Books
Best-of-Year Lists (various newspapers and magazines). As always, end-of-year lists dominated book reviews in the final weeks of 2000. The big fiction winner: White Teeth, by Zadie Smith. Second place: Being Dead, by Jim Crace, and The Human Stain, by Philip Roth. Third place: The Amazing Adventures of Kavalier & Clay, by Michael Chabon, and Seamus Heaney's translation of Beowulf. Nonfiction lists were more diverse. The big winner: A Heartbreaking Work of Staggering Genius, by Dave Eggers. The runner-up: Way Out There in the Blue: Reagan, Star Wars and the End of the ColdWar, by Frances FitzGerald. Salon's list had an equal number of male and female authors: four of the five top nonfiction titles by women and four of the five top fiction picks by men. The Los Angeles Times' list had the most small and academic press book titles, while the WashingtonPost's far-reaching list was divided into more than 20 categories including sci-fi, music, and sports. (The New York Times has separate lists that just round up, rather than rank, art, cooking, gardening, and travel books.) In the strange choice department: The Sibley Guide to Birds landed a spot on the Boston Globe's top 14 nonfiction books. In general, young authors were applauded, while books like E.L. Doctorow's City of God got a mixed reception. (Check out the New York Times list here, Publishers Weekly's here, and Time's here.)—Y.S.

Soul Mountain,by Gao Xingjian, translated by Mabel Lee (HarperCollins). Most critics were surprised when Gao was named winner of the 2000 Nobel Prize in literature; this novel about a spiritual and literal journey is his longest and most autobiographical work and could not be found in the United States or in mainland China. Now that the translation has appeared, some critics have traded in their surprise for confusion: "Several stories emerge, darkly, through the translational murk. … Reading Soul Mountain in this version is a frustrating experience, chiefly because of the sense that there must be more than this" (Paul Gray, Time). Those who are impressed also point out that the book is not an easy read: "The defect in Soul Mountain is not obscurity, though there is a fair amount, but lofty wooliness" (Richard Eder, the New York Times); "the experimental style [does] not make this a page turner" (Nicholas D. Kristof, the New York Times). Though many feel Chinese literature has generally gotten short shrift and believe this book "ought immediately to vault Gao out of obscurity and into the ranks of the first-class laureates" (Jonathan Levi, the Los Angeles Times), they also wonder, "What is the reader left with after this long, strange journey inward and downward? Much—but nothing one can hold onto" (George Scialabba, the Boston Globe). (Click here for an interview with the author.)— Y.S.

The Constant Gardener, by John Le Carré (Scribner). Reviewers say the veteran spy novelist has triumphed again, this time with a page-turner about the exploitation of Africa by multinational drug companies. Critics agree Le Carré has made a successful transition from the Cold War to the Internet age with this "David-and-Goliath tale where the most lethal weapons a man can possess are a willing heart, a falsified passport, and a laptop computer" (Gail Caldwell, the Boston Globe). If Le Carré has shifted to a new continent and new material, he "remains very much an English novelist" in his depiction of his hero, "the Chancery's in-house Etonian" (S.J. Hamrick, the Washington Post) stationed in Kenya who gives up gardening for sleuthing after his wife's murder. In an anomalously harsh review, Michiko Kakutani bashes as "conventional" and "simplistic" everything the other critics like: "[T]he larger geopolitics of the story feel … quite devoid of the political subtleties and tradecraft knowledge that distinguished the author's cold war novels. … [T]he Foreign Office characters in this book all verge on stereotypes" (the New York Times). (Click here for the New York Times' collection of articles on Le Carré.)— Y.S.
---