Movies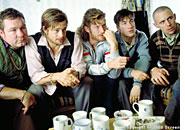 Snatch (Screen Gems). Guy Ritchie, the new Mr. Madonna, can take a bow: His sophomore effort as a writer-director is in vogue with the critics. Snatch's "fearsomely complex plot line" (Kenneth Turan, the Los Angeles Times) concerns a gargantuan diamond heisted by Frankie Four Fingers (a Yiddish-accented Benicio Del Toro) and brought to London, where it crosses paths with crooked pawnbrokers, sketchy boxing promoters, a host of Brits with colorful nicknames, as well as Mickey O'Neil, an indecipherable, Irish-gypsy, bare-knuckled boxer played—to considerable acclaim—by Brad Pitt. This underworld comedy is very similar to Ritchie's debut film, Lock, Stock, and Two Smoking Barrels, and what was fresh to critics the first time around now seems stale to some: This "follows the Lock, Stock formula so slavishly it could be like a new arrangement of the same song" writes the Chicago Sun-Times' Roger Ebert. Most critics don't mind "reheated Ritchie" (Lisa Schwarzbaum, Entertainment Weekly): The very enthusiastic Desson Howe of the Washington Post writes that Snatch"liberates you, shows you freedoms you never thought possible on the screen." Ritchie's use of music-video techniques and lightning-fast editing tricks to service the story mark the director as a "brazenly clever lad" (Susan Wloszczyna, USA Today). (Snatch.com is, predictably, a porn retailer; click here for the film's official site.)— B.W.
The Pledge (Warner Bros.). Sean Penn's latest directorial outing, a psychological drama couched in a police procedural, gets mostly positive reviews. Jack Nicholson stars as a retiring police detective who, in his last hours on the job, makes a pledge to the mother of a murdered girl that he will catch the culprit; fulfilling his promise becomes an obsession. Nicholson gives the most acclaimed performance of 2001 (so far), receiving unanimous raves for his subtle, "haunting and ravaged" (Owen Gleiberman, Entertainment Weekly) portrayal. Penn "infuses almost every image with a mixture of sorrow and dread" (Stephen Holden, the New York Times); critics split as to whether the relentlessly downbeat nature of the film means it's "lacking in nuance" (Kenneth Turan, the Los Angeles Times) or "deeply, scarily rewarding" (Holden). (Don't forget this "biography" of Nicholson's most famous detective character, Chinatown's J. J. "Jake" Gittes.)—B.W.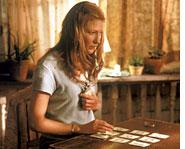 The Gift (Paramount Classics). Solid reviews for this Southern gothic thriller about a woman with second sight (Cate Blanchett). Blanchett is excellent as expected, but the film has two big surprises for reviewers: Keanu Reeves is fantastic as a redneck thug, and Giovanni Ribisi is awful as a stuttering mechanic—he "emotes like a short-circuiting Boo Radley windup toy" (A.O. Scott, the New York Times). The movie is not without flaws: It's "so chock-full of stereotypes as to be a filmic Southern Country Safari" (Curt Fields, the Washington Post), but most claim it's "a creepily effective button-pusher" (J. Hoberman, the Village Voice). Or as Roger Ebert puts it, the movie is "ingenious in its plotting, colorful in its characters, taut in its direction, and fortunate in possessing Cate Blanchett" (the Chicago Sun-Times).— E.T.

Books Protect and Defend, by Richard North Patterson (Random House). Critics can't stop qvelling over this best-selling political thriller's verisimilitude and timeliness. The plot involves a newly and narrowly elected president's nomination of the first female Supreme Court chief justice and a high-profile court case involving late-term abortion and parental consent. Familiar characters abound: The president is a Clinton-Kennedy figure; Chad Palmer, an ex-POW, pro-campaign-finance reform Republican senator, seems a lot like John McCain (critics are wowed by Patterson's luck with that first name). But they're divided over Patterson's bias—some say he leans left but presents both sides, others say that he is ideological and polemical. There's evidence either way: Patterson consulted with high-profile personalities on both sides (Clinton, Bush, Dole, Boxer); but so far, the newspapers have noted only high-profile fans of the same side (Mario Cuomo recommended the book in the Washington Post, Sandy Berger in USA Today, and Nadine Strossen in Reason). Amid all the descriptions of the book as gripping, well-researched, and convincing—or at least as compelling as The West Wing—there are a few dissenters who complain the novel is "melodramatic," "naïve," and "implausable" (Michiko Kakutani, the New York Times). (Click here to learn more about the author and here to read the first chapter.)—Y.S.

Music O Brother, Where Art Thou? (Mercury Nashville). Critics say this soundtrack of American roots music (folk, bluegrass, country, gospel), produced by T-Bone Burnett, isn't just a tribute to the past (this is, after all, a Coen brothers project). Instead the album mirrors the film's blurred boundaries between past and present, reality and art, myth and authenticity. "[I]t's hard to distinguish the old tracks from the new and the folk heroes from screen actors" (Barry Walters, Rolling Stone); "Archival cuts of actual chain gang convicts singing as their hammers break the rocks … are interspersed with authentic-sounding tracks by such modern country-folk stars as John Hartford" (Scott Alarik, the Boston Globe). All agree the album stands well on its own and appreciate its earnestness; many realize this will be the first taste many listeners get of this type of music: "This is one of the least mainstream Hollywood soundtracks ever offered for sale" (Daniel Menaker, the New York Times); "Only as a supporting project would something this resolutely noncommercial get major-label backing" (Tony Scherman, Entertainment Weekly). Favorite songs of the critics: Norman Blake's "You Are My Sunshine"; Alison Krauss, Gillian Welsh, and Emmylou Harris singing "Didn't Leave Nobody But the Baby"; and Harry McClintock's hobo anthem "Big Rock Candy Mountain." (Click here to read what critics thought of the film.)—Y.S.
Television
Queer as Folk (Showtime). This cable TV show about four gay men in Pittsburgh is unlike any of the slew of new network shows featuring gay characters (it's both more explicit and includes almost no straight characters), even though it's a lot less witty and subtle than the British show it is based on. But that's where the consensus ends. The points of view: 1) It's all about sex and shallow, slutty singles and as such promotes stereotypes of the gay community; 2) sure it's mostly about sex, but it's also about much deeper emotional needs and "these particular gay men's complicated relationship to sex" (Joshua Gamson, American Prospect), or as the Washington Post's Tom Shales says, "it's encouragingly good TV" that "has other values that run much deeper" than plain old booty-hunting; 3) underneath the sex is a "well-wrought soap opera" (Caryn James, the New York Times). There is also some disagreement over how American it is: Reviewers complain that the show cultivates "no real sense of place" (Nancy Franklin, TheNew Yorker) but note that, as opposed to the British show, the role of family and morally redeeming character traits are emphasized and that for all the sex hype, some scenes were changed or censored for the U.S. audience. (Click here for an archive of Queer as Folk articles in the Advocate and here for the show's official site.)—Y.S.
---