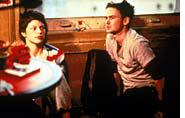 Movies
The Million Dollar Hotel (Lions Gate). Mixed, veering toward bad, reviews for this arty murder-mystery that has taken over a year to get limited release. Wim Wenders directed, and U2's Bono wrote, but critics do not give this collaboration the kind of breathless praise they doled out for Wenders'Buena Vista Social Club or U2's All That You Can't Leave Behind. At best, it's been labeled oblique and dreamy; at worst, pretentious and muddled. Some praise Wenders for making filmmaking look easy: He "tosses off" visual puns and "demonstrates his casual mastery" in handling the narration (Elvis Mitchell, the New York Times); but others say his characterizations of flophouse losers (including Milla Jovovich, stock gorgeous female freak) make up "a stoner's catalog of hellishly thin fringe clichés" (Michael Atkinson, the Village Voice). Critics debate Mel Gibson's performance: Some say he's "grafted on as an FBI agent in a neck brace, with no discernible connection to the action" (Ella Taylor, L.A. Weekly); others say he's "excellent in one of his most complex roles" (Kevin Thomas, the Los Angeles Times). Bonus gossip: The papers report that Bono is still angry at Gibson for publicly calling the film boring while promoting another of his hit films. (Click here for the official film site; here to listen to songs from the soundtrack; and here for Wim Wenders' site.)—Y.S.
The Invisible Circus (Fine Line). Most reviewers think this adaptation of Jennifer Egan's best-selling novel, set in the '60s and '70s, seems both forced and false. Critics say the structure of the film (a combination of flashback and overexpository narration and overexplicit dialogue) strips the depth from the underlying story—that of a teen-ager's (Jordana Brewster) search for answers regarding the disappearance of her older sister (Cameron Diaz). They also complain that cultural and family dynamics are demoted to nostalgic period pieces and overdone emotional scenes. More problems: The script, rather than the characters, dictates development; information is withheld too conveniently; motivations are left murky; and some plot elements strike critics as implausible. They also think that director Adam Brooks mistakenly focuses on sexual tension rather than the revolutionary politics of the era. Finally, critics disagree over which sister seems less authentic: Roger Ebert says Diaz seems less a radicalized hippie than a "political tourist" (the Chicago Sun-Times) while A.O. Scott feels it's Brewster who "is less a pilgrim in search of the buried past than a tourist tripping through the picaresque cities of Europe … as if the 60's had never really happened" (the New York Times). Slate's David Edelstein, a dissenting voice, is more generous to both actors and claims the film, with all of its drawbacks, works "in a muted, literary way." (Click here for Edelstein's review in Slate; here to read an interview with Brewster; and here to read author Jennifer Egan's Slate "Diary" on why she missed the premiere of the film at Sundance.)—Y.S.

Music J. Lo, by Jennifer Lopez (Epic). All hail the "queen of all media" (the Associated Press), "Jen of All Trades" (the Boston Globe)! J. Lo—her second album—is filled with "irresistibly hip-hop-spiked songs" (Billboard) and was co-produced with rapper-beau Sean "Puffy" Combs. But what impresses critics even more is Lopez's incredible PR trifecta: The album hit the airwaves internationally just as Puffy's high-profile trial began in New York and her No. 1 movie, The Wedding Planner, opened in theaters nationwide. (According to the Daily News, Lopez is only the third woman to top the music and movie charts in the same week—her predecessors are Whitney Houston and Barbra Streisand.) Party poopers are turned off by all the hype and claim the album is uninspired, glossy dance-pop and soulless R&B promoted to the hilt by the J. Lo industry; others spin it as an affirmation of Lopez's "flair for radio-friendly hooks and club friendly grooves" (Elysa Gardner, USA Today) and a triumph of her confident persona. Critics make lots of comparisons to Janet Jackson, and early Madonna is mentioned as well (but only as far as image is concerned); everybody agrees Lopez is only a moderately good, technically limited vocalist who maximizes her strengths. What makes her the diva of the day, critics say, is her image as the tender but strong, sexy but romantic, hardworking, down-home-girl-turned-celebrity who knows she's hotter than anyone else out there. (Click here for Rolling Stone's J. Lo photo archive; here to listen to songs from the CD. To read Slate reviews of Lopez in The Wedding Planner and The Cell, click here and here.)—Y.S.  

B ooks The Tiananmen Papers, compiled by Zhang Liang, edited by Andrew J. Nathan and Perry Link (Public Affairs). Much confusion about this smuggled collection of private Chinese government communiqués about the Tiananmen Square protest movement. The memos mostly focus on "how deeply divided the top leaders were and how close the country came to embracing political change rather than crushing it," but their provenance and purpose are a mystery (Richard Bernstein, the New York Times). The documents were collected by a Communist party official calling himself Zhang Liang (his real identity is unknown), and while American scholars have mostly verified the authenticity of the documents, nobody can be sure why he leaked them. One camp says he hoped "to undermine China's conservative leaders by forcing a rethink of the Tiananmen Massacre" (Matthew Forney, Time). Another camp speculates that "the documents were put into the public domain with the blessing of those at the top in order to prepare the ground for a carefully controlled reassessment of the Tiananmen episode" (John Byron, the Washington Post). Opinion about this book seems to depend on whether the reviewer thinks "the societal problems that sparked the 1989 protests" are getting better or not (Indira A.R. Lakshmanan, the Boston Globe). (Click here to read excerpts.)— J.D.

The Biographer's Tale, by A.S. Byatt (Alfred A. Knopf). The critics pan this follow-up to the 1990 Booker Prize winner, Possession. While Possession was "erudite and dense" but "also enormously entertaining," the new book is "erudite and dense without being the least bit engaging" (Michiko Kakutani, the New York Times). The protagonist, named Phineas, is a dorky post-graduate student in English literature who abruptly rejects postmodernism and sets off to live a life based in verifiable fact instead of theory by writing a biography of a biographer. Byatt includes long passages of made-up biography with made-up commentary, which all the critics find maddening. "One endless section presents Phineas's struggle with a boxful of incoherent note cards that he sorts and puzzles over to his near breakdown. To ours too" (Richard Eder, the New York Times). They also disliked the meta-narrative about the value of literary theory because it presented "too many levels of reality to suit the average mind." (Nina King, the Washington Post). Byatt has abandoned her natural role as a storyteller and given her readers "a top-heavy load of arch speculation about the conflict between Art … and Life" (Kirkus). (Click here for a comprehensive A.S. Byatt Web site.)— J.D.

The Bullfighter Checks Her Makeup: My Encounters With Extraordinary People, by Susan Orlean (Random House). Critics are tossing roses to this collection of profiles, most of everyday folks, from a New Yorker writer. Her non-judgmental style and obsessive reporting allow readers "to understand the eccentric and marvel and the seemingly ordinary" (Lynne Perri, USA Today). Her subjects seem "both familiar and odd," and reading the pieces is "sinfully enjoyable" (Blaine Harden, the New York Times Book Review). One essay details an average 10-year-old boy from New Jersey; another follows an African king who drives a cab in New York City; the title piece about Spain's first female matador is a "beautifully crafted case study of a well-written magazine piece" (Perri). While a lone voice complains that Orlean's writing can be a bit precious, most are left awed by her ability to enter a subject's life and "to make readers feel they've known the character all their lives" (Michael Rosenwald, the Boston Globe). (Read one of the essays here.)— L.S.
Television
Survivor: The Australian Outback (CBS, Thursday 8 p.m. ET). The second go-round of Survivor drew over 50 million viewers but leaves most critics griping that the magic's gone. Survivor II bears a "boring resemblance to the first" with contestants who seem "younger and prettier and emptier-headed than the first batch" (Tom Shales, the Washington Post). This time, reality-TV maven and Survivor creator Mark Burnett plopped 16 contestants down in the Australian Outback to vie for the million-buck prize. And the bickering begins as soon as the cameras start rolling, giving this slicker version a "bitter tone" (Caryn James, the New York Times). Now that everyone knows the game is "as much a mind game as a physical competition; that jaded attitude changes the very nature of how contestants play and how viewers experience the show" (James). Players choking down bug-infested figs and struggling to start a fire with twigs leaves Survivor-sour Shales "dumbfounded that contestants will submit themselves to so much humiliation and that so many viewers will tune in to watch them do it." (Click here for the official Web site.)—L.S.
---