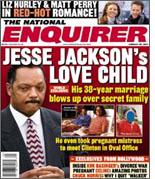 Whenever the mainstream press swoops down into the cozy haven of Tabloidland, Keeping Tabs can't help but feel a little territorial, like the local reporter who's been dutifully following a story only to be left in the dust when the networks descend. By now, virtually every media outlet known to man—including both the venerable New York Times and the Washington Post—has dutifully reported on this week's National Enquirer exposé about the Rev. Jesse Jackson's "love child." (For the record, the child's face is obscured in all the photos; they're really respectful of people's privacy over at the Enquirer, you know.)
But what the slumming mainstream press might have missed during its brief touchdown in Tabloidland is that the explosive tone of the Jackson story—a "seething" Jackie Jackson supposedly "hit the roof" when told of her husband's affair, then "stormed off" to her rival's office and "ripped into her in a fury"—is just the latest example of the tabs' New Year modus operandi. As if that long-predicted millennial madness has finally come to fruition, the tabs have been Sturm und Drang central since the beginning of the year, with everyone sobbing hysterically, storming into or out of rooms, slamming doors, and losing their tempers (and/or their sanity) more frequently than moody adolescents. Fury, quite simply, is the order of the day.
In a story titled "Fergie's Fury," the Globe reports that "fuming" Sarah Ferguson lashed out "in a jealous rage" at her ex-husband, Prince Andrew, after seeing published photos of him "romping" with a bevy of scantily clad women in Thailand. "You're a disgrace and a terrible embarrassment to your children—and to me!" Ferguson supposedly told him. (The Star, for its part, said nothing of Fergie's outburst, but rather claimed she was devastated by the photographs because she had "secretly hoped" she and the prince might remarry.)
The grande dame of recent tabloid fury might just be actress Meg Ryan. The Star's story "Meg Ryan's Fury as Gladiator Romps With Ex" describes how an "outraged" Ryan was "ready to throw lover Russell Crowe to the lions" after she supposedly discovered that Crowe had gone out with an old girlfriend.
"Meg was spitting nails," a "pal" tells the Star. "She got on the phone and blasted him. It's a good thing he was on the other side of the world. … To say she was furious is putting it mildly." The Enquirer takes the story one step further ("Meg Ryan Dumped!" screamed last week's cover), saying that an "infuriated" Ryan "confronted Russell in a fiery meeting at the Hotel Bel-Aire" only to have him reject her once and for all, after which she "flew out of the room sobbing as Russell slammed the door."
According to the Globe, Joan Collins threw a "hissy fit" while taping a guest appearance on Will & Grace, after which she "stormed off" the set in disgust. The Globe also claims that James Brown "went berserk" at a recent Las Vegas show. "He was spitting mad," a "shocked onlooker" told the Globe (but not yet "spitting nails," apparently). "It was the most bizarre outburst I'd ever seen." (But with good reason: Brown was reportedly peeved at having been denied a luxury suite at the Aladdin hotel and forced instead to stay in a "regular room" at the Monte Carlo. His lawyer tells the Globe that his client "felt he was being treated like a second-class citizen.")
The Enquirer's Mike Walker seems to have been put on the Hollywood fury beat full-time: This week he reports that Leonardo DiCaprio "went loony" after being asked for an autograph by a movie extra, screaming, "Get out of my way! Don't you know you're not allowed to speak to me?" When the outburst was over, DiCaprio then supposedly "rushed over to the guy in charge of extras and read HIM the riot act." Walker also recently reported that Angelina Jolie ran out of a New York restaurant, screamed at a limo driver for parking on the wrong side of the street, and then "stomped off," while former Melrose Place vixen Lisa Rinna had a DiCaprio-esque two-part tantrum on board an airplane. After realizing that she didn't have a change of clothes for her milk-sodden toddler, Rinna reportedly "stormed back into coach and publicly lambasted" her nanny, only to "lace into the nanny AGAIN when they deplaned." Peeved with the new administration, perhaps?
At the opposite end of the fury spectrum are newlyweds Jennifer Aniston and Brad Pitt; this week's Star cover story claims that the two have a serious penchant for a mood-altering substance known for inducing a certain genial buzz. After supposedly partaking at one Hollywood party, Brad was reportedly "real mellow and relaxed," while Jennifer "was dashing 'round the room talking to everyone. Suddenly, she was everyone's best friend."
Also apparently feeling quite mellow is Oprah Winfrey, who the Star reports has been planning her own funeral, right down to selecting the music she wants playing "as humidifiers waft the scent of lilacs throughout the room." Oprah is also said to be videotaping messages to the important people in her life ("You've been the person who always kept my ego from growing as fast as my butt!" she reportedly told best friend Gayle King) and planning the wake menu, which the Star says includes mashed potatoes, sweet potato pie, and macaroni and cheese.
And finally, Prince William fans can rest assured that he has started the tabloid year on the right foot. In a brilliant stroke of synchronicity, all three tabs have recently reported on a putative e-mail romance between the prince and President Bush's niece, Lauren, a fetching teen-aged model who has posed for Vogue.
The Globe is quite tepid on the Windsor-Bush pairing, saying only that Lauren is "just the type of girl [William] wants to get to know better" and that he is "vowing to cool his jet-setting heels to pursue a relationship" with her. The Star, traditionally the most William-centric of the tabs, goes with a cover on "William's Hush-Hush Romance With Bush Daughter," detailing the "intimate and steamy love messages" the two have been trading. "Excited royal watchers say a potential match between the duo would be just what the British aristocracy needs," the Star says unironically, comparing young Lauren both to William's late mother, Princess Diana, and to Princess Grace of Monaco. The Star even pooh-poohs William's last supposed e-mail romance with Britney Spears, affirming that "this one seems different, more serious." (Apparently not quite different enough for the Star to have thought up a new headline: They must have forgotten that they used the "Hush-Hush Romance" line on their first William-Britney cover.)
They're having a little déjà vu over at the Enquirer as well: "There's going to be fireworks when these two collide!" a "royal source" says of the supposed couple. (Sound familiar? "There'll be fireworks when these two meet!" a "royal insider" said of William and Britney last March.)
Oh, well. Fireworks or not, Keeping Tabs still feels confident that 2001 promises to be an explosive tabloid year.  
---