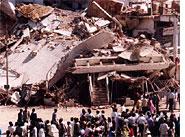 An earthquake in India may have killed over 1,500 people. The temblor, which the United States measured as magnitude 7.9, was the worst to hit India in half a century. (To read an "Explainer" on whether or not dead bodies are dangerous, click here.)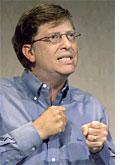 Hackers shut down Microsoft's Web sites. On Wednesday and Thursday Microsoft's four "DNS" servers—computers that translate Web addresses into digital code—went down. Users lost access to sites such as MSN, MSNBC, Hotmail, Slate, and Microsoft.com. Microsoft's spin: Tuesday's problems were our fault. On Wednesday we were hacked. Analysts' spin: The hackers probably struck because they knew the company was vulnerable. Critics' spin: Microsoft's public reaction to the problem was slow and obfuscatory.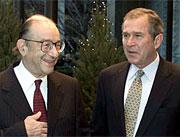 Alan Greenspan cautiously endorsed tax cuts. The Federal Reserve chairman said that in theory tax cuts could help stimulate the economy. He warned that past cuts have often languished in Congress until they were no longer necessary. He estimated the economy's current growth to be near zero, but said that hidden technological gains may boost productivity more than expected. Bush administration's spin: You go, Alan. Pundits' spin: Last week Bush's treasury secretary pooh-poohed tax cuts, this week the Fed endorses them. What gives?
Scientists eavesdropped on dreaming rats. Researchers implanted electrodes in four rats and discovered that their brains fired the same neurons during REM sleep as were fired during the running of a maze the previous day. The researchers could determine exactly where in a maze the dreaming rat believes himself to be. Experimenters' spin: The brain creates memory as we experience something, and dreaming may serve to consolidate that memory through a "rehearsal."
New economy companies are downsizing. This week Lucent Technologies cut 10 percent of its work force; America Online, 5 percent; and Excite@home, 8 percent. In the past two months, Amazon has fired 5 percent of its employees; AskJeeves, 25 percent; CNN, 10 percent (one third from its Web site); Kozmo, about 10 percent; Priceline, about 15 percent; AltaVista, over 25 percent; and MarchFirst (an Internet consulting firm), about 15 percent. Doomsday spin: This is the beginning of the end for the dot-com economy. AOL's spin: We're just cutting bureaucracy in anticipation of the Time Warner merger. Really. Big-picture spin: In the long run, tech companies will provide millions of jobs. Slimming down when the economy slows is part of capitalism.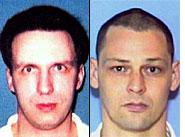 Colorado police captured the last of the "Texas Seven" prison escapees. Patrick Murphy and Donald Newbury surrendered in Colorado Springs after authorities granted them a telephone interview with a local TV station. (They lambasted prison conditions.) A day earlier, police captured four other escapees, while a fifth killed himself before he was apprehended. Authorities found the men in a Colorado Springs trailer park after receiving a tip from a viewer of Fox's America's Most Wanted. Last month the inmates overpowered guards and hid in a truck leaving the prison. They are accused of killing a police officer while on the lam. Murphy was eligible for parole in 15 months. Pro-police spin: By arresting the fugitives without a firefight, the cops saved many lives. Anti-police spin: If the prison guards hadn't been caught napping, nobody would have been killed. Murphy and Newbury's spin: The Texas penal system "is as corrupt as we are." Murphy's spin: If I had been paroled, I would have become an outlaw again. Trailer-park neighbors' spin: The fugitives were "nice." (To learn what's wrong with the neighbors, click here.)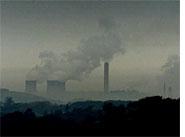 A U.N. study heightened global warming fears. The report, compiled by scientists from 90 countries, predicted a global temperature rise of more than 10 degrees this century, double the prevailing prediction. Diplomatic talks to reduce greenhouse-gas emissions collapsed in November and will resume in May. Scientists' spin: Don't take our word for it—northern polar sea ice has shrunk by up to 15 percent in the past 40 years. Skeptics' spin: This study has a political agenda and stresses worst-case scenarios. And even if it's right, politicians will never reduce emissions. We should focus on adapting to the warming, not stopping it.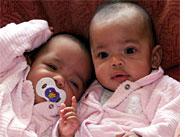 A British judge will keep the "Internet twins" in government custody. The judge refused to give the babies back to the London couple who adopted them in the United States. Last autumn a California couple adopted the twins through the Internet, but two months later birth mother Tranda Wecker took them back and gave them to a British couple, who offered her more money. The Californian and British families bickered on television, and now Wecker wants the babies back. Pro-Wecker spin: She was duped by her fly-by-night adoption coordinator, who pocketed money from both families. British prime minister's spin: "It is absolutely deplorable that children are traded this way." Judge's spin: The babies' welfare comes first. Critics' spin: Keeping them in a foster home while lawyers fight is not in their best interest.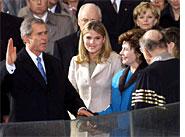 George W. Bush became the 43rd president. Acting like a man in a hurry, he gave a short and conciliatory inauguration speech and kept his public appearances brief. He immediately moved to overturn several of Clinton's abortion policies. Bush's spin: "I thank Vice President Gore for a contest conducted with spirit, and ended with grace." Conservatives' spin: Unlike some presidents we know, Bush made his inaugural a concise, self-disciplined affair. Liberals' retort: Bush's low-key inaugural merely reflects his ill-gotten victory.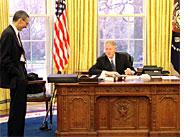 President Clinton pardoned Susan McDougal and John Deutsch. McDougal served two years in jail for misleading S&L regulators and for refusing to testify in the independent counsel's Whitewater investigation. Deutsch, a former Clinton CIA director, faced possible felony charges for storing classified information on an unsecure home computer. Clinton also pardoned his brother Roger of a drug conviction (he served a prison sentence in the '80s) and Patty Hearst (now Patricia Shaw Hearst) for her celebrated role in a 1974 bank robbery (her prison sentence had been commuted by President Carter in 1979). Cynical spin: Clinton pardoned several criminals who helped him politically, such as McDougal and tax fugitive Marc Rich (whose wife raises money for the Democrats). Idealistic spin: Clinton also did not pardon several criminals who helped him politically, like Wall Street felon Michael Milken (whose best friend requested his pardon and gave money to Clinton's presidential library) and Webster Hubbell, another Whitewater convict. (To read more Slate articles on pardons, click here
---