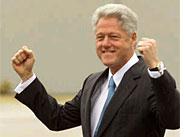 President Clinton struck a deal with Independent Counsel Robert Ray to avoid indictment. Clinton will admit he "knowingly misled" prosecutors about his relationship with Monica Lewinsky. His law license will be suspended for five years. In return, the independent counsel's office will drop its six-year investigation. Liberals' spin: R.I.P. Whitewater investigation. Pundits' spin: R.I.P. independent counsel law.
Firms are competing to sell moist toilet wipes for adults. Kimberly-Clarke introduced Cottonelle Fresh Rollwipes, challenging the existing brand, Moist Mates. The concept: Keep the dispenser next to your toilet paper, wipe yourself like a baby, and flush the towelette. Estimated cost of Rollwipes: $9 for the dispenser and four rolls, $1 for each replacement roll. Rollwipes maker's spin: You liked it as a baby; you'll love it as an adult. One-fourth of Americans already wipe themselves with a moist tissue. Moist Mates maker's spin: "Once you start using it you wonder how you ever got by without it." Financial analysts' spin: The pioneers of this market "are swinging for a big one."
President Clinton said farewell to the nation. His seven-minute televised address stressed fiscal responsibility, the alleviation of Third World poverty through free trade, and racial reconciliation. He touted his administration's economic successes. Pundits' spin: "Racial reconciliation" is underhanded criticism of John Ashcroft. "Fiscal responsibility" is code for don't cut taxes.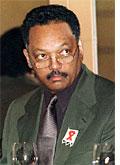 Jesse Jackson fathered a child out of wedlock two years ago. The civil rights leader admitted to his affair with a staff member after the National Enquirer reported the story. He pledged to take a break from public life. He pays his former mistress $10,000 a month in child support. (The Enquirer reported that he made the mother promise to keep quiet.) Jackson acted as "spiritual adviser" to President Clinton during the Lewinsky scandal and in December 1998 took his four-months-pregnant mistress to visit Clinton. Jackson's spin in August 1998: " If there are any among us who have not known [Clinton's] trials and tribulations and temptations, then throw a rock." Jackson's spin today: "I was born of these circumstances and I know the importance of growing up in a nurturing, supportive and protected environment."
Northern California endured its second day of rotating blackouts. Several hundred thousand people on Wednesday, and more than a million on Thursday, lost power for several hours. (The outages affected traffic lights and elevators in San Francisco.) Gov. Gray Davis used taxpayer money to buy energy from out-of-state power plants and sell it cheaply to in-state utilities, which are close to bankruptcy. Several weeks ago, Davis called his state's energy deregulation a "colossal and dangerous failure." He proposed using $1 billion to prop up failing electric utilities and to offer loans and cash incentives for consumer conservation. California had a power surplus until last June, but soaring wholesale prices and consumer demand have led to shortages. Utilities' spin: We spent $12 billion to buy electricity at high wholesale prices, but the state won't let us pass those costs on to consumers. Reform advocates' spin: California should float a bond to bail out the utilities; consumers could pay off the $12 billion over many years. Consumer advocates' spin: We shouldn't bail out the utilities. They've been withholding power to jack up prices. Wall Street's spin: The governor's efficiency measures aren't enough. He has to cut red tape and allow more power plants to be built.
The American Red Cross eliminated 6 percent of its blood donors to protect against human "mad cow" disease. The Red Cross, which collects half the nation's blood supply, will prohibit donations from anyone who has spent more than six months in Western Europe since 1980. It will lobby the feds to adopt its regulations. (The government's ban applies only to those who have lived in the U.K. between 1980 and 1996.) The brain-destroying disease (scientists have yet to discover a specific virus or bacterium) has killed 88 in the U.K. and one in France. Critics' spin: There is not much evidence that mad cow is spread through blood transfusions. A blood shortage is a greater threat than mad-cow transmission is. Red Cross' spin: People said the same about HIV in the early 1980s. Until we develop a mad-cow blood test, we will act cautiously.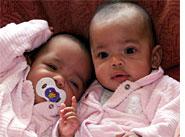 A Missouri woman was accused of selling babies on the Internet. Tranda Wecker let a California couple adopt her twin babies, but two months later took them back under false pretenses and gave them to a British couple. (Newspaper reports claim that the British couple offered more money.) Wecker says she lied on the adoption papers, and the FBI is investigating. Meanwhile, the Californian and British families bickered on television. Pro-Wecker spin: She was duped by her fly-by-night adoption coordinator, who pocketed money from both families. British prime minister's spin: "It is absolutely deplorable that children are traded this way."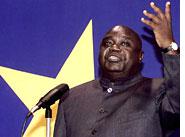 The president of the Congo was shot to death and his son took power. Laurent Kabila, who in 1997 toppled Zaire dictator Mobutu Sese Seko and then renamed the country, has been fighting rebel armies for years. Analysts' spins: 1) The assassination may inflame the war in Central Africa. 2) Actually, Kabila was the biggest barrier to a negotiated peace.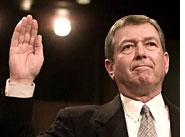 John Ashcroft invited senators to "pummel" him with questions. The attorney general nominee said that his pro-life views would not diminish his enforcement of pro-choice laws. He also denounced racial profiling and endorsed background checks at gun shows. Sen. Edward Kennedy's spin: As Missouri governor and senator, Ashcroft advanced his right-wing views "in creative and inappropriate ways." Ashcroft's spin: Being attorney general is about "advancing the national interest, not advocating my personal interest." Pundits' spin: This is a show trial with no substance. Senators will not reject one of their own.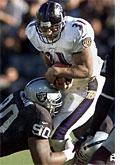 The New York Giants and Baltimore Ravens will meet in the Super Bowl. The Ravens beat the Oakland Raiders 16-3 in the AFC title game, while the Giants crushed the Minnesota Vikings 41-0 for the NFC title. Both teams were .500 a year ago. Spins: 1) The championship games were boring blowouts. 2) The Giants have a better offense than the Ravens. 3) The Ravens have a better defense than the Giants. (To read why the Super Bowl will pit good against evil, click here.)
---