The most recent crop of tabloid offerings is awash in a most untabloid-like motif: modesty. Keeping Tabs knew something was up when the Globe reported that country star Wynonna has decided to "turn her back on country music" because of concerns that it has gotten too sexy. "I'd sooner sing pop love songs than help country music with all its traditions go porno," Wynonna supposedly told a pal. "Some of the songs have slipped into a sexual cesspit, and I don't want to go there." Not pop love songs! Say it ain't so, Wy!
The Globe's Charlene Tilton reports that Backstreet Boy Brian Littrell "refused to take part in a Rolling Stone photo shoot that has the boys half naked because it would be 'demeaning.' " ("Whatta guy!" gushes Tilton.) Even Demi Moore—whom Keeping Tabs last recalls seeing on Late Night With David Letterman clad in a tiny bikini—has supposedly joined the Hollywood sexual temperance brigade. According to the Star, Moore is now living in mortal fear that risqué nude photographs she posed for as a teen-ager will surface and cause her three daughters to be taunted at school. (Let's hope for their sake that no one gets their hands on a copy of Mom in The Scarlet Letter.) Even the sermon at Sony mogul Tommy Mottola's recent celeb-studded wedding reportedly included a blast at a "society consumed by sexually deviant behavior and pornography." (Guest Michael Jackson, reports the Globe, was "literally squirming in his seat. And from the hurt expression plastered on scandal-plagued Jacko's face, say eyewitnesses, it really looked like he took it personally." Jackson reportedly then left the church abruptly.) By the time Keeping Tabs read in the Globe that former Playboy model and notorious bad girl Roxanne Pulitzer is now a grandmother, the message couldn't get any clearer: Propriety is the new new thing.
The tabloids take pains to point out that while Robert Downey Jr.'s most recent Palm Springs vacation—the one that ended with his arrest—involved ladies of the G-string and pasties variety, it was actually quite chaste. The Enquirer, which has a detailed three-page story about the events in question, insists that while Downey was indeed palling around with several strippers, he reportedly told them, "I can't have an orgy—we'll just have a cuddle orgy. We can just hug and kiss."
This week's Globe has an exclusive story titled "My Night in Bed With Weeping Robert Downey," in which Laura Burnett, who goes by the stage name Houston, details how she supposedly met Downey when he came into the "gentlemen's club" where she works. She says she "made an instant connection with Downey, who seemed impressed with her 36D chest"—but once back at his hotel room, after they "slid under the white sheets and flower-pattern duvet together," Burnett maintains that nothing but some kissing and hugging ensued.
"He needed a big hug," she explains. "He needed to know he is loved and wanted."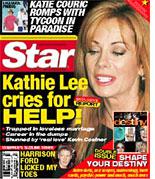 According to the Star, Kathie Lee Gifford is very much in need of a hug as well—she's "crying out for help to get her through what is proving to be the most difficult time of her life." Devastated by her "loveless marriage" and "fearful that her career is on the skids," Kathie Lee is also said to have been "rocked" by the news that the "real love of her life," Kevin Costner, is getting very serious with his girlfriend.
"This is going to be the worst holiday season ever," Kathie Lee supposedly "sobbed" to a friend. "I don't even have my Christmas special or a album. I just can't handle the charade anymore. There will be no happy Gifford family hanging the Christmas stockings, waiting for Santa and singing Christmas carols this year."
Kathie Lee might want to check out last week's special "Shape Your Destiny" issue of the Star to get back on track. "YOU have the power to improve your health, increase your wealth and revitalize your love life," asserts the intro. How? Just make it through the Star's 30-page guide to every New Age self-enhancement craze imaginable, from numerology (Kathie Lee and Frank Gifford are both "Personal Year Number" 8s, which could explain a lot of their problems), yoga, crystals, and Feng Shui to palm analysis ("the fleshy mound under the index finger indicated that Rosie [O'Donnell] craves power") and astrologically correct diet plans. Food-loving Cancers like Tom Hanks, asserts the Star, need diets "filled with gourmet goodies," while high doses of protein might help curb mood swings in "carbohydrate sensitive" Scorpios like Winona Ryder.
Psychics are all the rage as well, although the psychics themselves seem to have a mixed track record. The seer that Renée Zellweger supposedly consulted told her "she'd marry Jim [Carrey], have his child and win an Oscar for her work in the upcoming Bridget Jones' Diary." Alas, the couple recently broke up, but the Oscars aren't till the spring, of course. Montel Williams "once had a clairvoyant predict that he and his estranged wife Grace would be together forever!" (As the Star reminds us, they are now "splitsville.") But spiritual adviser Joya Delaney reportedly performed "a type of psychic surgery" on singer Paula Abdul "in a bid to correct traits that kept leading her astray" and it seemed to do the trick: "Voila—Abdul went from 140 to 115 pounds, is halfway through a new CD and has just signed on to develop a children's tv series."
But 25 pounds? A children's TV series? How does it work? "The secret is that energy flows through meridians in the nervous system, ductless glands and the bloodstream—through 720,000 channels," Goldie Hawn's psychic healer, Peter Ulikhanov, explained to the Star. "These can become blocked by such problems as resentment, anger and jealousy." Somehow, the Star failed to find the requisite "meridian" expert to back up Ulikhanov's claims. But Keeping Tabs has heard that when those 720,000 channels get blocked, it can create quite a cesspit in the soul.
---