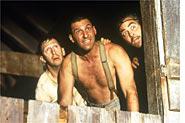 Movies O Brother, Where Art Thou? (Touchstone). Mostly good reviews for a Coen brothers film about the journey of three dumb escaped convicts through sun-drenched, 1930s Mississippi. Everyone agrees the plot is just a hanger for allusions to other movies and myths, compilations of eccentric Americana and great bluegrass, and folkloric clichés (key review words: kitsch, picaresque, gumbo, pastiche; rodomontade [!?]). Anthony Lane complains of a "queasy suspicion" that the film is "less of a movie and more of an excuse for a really great soundtrack" (The New Yorker). There is some criticism of the Coens' contemptuous mockery of rednecks and a sense that their combination of whimsy and wink make the movie seem smug and empty. "Why would filmmakers with this much talent work this hard to thumb their noses at everything they put onscreen?" (Owen Gleiberman, Entertainment Weekly). Others don't feel their gags hold up: "[T]he movie's a collection of great bits and pieces rather than a complete work. … All of the episodes are individually enjoyable, as far as they go. But there's no cumulative power; they come and go without building the drama" (Desson Howe, the Washington Post). Most, however, agree not to take the film too seriously and admit that it's got some heart. George Clooney, playing the lead stooge, looks like a dapper Clark Gable to many critics; a dissenting voice defuses their praise and demotes him to a "middle-period Burt Reynolds" (J. Hoberman, the Village Voice). (Click here for the film trailer and here to listen to songs from the soundtrack.)— Y.S.
Traffic (USA Films). Great reviews for this ambitious docudrama about the Mexican-U.S. drug trade. All praise director Steven Soderbergh for attacking his subject from all angles. He juggles several star-studded, color-coded story lines about cartels, consumption, and crackdown simultaneously—trafficking filtered in the color brown, enforcement in blue—to capture the complexity of his subject. (The buzz is that Soderbergh, who also directed Erin Brokovich, will be running against himself for "Best Director" at the Oscars.) Though praised for its boldness in attacking America's drug policy, Traffic doesn't seem bold enough to some critics. (Sen. Orrin Hatch believed it anti-drug enough to cameo.) "[I]t feels like the filmmakers are tiptoeing around the implications of their good work. A big-budget film in a controversial area, Traffic seems especially eager to be seen as balanced" (Kenneth Turan, the Los Angeles Times). (Click here for the official site with links to trailers, here for an interview with Soderbergh, and here for information on official U.S. drug policy.)—Y.S.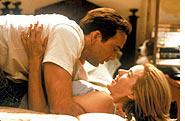 The Family Man (Universal Pictures). Nicolas Cage and Tea Leoni star in a quasi-It's a Wonderful Life story about what would have happened if Cage had married his college sweetheart instead of becoming a Wall Street shark. Complaints: 1) The movie is "pure formula nonsense," but it botches the formula—"hokum has its rules, and by the physics of hokum, The Family Man is a mess: It can't even get the clichés right" (Stephen Hunter, the Washington Post). 2) It's a "a cheap, dirty grab at our Christmas spirit" (Desson Howe, the Washington Post). A few praise Cage's performance (the New York Times' Elvis Mitchell calls it "a marvel of modesty"), but most lean toward picking at the film's inconsistencies, and one even goes so far as to pick at Cage's "obvious hair weave" (Howe). (Click here for a Nicolas Cage fan site that has biography, filmography, quotes, and pictures.)— E.T.
Before Night Falls (Fine Line). This biopic about the gay Cuban writer Reinaldo Arenas, starring Spanish star Javier Bardem, has made many year-end top-10 lists. Critics are struck by the film's visuals, repeatedly deemed "rapturous" and "dreamlike," while disparaging its dialogue, which they find too grand and hard to understand (it's spoken in accented English). They praise director Julian Schnabel's refusal to overanalyze any attempt to let the artist's own words, in the form of voice-over excerpts of Arenas' writing, speak for themselves. "Ironically for a film about a poet, it's the scenes without words … that are most successful" (Kenneth Turan, the Los Angeles Times). Critics think the film's romantic celebration of artistic imagination and martyrdom succeeds because of Bardem's "performance of genuine grandeur" (Joe Morgenstern, the Wall Street Journal) and because the film never becomes "hagiographic or politically strident" (Stephen Holden, the New York Times). (Click here for a short biography of Arenas, here for descriptions of his writings, and here for the film's official site.)—Y.S.
---