The Agriculture Department ruled that "organic" food cannot be genetically modified or irradiated. To earn the new " USDA Certified organic"  label, farmers cannot 1) irradiate, fertilize, or genetically modify crops; or 2) give antibiotics, hormones, or non-organic feed to livestock. The national standards will replace state and local ones. USDA's spin: "The organic label is a marketing tool. It is not a statement about food safety." Agribusiness' spin: If you had put that disclaimer on the label, as we asked, customers wouldn't be so phobic of industrial food production. Organic producers' spin: These regulations will create a niche for family farms.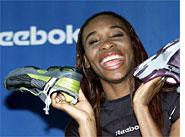 Venus Williams signed the richest endorsement deal ever for a woman athlete. The 20-year-old tennis phenom—who won the Wimbledon, U.S. Open, Olympic singles, and Olympic doubles titles this year— signed a $40 million, five-year contract with Reebok. Feminist spin: That's impressive, but less than half of Tiger Woods' $85 million-plus five-year deal with Nike.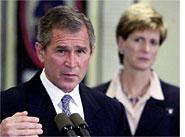 George W. Bush will name New Jersey Gov. Christine Todd Whitman as his EPA administrator. Bush has reportedly offered Health and Human Services to Wisconsin Gov. Tommy Thompson. On Wednesday Bush nominated Paul O'Neill for treasury secretary. He is chairman of the aluminum company Alcoa and worked in the Ford administration. Wall Street's spin: Paul who? Bush's spin: A recession may be looming, so if Congress doesn't cut taxes, don't blame me for the downturn. White House's spin: It's irresponsible to "talk down" the economy before you take office. Besides, the economy is growing at 2.5 percent. Commerce Department's spin: Er, remember our third-quarter growth estimate? We were too optimistic—it's really 2.2 percent. Social conservatives' spin: Thank God Whitman is at EPA, where her pro-choice views won't matter.
The Nasdaq suffered its biggest percentage loss since April. The 7-percent drop Wednesday follows a 4.3-percent drop Tuesday. On Thursday the index treaded water. The Nasdaq has lost 53 percent of its value since its peak in March, and 23 percent in the last 8 days. Poor earnings reports and the Federal Reserve's decision not to lower interest rates Tuesday provoked investors to move money from tech companies to pharmaceuticals and utilities. Analysts' spins: 1) This is Alan Greenspan's fault. His "tough-love" rate policy will trigger a recession. 2) This is a natural correction. The market was absurdly overvalued in March. (Click here to read an "Assessment" of the Nasdaq, the stock market for the smug digital world.)
John Lindsay died. The former New York mayor was known for his urbanity and idealism. He governed New York as a Republican in the 1960s, then ran for the presidency unsuccessfully as a Democrat. Pro-Lindsay spin: He prevented rioting and gave the city a glamorous image. Anti-Lindsay spin: He was a spineless labor negotiator and a clueless racial mediator.
Two studies concluded that cell phones don't cause brain cancer. Despite widespread fears, scientists say that the microwaves emitted by the phones should pose no danger to humans. Researchers' spin: Science can convince only so many. "For believers, no proof is necessary. And for skeptics, no proof is possible."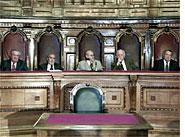 Chile's supreme court dismissed charges against former dictator Augusto Pinochet. But the court ordered prosecutors to interrogate Pinochet within 20 days, possibly in preparation for another indictment. On Dec. 1, a judge indicted Pinochet for the disappearance of 19 prisoners in 1973 (shortly after he took power) and placed him under house arrest. Pinochet, who stepped down in 1990, was under house arrest in London from October 1998 to March 2000. The civilian government that succeeded him said 3,197 people disappeared or were killed under his rule. Analysts' spin: Pinichet will be tried eventually, but this slows things down. (The Explainer tells you how to pronounce "Pinochet"here; to read world reaction to his arrest in "International Papers," click here; for Anne Applebaum's take, click here.)
The eight-year-long decline in crime may be over. Crime has fallen about 7 percent each year since 1991, but in the first six months of this year it fell just 0.3 percent, the FBI reported. Murder declined 1.8 percent but rose in cities like New York and Los Angeles. Rape and aggravated assault increased slightly. Criminologists' spins: 1) You can't draw firm conclusions from six months of data. 2) You can't eliminate crime, so the declines had to stop eventually. 3) There will be more teen-agers  in this decade, and they tend to cause more crime.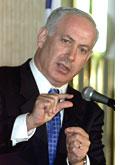 Benjamin Netanyahu will not run in Israel's elections. The former Likud prime minister said a new premier could not govern effectively without concurrent parliamentary elections. Labor Prime Minister Ehud Barak will now face Likud leader Ariel Sharon on Feb. 6. Former Labor PM Shimon Peres said he might run as an independent on a peace platform. Meanwhile, Barak restarted talks with the Palestinians. Peres' spin: I could split the liberal vote, forcing a runoff between me and Sharon. Barak's spin: Don't do it. I'm Israel's best hope for peace. (To read world reaction to the Israeli election in "International Papers," click here; to read an "Assessment" of Sharon, click here.)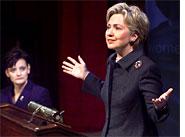 Hillary Clinton will receive an $8 million advance for her memoirs. Simon & Schuster's winning bid is the second-highest advance ever, next to the $8.5 million given to Pope John Paul II in 1994. The book, which will appear in 2003, will contain reflections on the Lewinsky scandal. Simon & Schuster is owned by Viacom, a big player in Washington regulatory battles. Clean government spin: Newt Gingrich had to forgo a large advance to comply with House ethics rules; why should Sen.-elect Clinton get special treatment?
---