Movies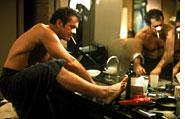 What Women Want (Paramount). Bring back Braveheart! Mel Gibson has been reincarnated as a cocky prankster with an ability to read women's minds in this ridiculously retro romantic comedy. With reckless abandon, Gibson goes for Tootsie (there's a pantyhose and Wonderbra dress-up number) but comes off as a kind of second-rate Cary Grant with a permanent Cheshire Cat grin; "His mock Fred Astaire routine to Frank Sinatra's 'I Won't Dance' is particularly showboaty" (Mark Caro, the Chicago Tribune). The movie's premise: Female mind reading makes Mel a better lover and advertising executive. Critics claim that though it masquerades as a feminist fare, the film harks back to the 1950s portrayal of women as vulnerable sex objects, enlightened consumers, or, as in the case of leading lady Helen Hunt, noirish "ball busting" "real man-eater[s]." "(D)espite its contemporary 'women rule' window dressing, its foundations are a lot more ancient" (Kenneth Turan, the Los Angeles Times); it's "an update of the Rock Hudson-Doris Day comedies except … no one here has bothered to write a leading female character strong enough to pit against the male lead" (Elvis Mitchell, the New York Times); it "makes the case against misogyny by saying: What fun is being a misogynist when women aren't innately powerful? Pity the poor creatures" (David Edelstein, Slate). (Click here to read the rest of Edelstein's review, here for the film's official site, and here to watch the trailer.)— Y.S.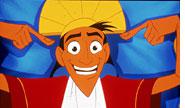 The Emperor's New Groove (Walt Disney Pictures). Reversing the trend toward ponderous musicals about following your dream, Disney comes out with a fun cartoon that reminds reviewers of Bugs Bunny and Looney Tunes more than sappy singing lions: "a goofy slapstick cartoon, with the attention span of Donald Duck … seems to have been made over in a corner of the Disney lot by animators who just wanted to laugh a lot and wear funny hats" (Roger Ebert, the Chicago Sun-Times). David Spade voices the character of a bratty Incan emperor who gets turned into a llama by a scheming sorceress (Eartha Kitt); John Goodman plays the good-natured peasant who takes in the llama. The lighthearted film is "a timely reminder that animated films don't have to be grandiose visual circuses with full Broadway scores to entertain … [and it] shrewdly avoids pompous moralizing in favor of zany high jinks and snide, adolescent jokes" (Steven Holden, the New York Times). (Click here to watch the trailer.)— E.T.
Dungeons & Dragons (New Line). Critics call this a B-movie for preteens that's an insult to the fantasy game. Dumb dialogue, extreme camp, and embarrassingly bad acting win it a whole host of nominations as the worst film of the year. The convoluted plot makes for some blurry critical descriptions: "Our heroic group must battle Damodar for possession of a powerful thingummy that can control red dragons" and "save the world or whatever" (Andrew O'Hehir, Salon). The scenery—or what's left of it after Jeremy Irons' thunder and bombast tear it up—also disconcerts: Filmed in the damp basements of Prague, Dungeons & Dragons boasts both spires and street slang. Even worse, the extras look "like sci-fi groupies from a Star Trek convention who wandered into the Renaissance Festival next door" (Michael O'Sullivan, the Washington Post). Reviews are mostly lists of complaints: When is Damon Wayans going to stop acting like a "jiving buffoon" (Loren King, the Boston Globe)? What's with the lipstick on Bruce Payne? And, finally, those mysterious red beasts. "High marks for anyone who can explain the role that dragons play in the Izmerian ecology" (Robert Ebert, Chicago Sun-Times). (Click here for everything you want to know about D&D.)— Y.S.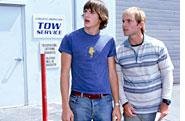 Dude, Where's My Car? (20th Century Fox). Dude, where's my movie? The studio decided not to screen this one for critics, presumably because it's a stinker. As soon as it's reviewed, we'll add it.— E.T.
Books

The Diagnosis, by Alan Lightman (Pantheon). Although they praise Lightman's ambition, critics find his third novel somewhat puzzling and more ponderous than his previous books. They complain that his satirical portrayal of the stress and meaninglessness of high-tech contemporary urban life is heavy-handed, albeit effective. They are also unsure of what to make of the hero, Bill Chalmers—a 40-year-old information-age Everyman in an unrewarding job and failing marriage who suffers from an undiagnosable illness that starts with amnesia and progresses to paralysis. "(T)he reader begins to suspect that Lightman's intent is, after all, a search for a kind of redemption, that what Chalmers gains in his suffering is the inner life he never had before. … But, to be honest, it's hard to tell" (James Hynes, the Washington Post); "extrapolating anything in The Diagnosis is risky business" (Ben Greenman, The New Yorker). The problem, critics claim, stems from Lightman's attempt to build a "novel of ideas" without the requisite lyricism and imagination: "[I]ts focus is less on character development or emotional credibility than on its dark symbolism; while Chalmers' alienation is a tale of anguish, its rendering through the inhuman flotsam of technospeak (e-mail chatter, nonsensical dialogues) becomes tedious after a while" (Gail Caldwell, the Boston Globe). (Click here to read an excerpt.)— Y.S.

Music Renegades, by Rage Against the Machine (Epic). Critics call this an appropriate coda to the career of a group regarded as the pre-eminent rabble-rousing metal rap band of the 1990s. In the wake of singer Zack de la Rocha's departure from the band, Rage has released an eclectic album of covers of their favorite renegades like rappers Eric B. & Rakim, rockers like the Rolling Stones, and punkers like the Stooges. But "Rage didn't just copy these protest songs. It re-created them in its own image," so you'll like this album only if you like Rage's trademark hard, shouting, polemical style (Jim Farber, the New York Daily News). Devotees feel the band did a good job overall in their aggressive reworking of classic rebel songs: The album attests to their knowledge of "the sweep of rock and rap history" and their "bold and unusual ways of tearing that history up" (Tom Moon, Rolling Stone); it is "a gift for the band's legion of young fans" and "a testament to the potency of music with a message" (CMJ, Cheryl Botchick). Still, the album has some predictable excesses—like "a labored remake" of Afrika Bambaataa's 'Renegades of Funk' and a "bare-bones take on Devo's 'Beautiful World,' which … barely registers amid all the other hubbub" (Rob Brunner, Entertainment Weekly). (Click here for the band's official site, and here to listen to songs from the album.)— Y.S.

Sound Loaded, by Ricky Martin (Sony Columbia). The ambisexual, slippery-hipped, latter-day Elvis comes out with another piece of goofy Latin-inflected pop; critics are surprisingly receptive. As with his last album, the "sheer sonic frenzy" of "rock guitar, blaring horns and syncopated hand claps, practically pile drives over the nonsensical lyrics" (Chuck Arnold, People). Most critics are relieved that the former Menudo member doesn't try to get deep but keeps the "relentlessly likable and danceable" album light: "All he has to do is keep the party going, and that's exactly what Sound Loaded … does" (Arion Berger, Rolling Stone). Some say Martin sounds a bit tired; others complain that the "production is somewhat overdone, and the vocals are often overwhelmed by the surging instrumentation." But most concede that "through it all, Martin has a charm that's hard to deny" (Christopher John Farley, Time). One lyric highlighted by Entertainment Weekly: "Move like a thing, swing like a thong/ And do your jiggy mama till the break of dawn." (Click here to find out why Ricky Martin will burn in rock and roll hell.)— E.T.
---