Movies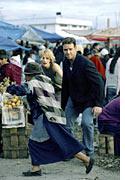 Proof of Life (Warner Bros.). This kidnap-and-ransom flick filmed in the jungles of Ecuador is loaded with adventure—but critics complain it lets off too much sentimental Hollywood steam. Everybody loves Russell Crowe and David Caruso teaming up for the rescue, but most boo Meg Ryan as the wilty wife of the hostage they are heading to save. "[C]lenching her jaw and tiny little fists with all the furious conviction of … Tinkerbell … she's dreamy, all lit up" (Manhola Dargis, L.A. Weekly); and "what's with those long peasant skirts and boots?" (David Edelstein, Slate). Many think she's googly over the film's hero and are disappointed that more of the notorious off-screen romance between Ryan and Crowe didn't make it into the film. (Director Taylor Hackford can't cut a break on this picture. He claims to have been oblivious to his protagonists' affair while shooting and is now getting thrashed for leaving out the steamy sex hyped by the tabs. Filming was reportedly a nightmare—Andes altitude sickness crippled the cast, and a truck carrying six crewmembers rolled off a cliff.) Reviewers think the "kidnap lore, based on books and articles about professional K&R men, is intriguing" (Roger Ebert, the Chicago Sun-Times), but that the baggy screenplay gets in the way. Consensus: "[C]ut to the chase" (Rex Reed, the New York Observer). (Click here for the dirt on Meg and Russ, and here to read the story of the troubled making of the film.)— Y.S.

Vertical Limit (Columbia Pictures). Director Martin Campbell successfully cuts to the chase in this jaw-clenching mountain rescue mission starring Chris O'Donnell, Bill Paxton, Robin Tunney, and Scott Glenn. Critics laud Campbell for putting his characters into their gear from the get-go: "This isn't about people. It's about not dying" (Desson Howe, the Washington Post). What distinguishes it from other scary mountain fare? An eight-minute prologue stunt in which five climbers drop 150 feet at 90 percent of free-fall speed and a point-of-view shot with the movie camera sliding down the slope at ground level along with a climber and then bringing you over the edge of the mountain. Though the effects win big praise, many feel overwhelmed by the film's ludicrous drama and constant catastrophe. "You gasp at the action sequences, then giggle at the drama, then gasp, then giggle until finally the filmmakers pile on one cliffhanger too many. By that point, the gasps have become muted by sheer disbelief" (David Ansen, Newsweek). (Click here for trailer.)— Y.S.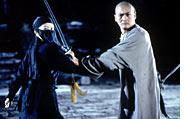 Crouching Tiger, Hidden Dragon (Sony Pictures Classics). Reviewers are enchanted by director Ang Lee's (Sense and Sensibility) foray into Hong Kong martial arts: "Soaring and romantic, wild and serene, feminist and gutsy, Crouching Tiger, Hidden Dragon is one of the best movies of the year" (Lisa Schwarzbaum, Entertainment Weekly). Critics describe audiences breaking into spontaneous applause and note that the film received standing ovations at festivals around the world—"even the stuffy ones like Cannes" (Devin Gordon, Newsweek). The plot is complicated; essentially it traces the coming of age of a young female warrior, with the added love story between two older warriors played by Michelle Yeoh and Chow Yun-Fat. Plot aside, critics are dumbstruck by the action sequences: "Aerial ballets, lightning swordplay and Astaire-worthy foot fights" make you "gasp with childlike wonder and delight" (Richard Corliss, Time) … "Mr. Lee has found a way to make even the action feel poetic and spiritual" (Elvis Mitchell, the New York Times). One slightly negative note comes from Slate's David Edelstein, who while praising the film as "the first martial-arts movie for the art-house crowd" also calls the plot overly complicated. Most critics are willing to let this slide: "[I]t's a powerful film and a terrific movie" (Richard Corliss, Time). (Edelstein says Crouching Tiger improves with repeated viewings: "My first viewing left me dazzled but slightly confused; a second deeply impressed; a third rhapsodic." Read the rest of his review here.)— E.T.
Books

Jazz: A History of America's Music, by Geoffrey C. Ward and Ken Burns (Knopf). A big, glossy full-color coffee-table pleaser with lots of breadth and little depth. "While Ward's biographical focus makes for easy reading, it simplifies—and ultimately distorts—the larger social and cultural history" (David Nasaw, the New York Times Book Review). Tracing a century of jazz history, the book is a companion to the upcoming 19-hour PBS documentary on the subject. Louis Armstrong and Duke Ellington are the book's protagonists, but there are also mini-biographies, essays, and interviews with the likes of Wynton Marsalis, Stanley Crouch, Gerald Early, Gary Giddins, and Albert Murray. Reviewers complain that the narrative slips into cliché and hyperbole; it effectively ignores developments of the past four decades; it presents opinions as facts; it ignores certain great figures (a predictable complaint); and its history is sometimes outdated and shabby (names are mangled, dates are off, and there are no footnotes). Worse, Burns has "the conclusion—that jazz is a metaphor for the United States—firmly in hand before he begins to know his subject. This smugness translates into a rather tepid, conservative view of jazz" (Publishers Weekly). Even so, critics concede that the book is not intended for scholars: "Jazz, judged on its own terms, must be accounted a success. It will introduce generations of readers who know nothing about jazz to an essential part of their American heritage" (Nasaw). (Click here to get a peek at the documentary and here to listen to its soundtrack.)— Y.S.
The Amber Spyglass, by Philip Pullman (Knopf). Move over Harry Potter. Critics say Pullman concludes his young-adult "His Dark Materials" fantasy trilogy with a provocative bang. Based on Milton's Paradise Lost and loaded with tough theological questions, The Amber Spyglass, like its two predecessors, appeals to older readers. Many critics proclaim Pullman a revolutionary: "Through his portrayal of real people dealing with weighty moral issues within a mythic story and in a fantasy setting, Pullman has rearranged the landscape of writing for children" (Julia Eccleshare, the Guardian). Pullman "has produced a thrillingly ambitious tale … with a radical view of religion that may well be the most subversive message in children's literature in years" (Sarah Lyall, the New York Times). "Many grown up readers … are likely to bristle at its theological and ontological daring. … Pullman is of the Devil's party … and he knows it. He has also written the best, deepest, most disturbing children's fantasy of our time. … Even those who judge his theology objectionable will find Pullman's sheer storytelling power sinfully irresistible" (Michael Dirda, the Washington Post). Some find Pullman's "anti-theistic scolding" and "hatred of Christianity" too barbed: "In imagination and narrative drive, he has few peers among current novelists. For such gifts to be thrust into the service of a reductive and contemptuous ideology is very near a tragedy" (Alan Jacobs, the Weekly Standard). (Click here to read and listen to excerpts from all three books and for biographical information on Pullman.)— Y.S.
Music

You're the One, by Paul Simon (Warner Bros.). Good reviews for an album that "lowers the conceptual heat that typically surrounds [Simon's] projects. … The album's overall impression is of quietness and introspection" (Anthony Decurtis, Rolling Stone). Some find this restful tone tiresome. But most admire Simon's intelligent and oblique lyrics and find many of his tunes upbeat and illuminating. Critics hail the album as a return to Simon's roots: "It's pure Simon—and a reminder of what pop can be" (David Thigpen, Time). Still others claim Simon's aging sensibility is an advantage: "In its own quiet way, You're the One is a completely stubborn album. It's oblivious to anything like pop fashion, relying on hand-played instruments and convoluted arrangements. … Where most pop musicians cling to youth, Mr. Simon has always presented himself as prematurely mature … he allows himself a codger's chutzpah" (Jon Pareles, the New York Times). Songs of "maturing and mortality" are tempered with levity and wit: "[I]f You're the One is primarily about the emotional effects of aging, it's probably the least maudlin song cycle middle age ever provoked" (Chris Willman, Entertainment Weekly). (Click here to read confessions of a Paul Simon fan in Slate.) — Y.S.
---