Movies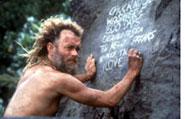 Cast Away (20th Century Fox). Mind the gap between the words in the title: It marks the crux of the debate over whether this film pulls off a philosophical exploration of strandedness and solitude or comes off as a much shallower survivalist genre film. Some say the movie is a profound meditation on time, space and sound, and the psychological state of being cast away, all of which "elevate[s] the story from the realm of Gilligan's Island to the more ambitious epic territory of a contemporary, masculine, existential meditation" (Lisa Schwarzbaum, Entertainment Weekly). But there are those who think the film may as well be called Castaway for all its Robinson Crusoe-ness: "The filmmakers got waylaid by what feels like a boyish enthusiasm for the survivalist aspects … making it difficult to keep any kind of message afloat" (Kenneth Turan, the Los Angeles Times). All the reviews comment on the film's silence (an hour's worth!), FedEx promos (perfectly timed for the gift shipping season), Hanks' miraculous makeover (filming stopped for a year to give him time to look the part), and monologues to a volleyball he calls Wilson. Regardless of what they think about the film's deeper meanings, all the critics give its visuals and physicality high marks. (Click here to read David Edelstein's review in Slate and here for an interview with Hanks on making the movie.)— Y.S.
State and Main (Fine Line Features). Good reviews for writer-director David Mamet's latest. This screwball comedy about a Hollywood movie production's misadventure in small-town Vermont is described with unlikely-for-Mamet adjectives such as "playful" (Roger Ebert, the Chicago Sun-Times). Sample misadventures: Alec Baldwin's leading man character gets involved with an underage local girl (Julia Stiles), and a starlet (Sarah Jessica Parker) refuses to bare her breasts even though she's contractually obliged to, much to the consternation of director William H. Macy and producer David Paymer. There's also a sweet romance between Philip Seymour Hoffman's screenwriter and real-life Mamet wife Rebecca Pidgeon's bookstore owner. The ensemble cast gets high marks, as does Mamet's characteristically sparkling dialogue. Objections come from Jessica Winter of the Village Voice, who calls this "a Hollywood satire as cynical and thickheaded as its supposed targets," but most critics thoroughly enjoy the lighthearted "relentlessly funny satire" (Desson Howe, the Washington Post). (Like the real Sarah Jessica Parker, the starlet she plays may not want to take off her top, but many a star isn't so bashful. Check out the Celebrity Nudity Database for worryingly comprehensive coverage of over 10,000 male and female nude scenes.)—B.W.
Pollock (Sony Pictures Classics). Ed Harris nails Jackson Pollock's physicality in this film, which Ebert calls "one of the best biopics about an artist" (Chicago Sun-Times). Critics like the film's "here is the man approach" that avoids simplistic psychologizing and concentrates on portraying work in process—with lots of shots of Harris in front of the canvas (Kenneth Turan, the Los Angeles Times). The film also gets props for its accurate portrayal of the 1940s New York City art scene, though art-speaky moments when characters parse paintings or read reviews kill the drama. One anomalously tepid review laments the film's "plodding rendering of inherently fascinating material" (Mike Clark, USA Today). Most critics, however, believe the film isn't a boring modern art lesson "tell[ing] you what makes Pollock's work great in historical terms" (Michael Kimmelman, the New York Times), but a "harrowing" testament to Pollock's penchant for misery, "monstrousness," and mastery (Richard Schickel, Time). (Click here  for footage of Pollock in action, and here for the film's official site).—Y.S.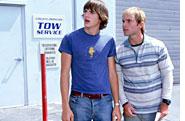 Dude, Where's My Car? (20th Century Fox). Critics are unstinting in their disdain for this film about two stoners who lose their car: "The genius who green-lighted this turkey at Fox should be strapped down and made to watch Dude, Where's My Car? again and again" (Loren King, the Boston Globe). Reviewers far and wide describe the plot as "thin," though some get creative and call it "rolling-paper-thin" (Elizabeth Weitzman, the New York Daily News). A few critics are able to muster up a degree of affection for the baked duo, Jesse and Chester (played by Ashton Kutcher of That '70s Show and Seann William Scott of American Pie), saying that they "exude an innocuous charm as sidekicks, but compared with Wayne and Garth or Cheech and Chong, or practically any other comedic teams you could name, they are strictly lightweight" (Stephen Holden, the New York Times). Most upbeat notes are likewise tempered with contempt: "relentlessly idiotic but moderately entertaining" (Ernesto Lechner, the Los Angeles Times). In a particularly egregious example of Variety-speak—in an otherwise dead-on and hilarious review—Joe Leydon refers to the grossing potential of the movie thus: It "might wring righteous amounts of coin from its target aud." (Click here to watch the trailer.)—E.T.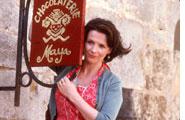 Chocolat (Miramax). Consensus is that this movie is as crowd pleasing as its title. Most critics are mildly allergic: "It's a little too 'Why not pause a moment and savor a rich, international coffee?' " (Charles Taylor, Salon); it's "the season's latest Euro synthetic confection, manufactured from a proprietary recipe." (Liza Schwarzbaum, Entertainment Weekly). But critics appreciate this film's good cheer as much as the pious French villagers appreciate Juliette Binoche's spiked chocolate cocoa, even if critics find Chocolat less a sophisticated exploration of sensuality than a cozy, pat ode to pleasure. Reviewers are certainly charmed enough by director Lasse Hallström's good taste and the movie's great cast to top their reviews with super-sugary chocolate sprinkles: "However familiar, the taste is still sweet, the texture light as a soufflé, the sentiments pleasantly high calorie" (David Ansen, Newsweek). (Click here to read David Edelstein's review in Slate and here for the film's official site).—Y.S.
Books

A Good House, by Bonnie Burnard (Henry Holt), and What Remains, by Nicolas Delbanco (Warner Books). Ready to head home for the holidays? These are two well-received, understated, nostalgic novels, each covering 50 years of the shared memories and intimate experiences that sustain a family. Burnard, whose book won Canada's Giller Prize, tells the story of the close-knit, middle-class Chambers family living in a small-town in Ontario from 1949 to 1995. Delbanco portrays a privileged, cultured German Jewish family that moves to England during World War II and then settles permanently in Westchester, where "the effects of the Holocaust are ever present but never dwelled on" (Catherine Lockerbie, the New York Times). Reviews of both books are teeming with puns and metaphors about dwellings: Burnard "homes in on the smallest details of everyday life" (Gabriella Stern, the Wall Street Journal); Delbanco's novel is "a quiet old house … with an interior where childhood games, half-forgotten scents and snatches of music linger" (Lockerbie). Reviewers also fixate on the way both authors portray the relationship of children to their caretakers: Delbanco's child-narrator Benjamin "reports what the grown-ups say … hears clearly what they cherish and scorn … understands the moral code of the family without ever hearing it spoken aloud" (Barbara Fisher, the Boston Globe); Burnard captures the way children "eavesdropped with considerable skill, easily recognizing the cadence, the tone of voice that indicated privacy" (Jackie Pray, USA Today). Critics praise the subtlety and authenticity of descriptions in both books, and most think the authors add depth by telling their stories from the perspectives of several different characters. (Click here to read the first chapter of What Remains, here for the first chapter of A Good House.)—Y.S. want to know about D&D.)— Y.S.
---