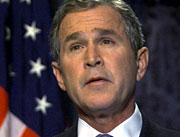 George W. Bush will ask the U.S. Supreme Court to stop Florida vote recounts. Bush is appealing Tuesday's ruling by the Florida Supreme Court that the state must accept hand recounts until Sunday evening. On Wednesday morning Miami-Dade County said it could not meet that deadline and would stop its recount entirely. (The partially completed recount—which had yielded 157 more Gore votes—will be discarded.) Gore will sue to reverse Miami-Dade's decision. Also on Wednesday, a state judge ruled that "dimpled" ballots should be added to Palm Beach County's recount tally. Bush's spin: The Florida Supreme Court rewrote the law. James Baker's spin: The Florida Legislature might overturn a Gore win. U.S. House Whip Tom DeLay's spin: We don't have to recognize Florida's electoral votes if Gore steals them. Democrats' spin: We support Gore, but if he wins, he won't get much Republican support. Analysts' spins: 1) The U.S. Supreme Court is the only body with enough prestige to solve the standoff. 2) Federal courts have no jurisdiction over partisan election matters within a state. Wall Street's spin: Let's keep selling until this is resolved. (To read a Slate"Frame Game" on the Florida PR battle, click here; for an "Assessment" of Dubya's janitor, James Baker, click here; to read a discussion on the election crisis, click here.)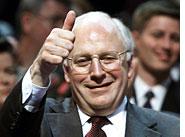 Dick Cheney had a small heart attack. Doctors expanded a narrowed coronary artery after Cheney went to the hospital with chest pains. He was not anesthetized for the operation. (It was his fourth heart attack—he also had ones in 1978, 1984, and 1988—but the first since his quadruple bypass surgery 12 years ago.) Morbid legal speculation: If Cheney were to die before the Electoral College meets Dec. 18, his successor would only need the approval of the GOP; if he were to die as vice-president-elect (after Dec. 18), his successor would need congressional approval.
Control of the Senate also hinges on a recount. Republicans have won 50 seats, Democrats have won 49, and the remaining race, in Washington state, is headed for an automatic machine recount and will not conclude until the end of next week at the earliest. Democratic leaders demanded co-committee chairmanships and other majority-party perks if they end up winning 50 seats. Democrats' spin: Senate leadership always reflects the makeup of the chamber. Vice President Cheney might break ties, but the veep is not a member. GOP's spin: If Cheney is the tiebreaker, we have control. Analysts' spin: There's no precedent for either to party draw on.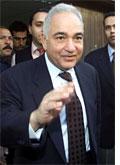 Egypt recalled its ambassador to Israel. The move came a day after Israel strafed the Gaza Strip in retaliation for a terrorist bomb. The bomb had exploded on a school bus carrying Jewish settlers, killing two adults and dismembering at least five children. Two hundred forty-five people, mostly Palestinian, have died since fighting in Israel began eight weeks ago. Egypt is the only Arab country besides Jordan to have diplomatic relations with Israel. Egypt's spin: We're not out of the peace process yet, but Israel had better cool it. Israel's spin: We hope Egypt will reconsider, but it's Arafat who needs to cool it.
A Florida mother took her son to Cuba without the father's knowledge. Arletis Blanco and her boyfriend took her 5-year-old boy to Cuba without the knowledge of father Jon Kenneth Colombini, who shares custody. The FBI and State Department are attempting to get the boy returned. State Department's spin: This case is like hundreds of others in which a parent illegally flees with a child. FBI's spin: Elián who? Nothing to see here, folks.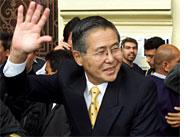 P eruvian President Alberto Fujimori resigned. He has weathered bribery and drug-trafficking scandals since his tainted re-election in May. He will not return to Peru from his current trip abroad. After his election in 1990, he temporarily abolished the courts and congress but was re-elected by a landslide in 1995. Anti-Fujimori spin: He was a tyrant who used martial law to make himself dictator. Pro-Fujimori spin: He was a democrat who used martial law to defeat terrorists, drug kingpins, and inflation.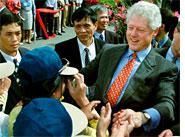 President Clinton visited Vietnam. He is the first American president to visit Vietnam since the war. Under Clinton's watch, the United States began diplomatic relations with and ended economic sanctions against the Communist nation. Vietnamese government's spin: Thanks for the visit, but don't forget that you once wanted to colonize our country. Clinton's spin: We didn't want a colony. The war "was over what self-determination for the Vietnamese people really meant." (To read Slate's Anne Applebaum on why the United States may need Vietnam as an ally, click here.)
Seven new Internet domains were created. The Internet Corporation for Assigned Names and Numbers created seven siblings for .com, .net, and .org: 1) .biz (for businesses); 2) .info (all-purpose); 3) .pro (for documented professionals, like doctors and lawyers); 4) .name (for individuals); 5) .museum (for accredited museums); 6) .aero (for air-transport companies); and 7) .coop (for cooperative businesses). Like .com, .net, and .org—which are controlled by Network Solutions—the new domains will be controlled by a private companies. (ICANN held competitive bids.) The domains will appear next summer. ICANN turned down bids to create domains like .kids, .xxx, and .web. Losers' spin: We paid $50,000 for an application fee, and our domain proposals weren't even considered. Consumers' spin: The Network Solutions monopoly and the Web-address shortage have finally disappeared.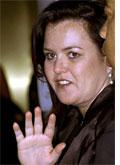 Rosie O'Donnell will follow Oprah into magazine publishing. The comedian-turned-talk-show-host will edit Rosie's McCall's (formerly just McCall's), the century-old women's magazine. As with Oprah Winfrey's successful O: The Oprah Magazine, Rosie's McCall's will be a joint venture between a publishing company and the celebrity's production company. Rosie's spin: My magazine will be "less spiritual than Oprah's and more realistically craftsy than Martha's." Cynics' spin: See, print magazines aren't dead—as long as you literally sell yourself to a celebrity. Optimists' spin: Celebrity partnership is just another form of niche marketing. It doesn't change a magazine's content—it just helps the reader identify with it. (To read an "Assessment" of Oprah Winfrey, click here; to read one of Martha Stewart, click here.)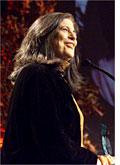 Susan Sontag won the National Book Award. Her novel In America beat, among others, Joyce Carol Oates'Blonde (about Marilyn Monroe) and Alan Lightman's The Diagnosis. The nonfiction award went to Nathaniel Philbrick for In the Heart of the Sea: The Tragedy of the Whaleship Essex, a narrative of the story that inspired Moby Dick. Heart of the Sea beat, among others, Jaques Barzun's From Dawn to Decadence and Patrick Tierney's Darkness in El Dorado. Spins: 1) Sontag has made the transition from first-rate essayist to first-rate novelist. 2) No, she hasn't— In America is "a thoroughly conventional imitation of a thoroughly conventional 19th-century novel." (To read Slate's Culturebox on the controversy surrounding In America's historical sourcing, click here; to read a "Book Club" on Dawn to Decadence, click here; to read a takedown of Darkness in El Dorado—and a reply from the editors of The New Yorker—click here.)
---