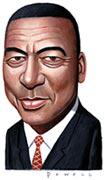 Robert Johnson is having a spectacular year. Last week he sold his flagship cable network, Black Entertainment Television, and most of his other media properties to Viacom for $3 billion. Johnson banks $1.6 billion of that, making him the richest African-American in the United States. He sold out without selling out: He will keep control of BET for at least five years.
The Viacom windfall is Johnson's second sweetheart deal in six months. When United and US Airways announced their merger in the spring, they proposed giving Johnson US Airways' lucrative franchise at Washington's Reagan National Airport. If the deal goes through, Johnson's "D.C. Air" would be the first major black-controlled American airline.
Johnson's success has magnified the usual complaint about him: that he owes his fortune to racial favoritism—set-asides, preferences, and general sleazy tokenism. It has also magnified the usual praise of him: that he is animated by a fervent commitment to black culture. Neither view is right: Johnson is not an affirmative-action case or a race hero. His wealth depends less on his blackness or support of black culture than on his toughness, cheapness, and unsentimentality.
Johnson is a classic American success story, though he hates talking about his past. Born in 1946, he was the ninth of 10 children of blue-collar parents. They moved north from Mississippi to Illinois when he was an infant. Johnson earned a B.A. at the University of Illinois, then a graduate degree in public affairs from Princeton. He planned a government career, moved to Washington in the early '70s, and worked for D.C. Delegate Walter Fauntroy. In 1976, the National Cable Television Association hired him to lobby for the fledgling cable industry.
Johnson had no business experience, but he quickly recognized the narrow-casting potential of cable. He saw that the African-American market was wide open, and in 1980, after scaring up $500,000 from TCI head John Malone, he launched Black Entertainment Television, the first black-oriented cable channel. It began as a trifling two-hour-per-week operation, showing old movies in a few cable markets on Friday nights. But Johnson's alliance with Malone and other cable operators proved fruitful. As operators sought franchises around the country, many rushed to sign up BET. The cynical view attributes BET's success to tokenism: Cable operators carried BET because it was good PR. Including a black-owned channel on a system impressed the city councils and agencies that awarded franchises.
But dismissing BET's growth as mere pandering is wrong. BET spread mostly because it was a good idea, and Johnson lobbied for it relentlessly. Early cable operators were hungry for targeted programming: They chose BET because lots of their subscribers wanted to watch black-oriented shows. "BET is attractive to a large segment of the audience, that's why operators made it available," says Steve Effros, a cable industry consultant. Johnson and BET gained no benefit from minority set-asides. The cable industry does not have such programs.
BET grew consistently during the '80s and '90s—it now reaches about 62 million households with cable—but it rarely impressed anyone who watched it. Johnson likes to say that "we're not reinventing the wheel, we're just painting it black." That has meant no creativity and low-budget programming. Johnson spends one-third less on programming than rival cable operations do. For most of its history, BET has been a junk pile. Music videos—mostly rap and often raunchy—occupy two-thirds of air time. BET has recycled mediocre sitcoms—Amen, 227, Benson—and aired lots of televangelists. In off hours, the channel is clogged with infomercials. The joke about BET is that it's neither black nor entertainment. BET hasn't produced original sitcoms or dramas because, Johnson says, they're too expensive.
Black leaders and artists have repeatedly whacked Johnson for this dismal programming, but he is not interested in uplifting the race. If something wonderful appears on BET, fine, but no tears if it doesn't. Johnson shuttered the critically praised magazines Emerge and YSB because they were losing money. He started the "BET on Jazz" channel not because he wants to support the art form, but because he wants to profit from it. He launched a pay-per-view channel specializing in action movies and soft-core porn. BET was the only channel to accept hard-liquor ads and one of the few media companies that refused to adopt the voluntary TV ratings system. He has fought savagely against efforts to unionize his employees and has been raked for paying performers sub-union wages.
The Viacom deal is the rare case where Johnson's business instincts coincided with a classier product. Johnson ran BET cheap because it was the best way to make a profit in cable's early days. (Most '80s cable operations were shoestrings that repackaged junk.) Now that cable is profitable, companies are spending more for better content. Johnson is falling in line. BET is producing more of its own programming, including 10 made-for-TV romance movies and a documentary series on black icons. Johnson signed with Viacom because it has the cash to boost BET's ratings and quality. Viacom can supply BET with UPN shows that will polish BET prime time, with CBS News expertise that will improve BET's newscasts, and with cash that will help everywhere.
Johnson's race did not make BET a $3 billion company, but it has otherwise boosted his career. As a schmoozer, Democratic contributor, and tycoon, Johnson has become the default black guy of American business. If you need someone for a board or for a deal, Johnson is the person you turn to. Microsoft, for example, struck a deal to make BET its provider of black-oriented online content.
Johnson's race certainly has contributed to the D.C. Air scheme. US Airways gave Johnson a seat on its board in 1998. When US Airways entered merger talks with United, US Airways CEO Stephen Wolf proposed D.C. Air to Johnson—he even suggested the name—though the BET boss's entire airline industry experience is his service on US Airways' board.
"It's just a cynical deal all around," says airline consultant Mike Boyd. For Johnson, D.C. Air is pure sugar. He gets a prefab airline. He pays $141 million—a fraction of market value—for the Reagan Airport slots, rents planes and employees from United and US Airways, and revels in the prestige of running an airline. US Airways and United get to suppress competition. They are desperate to stave off the challenge from Continental, which has bid more than $200 million for the Reagan slots. D.C. Air, with a single hub in expensive D.C., won't have the resources to challenge United-US Airways' East Coast dominance.
More important, putting a black executive in control of a major airline quiets congressional dissent and butters up federal antitrust regulators who might otherwise frown on the merger. "It plays up to the Department of Transportation, because Secretary Rodney Slater wants more minority involvement in the airline industry," says Darryl Jenkins, director of George Washington University's Aviation Institute.
US Airways and United know it's a cynical insider deal exploiting race. Johnson knows it, too. But why shouldn't he reap the benefits of being an insider? That's what rich folks do. Johnson proves every day that a black businessman can be—and should be—as ruthless, opportunistic, and greedy as any white one.
---