The Florida Supreme Court blocked the secretary of state from certifying the election on Saturday. After a state judge ruled that Republican Secretary of State Katherine Harris "exercised her reasoned judgment" in rejecting hand recounts from four Florida counties, Florida's supreme court delayed  Saturday's vote certification and scheduled a hearing for Monday. Palm Beach and Broward counties continued their hand recounts and Miami-Dade County voted to begin one. On Wednesday Al Gore asked George W. Bush to agree to a manual recount of the entire state and forswear further litigation. Bush refused and said he planned to declare victory Saturday if Harris certified him the winner. Supreme court's spin: Our injunction is not a decision on the recount, it is simply to "maintain the status quo" until Monday. Gore's spin: "Neither Governor Bush nor the Florida secretary of state nor I will be the arbiter of this election." Media's spin: There's a lot at stake in these lawsuits, but the narrative is too complicated to make good copy. Public's spin: Florida should accept  the hand recounts, but if it chooses to ignore them Gore should not challenge the decision. (To read a Slate "Assessment" of Dubya's janitor, James Baker, click here; to read a "Dialogue" on the election crisis, click here; to read "Ballot Box" on how Bush is trying to steal the election, click here; to read Michael Kinsley on why we should learn to live with the Electoral College, click here; to read about the anti-anti-American backlash overseas, check out " International Papers.")
Seven new Internet domains were created. The Internet Corporation for Assigned Names and Numbers created seven siblings for .com, .net, and .org: 1) .biz (for businesses); 2) .info (all-purpose); 3) .pro (for documented professionals, like doctors and lawyers); 4) .name (for individuals); 5) .museum (for accredited museums); 6) .aero (for air-transport companies); and 7) .coop (for cooperative businesses). Like .com, .net, and .org—which are controlled by Network Solutions—the new domains will be controlled by a private companies. (ICANN held competitive bids.) The domains will appear next summer. ICANN turned down bids to create domains like .kids, .xxx, and .web. Losers' spin: We paid $50,000 for an application fee, and our domain proposals weren't even considered. Consumers' spin: The Network Solutions monopoly and the Web-address shortage have finally disappeared.
Rosie O'Donnell will follow Oprah into magazine publishing. The comedian-turned-talk-show-host will editRosie's McCall's (formerly just McCall's), the century-old women's magazine. As with Oprah Winfrey's successful O: The Oprah Magazine, Rosie's McCall's will be a joint venture between a publishing company and the celebrity's production company. Rosie's spin: My magazine will be "less spiritual than Oprah's and more realistically craftsy than Martha's." Cynics' spin: See, print magazines aren't dead—as long as you literally sell yourself to a celebrity. Optimists' spin: Celebrity partnership is just another form of niche marketing. It doesn't change a magazine's content—it just helps the reader identify with it. (To read an "Assessment" of Oprah Winfrey, click here; to read one of Martha Stewart, click here.)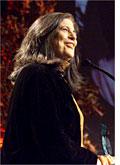 Susan Sontag won the National Book Award. Her novel In America beat, among others, Joyce Carol Oates'Blonde (about Marilyn Monroe) and Alan Lightman's The Diagnosis. The nonfiction award went to Nathaniel Philbrick for In the Heart of the Sea: The Tragedy of the Whaleship Essex, a narrative of the story that inspired Moby Dick. Heart of the Sea beat, among others, Jaques Barzun's From Dawn to Decadence and Patrick Tierney's Darkness in El Dorado. Spins: 1) Sontag has made the transition from first-rate essayist to first-rate novelist. 2) No, she hasn't— In America is "a thoroughly conventional imitation of a thoroughly conventional 19th-century novel." (To read Slate's Culturebox on the controversy surrounding In America's historical sourcing, click here; to read a "Book Club" on Dawn to Decadence, click here; to read a takedown of Darkness in El Dorado—and a reply from the editors of The New Yorker—click here.)
Researchers used brain signals from a monkey to drive a robotic arm. When the monkey moved its arm, electrodes in its brain signaled two robotic arms—including one 600 miles away—to move similarly. Scientists using electrodes have recently enabled mute patients to move a computer cursor simply by thinking. Researchers' spin: "It was as if the monkey had a 600-mile-long virtual arm." Analysts' spin: Before long the lame, the paralyzed, and the mute will communicate and function on their own. 
Senate Democrats demanded a share of power if the chamber splits 50-50. Democratic leaders demanded co-committee chairmanships and other majority-party perks if they end up winning 50 seats. (Washington state has not finished counting ballots.) Democrats' spin: Senate leadership always reflects the makeup of the chamber. Vice President Cheney might break ties, but the veep is not a member. GOP's spin: If Cheney is the tiebreaker, we have control. Analysts' spin: There's no precedent to draw on.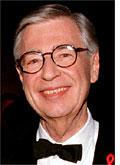 Mister Rogers' Neighborhood will stop production after 33 years. It is the longest-running nationally broadcast children's TV show in the country. Fred Rogers, an ordained Presbyterian minister, will devote his time to speaking on children's causes, writing books, and running a touring planetarium show, The Sky Above Mr. Rogers' Neighborhood. Fans' spin: Mr. Rogers is childhood incarnate. Ricky Martin's spin: I learned to speak English watching Mr. Rogers. Analysts' spin: Rogers understood how to use television like few others do. His show "went down like a nice hot bowl of soup." PBS's spin: Don't worry, we'll show re-runs forever. Rogers' spin: "You've made this day a special day just by being yourself."
MP3.com is going legit. MP3 agreed to pay Universal Music Group $53 million in damages for copyright infringement. It will restart its service—which allows users to copy their compact disks onto computer files—for a fee by the end of the month. MP3.com began as a free site in January but was shut down by court order in May after the record industry sued. (It has reached licensing agreements with all five labels involved in the lawsuit.) Record companies' spin: We never wanted to shut down this new technology, we just wanted our fair share. Analysts' spin: First Napster buckles, now MP3. The days of Web music piracy are over.
One of the U.S.S. Cole bombers may have boarded and surveyed the destroyer days before the attack. The FBI suspects that several Muslim terrorists—including one of the two suicide bombers—infiltrated a group of Egyptian vendors allowed to board the ship in the Suez Canal. (The Washington Post based its report on interviews with Cole sailors.)  Crew members also told the Post that Yemeni port workers looked agitated and worked with unusual dispatch immediately before the explosion, which killed 17 sailors Oct. 12.
At least 159 people burned or choked to death in an Austrian ski tunnel. The fire, which consumed a cable car, killed at least eight Americans. Most of the bodies will be identified through DNA testing. It is believed to be the worst cable car accident in history.
---