Music

Stankonia, by OutKast (LaFace/Arista). All hail this as one of the most creative hip-hop albums around, and the major music mags call it "harder, funkier … more innovative and thought provoking" than OutKast's previous releases (Amir Hijazi, CMJ). (A month after its debut, Stankonia has already earned Andre 3000 and Big Boi their first multiplatinum award for sale of 2 million units; apparently a 1999 lawsuit over OutKast's hit song "Rosa Parks," brought by the civil rights icon herself, didn't dent the duo's cred.) Reviews focus on Stankonia's combo of "freak and street," gospel and gangsta; in their "greatest work yet," OutKast fuses Southern bounce, P-Funk, electric guitar, techno, and rap to make music Dre calls "slumadelic" (Anthony Bozza, Rolling Stone). OutKast albums have always carried their fair share of social commentary, but on Stankonia"realism and high spirits drive each other higher. There's … more delight and less braggadocio in the raps" (Robert Christgau, the Village Voice). Highlights are "B.O.B.," featuring rhymes at a raving 135 beats per minute, and the jazzy "Humble Mumble," featuring a duet with Erykah Badu. (Click here to listen and watch Stankonia; and here to listen and watch the artists talk about the album.)—Y.S.

Halfway Between the Gutter and the Stars, by Fatboy Slim (Astralwerks/Skint). Critics say this album aims too high. Norman "Fatboy" Cook tries too hard to best his beats—and those of rivals Moby and the Chemical Brothers—by lifting the masses to disco heaven. Most critics think the album's ecstatic gospel only gets us partly there (with the help of some vocals by Jim Morrison, Macy Gray, and the Rev. W. Leo Daniels). "Song for Shelter" is "an eloquent manifesto" to the "temple of the dance floor" (Alona Wartofsky, the Washington Post), but it's also "Cook, the king of shallow, making his bid for deepness" (Simon Reynolds, the Village Voice). Others point to this culminating track, indeed to the whole album, as a conscious "push towards the middle" (Marc Weingarten, the Los Angles Times) by Cook; it's a "ballsy but savvy" combination of material that "smartly courts pop listeners, while simultaneously maintaining loyalty to the club underground that's nurtured his career" (Billboard). (Click here to listen to songs from the album.)—Y.S.
Movies
You Can Count on Me (Paramount). Big praise for this film's understatement. It's "great tender truth" writ small (Roger Ebert, the Chicago Sun-Times); a "delicate and keyed" "drama of deep feelings" and "dramatic subtlety" (Lisa Schwarzbaum, Entertainment Weekly); "a quiet and heartbreaking look at the dynamics of one family" (Carla Meyer, the San Francisco Chronicle). The story is about the reunion of adult siblings, drifter Terry (Mark Ruffalo) and settled Sammy (Laura Linney), in their little hometown in Upstate New York. Though some reviewers criticize first-time director Kenneth Lonergan's flat visuals, everyone agrees this movie "hinges entirely on character" and that the cast's intimate, multilayered, and unaffected performances are superb (Desson Howe, the Washington Post). Lonergan has created "inescapably real people and allow[s] them to be themselves" (Kenneth Turan, the Los Angeles Times). Lonergan's cameo as a clergyman injects the mundane with some added grace. (Click here to read David Edelstein's enthusiastic review in Slate—he calls it the best American movie of the year—and here for the film's site.)—Y.S.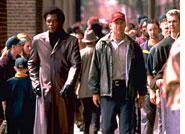 Unbreakable (Buena Vista Pictures). Critics call Unbreakable a memorable and well-crafted suspense thriller but don't like the ending. Everyone compares it to director M. Night Shyamalan's The Sixth Sense; the question is whether he is recycling or maturing. The maturing camp claims, "Shyamalan is a new style anomaly—a lustrous technician enthralled with the poetry of supernatural doom" (Owen Gleiberman, Entertainment Weekly). The recycling camp says, "Instead of making a film that's distinct from The Sixth Sense, he repeats its dark atmosphere, ominous pacing and several of its themes and comes up with a pale imitation—a muddled, self-serious snoozer" (Edward Guthmann, the San Francisco Chronicle). (Click here for the film's official site and here for an interview with the director.)— Y.S.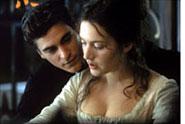 Quills (Fox Searchlight). Critics generally like the allegory and the acting in this stylish, star-studded film about the Marquis de Sade (who's played by Geoffrey Rush), but many disparage its lack of subtlety and uncritical salute to the marquis. "The dramatic case is too settled, the narrative trajectory too smug, the view of the transgressive artist too naive. … [Director] Philip Kaufman is celebrating de Sade, but he's no sadist. He's out to pleasure you" (David Edelstein, Slate). The film's chaotic carnality has been feted as sumptuous and denounced as overblown. The Revelers: Quills is "provocative, in the best sense. … The marquis hasn't materialized so vibrantly since the opportunistic exhumings of him during the burn-baby-burn '60s" (Jay Carr, the Boston Globe); it's "like an elaborate 18th-century woodcut come to life. … It's an unapologetic dazzler, which is why it's never overwhelmed by its theme" (Stephanie Zacharek, Salon). The Ridiculers: "This … is an exercise in self-congratulation pretending to be a brave statement" that comes off as "ludicrously crude," "a period version of The Rocky Horror Picture Show—played dead straight" (Jonathan Foreman, the New York Post); "The film's creators … seem to think they have made a black comedy. … But [Kaufman's] approach to this material is brutally horrific, vulgarly unamusing. … This is soft-gore porn, obvious in its strategies, witless in the play of its ideas, absurdist only in its pretense to seriousness" (Richard Schickel, Time). (Click here for the film's official site, here for a biography of the marquis, and here to read the rest of David Edelstein's review in Slate.)— Y.S.
Book

The Elementary Particles, by Michel Houellebecq (Knopf). After top-volume fuss and bother in France, with the author hailed by some as a modern Camus and denounced by others as a homophobe and a racist, the novel sold a whopping 300,000 copies there. This novel of ideas condemning the hedonism of the sexual revolution and American global culture ignites a miniature version of the same rumpus among U.S. critics. The gripes: 1) The author's trying too hard to piss the reader off. "Its intention is so plainly to rile, to épater, that any objections one might raise feel like further ammunition to its entrenched misanthropy. One can only assume that France's literary scene must have been suffering a profound torpor if it responded with such outrage to this bilious, hysterical and oddly juvenile book" (Anthony Quinn, the New York Times Book Review). 2) He writes terribly: "As a piece of writing, The Elementary Particles feels like a bad, self-conscious pastiche of Camus, Foucault and Bret Easton Ellis. And as a philosophical tract, it evinces a fiercely nihilistic, anti-humanistic vision built upon gross generalizations and ridiculously phony logic. It is a deeply repugnant read" (Michiko Kakutani, the New York Times). A few defend the novel, saying it's good despite some of the author's cringe-inducing tendencies: "This is an insufferable book, no doubt about it, by a preening and pretentious author. It has no right to be any good. It is, though. The Elementary Particles is darkly funny and surprisingly touching" (Judith Shulevitz, Slate). Christopher Caldwell concurs in the Wall Street Journal: "[T]his is a brilliant novel of ideas—many of them bad ones—in which laser-sharp diagnosis jostles with repellent ideology from paragraph to paragraph. It is also a riveting novel by a deft, observant writer." (Unfortunately the priceless profile of Houellebecq that appeared in the New York Times Magazine—which ends with the author passed out face-down in his dinner plate—is not available online. You'll have to make do with the first chapter of the book instead.)— E.T.
---