With the rest of the news media still single-mindedly focused on deciphering the results of the presidential election, the tabloids have turned their attention to much more pressing questions. Was Carolyn Bessette actually at the controls of JFK Jr.'s plane? Whose show about obese children was more tasteful, Oprah's or Maury's? ("Oprah's obese children were well-dressed and more dignified," asserts the Globe.) Are Gillian Anderson and Ellen DeGeneres now part of a love triangle? And, perhaps most important of all, who is the real "eyebrow queen" of Beverly Hills?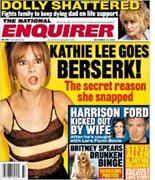 In all fairness, the tabs' news cycle is such that they won't start reporting on the election until next week's issues (and won't that be fun?), but there's still something reassuring in knowing that if you need a break from all those chad and dimples, there are still plenty of stories to be told about Kathie Lee Gifford (She's gone berserk! says the Enquirer), Anna Nicole Smith (Did she try to hire a hit man to kill her stepson? wonders the Globe), and O.J. Simpson ("Naked, he's just what I imagined him to be," a supposed paramour tells the Star). Not to mention the truly joyous news that columnist Charlene Tilton is marking her first anniversary with the Globe—and offering $250 to anyone who knows anything about the next Survivor cast.
The tabs should be grateful that everyone in America is probably too preoccupied with election improprieties to notice their latest factual lapses. Everyone, that is, except Keeping Tabs.
Last week's National Enquirer, for example, has a story titled "Britney: The Truth About Prince William and My Love Life," in which the "teen pop diva" tells all about her "so-called romance" with Britain's Prince William. Spears emphatically "DENIES she's been trading hot 'n' heavy e-mails with England's hunky young prince," the story explains. "I really don't know where all these stories about Prince William come from," she is quoted as "sighing" in a "candid interview." "I've never met him or contacted him. There were rumors that I e-mailed him, which isn't true."
Hmmm. Where on earth could those specious rumors have come from? Let's see. On Page 2 of the March 7 issue of the Enquirer, there's a story titled "It's Long-Distance Lust! Pop Princesses in Battle Royal Over William." Says the story: "Britney and Wills' long-kisstance lust affair is going strong over the Internet as they keep up an e-mail correspondence." And a caption adds: "Britney Spears and William are carrying on a romance over the internet." Keeping Tabs still doesn't know where those rumors could have come from. Does anyone out there have any ideas?
There seems to be a lot of rewriting of history where Britney is concerned right now. The Star reports that Britney has gone from "little angel to BIG BRAT!" and has "become downright trampy" of late, citing photos of the pop star sticking her tongue out, raising her middle finger, and wearing a shirt emblazoned with an apparent expletive. She "exploded on the music scene last year at 17 as a sweet, stuffed animal-loving pop princess who was saving herself for marriage," says the Star. But now, she's become a "foul-mouthed diva who parades nearly naked on stage and says women can have sex without even being in love."
This week's Enquirer concurs, saying that Spears "shattered her squeaky-clean image at a wild booze-soaked bash in Germany," where she "downed exotic cocktails, danced on the bar and even smoked cigarettes!" There are even photos of Britney as she "wobbled unsteadily" to her limo after said booze-fest. "People who think she's prim and proper would have been shocked!" a teen-aged partygoer is quoted as saying.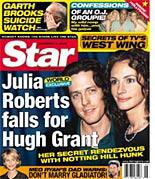 The Star has been having its own problems with selective memory. Last week, a "World Exclusive" had Julia Roberts falling for Hugh Grant, with "pals" saying "she wants him as her 'No. 1 man.' " This week, "as far as Julia is concerned," boyfriend Benjamin Bratt "is her man and she's his woman." More troublesome still is this week's Star cover story, which claims that Jennifer Aniston's dieting has brought about a "health crisis": an "endocrine imbalance that could affect her ability to conceive." Aniston and husband Brad Pitt skipped a real honeymoon after their July 29 wedding, says the Star, "so they could get down to serious baby-making right away. But it's been four months already"—the equivalent of the entire Pleistocene era by tabloid timetables—"and no word from the stork."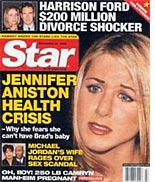 According to the Star, the stork's failure to appear "could be shattering news for the newlyweds. … As Star reported, tongues were wagging before the cake was even cut that the couple was eager to hear the pitter-patter of little Pitts." Let's rewind the tape, shall we? What the Star really reported (Aug. 22, Page 41) was that pregnancy was the "talk of the wedding," with friends of the couple saying, "there's a little one on the way—already!" Said one wedding guest, "I'm convinced Jennifer will be pregnant shortly—indeed, it wouldn't surprise me if she was expecting already!" Don't forget that the official wedding photo showed Brad Pitt tenderly touching his new wife's stomach—a dead giveaway if ever there were one.
And finally, if you really must have some White House news, tabloid style, the Globe delivers. Regardless of who moves into 1600 Pennsylvania Ave. next January, the Globe is reporting that the current occupants will definitely be splitsville soon thereafter. "It's a sure thing," says an "insider"; the plan even comes complete with its own code name: Operation MO (Marriage Over). Should you have any doubts, "leading body language guru" Maxine Fiel proclaims the Clintons' divorce a done deal based on a careful analysis of four recent photos of the couple. "He's embracing Hillary like a minister, not a husband," she says of one shot.
According to the story, the Clintons agreed to stay married through the New York Senate campaign but will "quietly file for divorce in New York some time in early February without any formal announcement." Sen. Clinton will get the "bulk of the assets," while the president will get to keep Buddy, the family dog.
But don't go feeling sorry for the president, who reportedly has a bright future ahead of him as a $1 million a year "ambassador" for the Academy of Motion Picture Arts and Sciences. "Bill has already set his sights on the single life and is preparing to pursue a bevy of beauties in LA, where he plans to settle down," the Globe reports. "And with his good looks and immense charm intact, the president is planning on becoming the most eligible bachelor in Tinseltown."
"Bill told a pal that he's looking forward to meeting some of the beautiful actresses in town," an "insider" tells the Globe. "He told a pal, 'I think that Lara Flynn Boyle really is something.' " Chad be damned! Therein lie the makings of enough tabloid stories to get us through even the most protracted of constitutional crises. 
---