Movies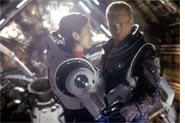 Red Planet (Warner Bros.). Critics debate whether this Mars movie is worse, just as bad, or a bit better than the last one, which most judged a dud (click here to read Slate's review of Mission to Mars). In Red Planet, the year is 2050, pollution is destroying the Earth, and humanity is preparing for refuge on Mars, where the stash of oxygen-generating algae has mysteriously vanished. An exciting and dangerous mission is in order. Unfortunately, Red Planet's meager plot, cutout characters, and stilted dialogue make it feel "[a]s dull and arid as a hike through the desert" (Todd McCarthy, Variety). About the only thing going for it is that it looks good: "[M]asterful atmospherics" (Desson Howe, the Washington Post), especially heavy color filtering, make Mars "a majestic desolate landscape of reddish rock under a glowing orange sky" (Stephen Holden, the New York Times). Still, all that glitters—including Val Kilmer's hair, which becomes "increasingly blond as the pic progresses" (McCarthy)—isn't gold. "You really have to like space-mission flicks to stay with Red Planet … after two hours of spurious cliffhangers and characters behaving with no dramatic logic, you'll wonder if that algae ended up in the producers' heads" (David Edelstein, Slate). (Click here for the movie's official site, here for NASA's Mars exploration program, and here for Edelstein's review.)— Y.S.
Men of Honor (20th Century Fox). Though mired in melodrama, this film makes most critics nostalgic. They argue that what Men of Honor—a biopic based on the life story of Carl Brashear, the first African-American Navy diver—lacks in subtlety and originality, it more than makes up for in sincerity and "honest good will" (A.O. Scott, the New York Times). "The movie is educational and upstanding, a little overacted and more than a little overdramatized. But it's honorable. … And for one old-fashioned moment, we watch a man whose accomplishments can fill the big screen" (Lisa Schwarzbaum, Entertainment Weekly). "The extraordinary chemistry" between Cuba Gooding Jr., who plays Brashear, and Robert De Niro, who plays his racist training officer, "keeps a tight grip on our sympathies" (Michael Wilmington, the Chicago Tribune). Many are more self-conscious about their soft spots for sentimentality, though they still unabashedly admit they found the film touching. "There's something refreshing about its utterly unembarrassed embrace of the familiar" (Richard Schickel, Time). A few cynics refuse to join the heartfelt hug. "Unfortunately, Men of Honor … takes a fascinating subject and reduces it to lukewarm Hollywood formula … an earnest but C-plus tribute to an A-grade character" (Desson Howe, the Washington Post).(Click here for the movie's official site, here for the Naval Institute's bio on Brashear; and here for the whole story behind the movie).—Y.S.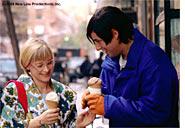 Little Nicky (New Line Cinema). This is an Adam Sandler movie, and critics respond as they always do. Some laugh, some roll their eyes, and some get huffy. Those who like it say it's "the best Sandler movie to date" (Roger Ebert, the Chicago Sun-Times). Those who are annoyed say Sandler "makes Jim Carrey in Ace Ventura or Dumb and Dumber seem as debonair as Cary Grant" (A.O. Scott, the New York Times). The tut-tutters say the MPA "must be in league with the Devil to have rated Adam Sandler's smutty new farce a PG-13. Potty and puke jokes are one thing, but a gag that involves anal assault is hardly fit viewing for adults" (Rita Kempley, the Washington Post). A review like that will, of course, help drive kids to the film in droves. Especially if they find out that the anal assault is done with a pineapple. And that the assaulted is Adolf Hitler. In a French maid outfit. (Click here to watch the trailer.)— E.T.
Books

W.E.B. Du Bois: The Fight for Equality and the American Century, 1919-1963, by David Levering Lewis (Henry Holt). David Levering Lewis triumphs again: This second volume of his biography of Du Bois, which has been nominated for a National Book Award, rates as well as, if not better than, the first—which won a Pulitzer. Reviewers devote much of their space to summarizing the biography precisely because they find the narrative "as fascinating as its subject, which is no small feat" (Patrik Henry Bass, Essence). Reviewers praise Lewis for managing, unlike previous biographers, to analyze everything from Du Bois' writings to his flaws and idiosyncrasies within the proper historical context. "In the academic world today, much of the writing on Du Bois tells us little about the man or his world. The 'discourse' is arcanely analytical. … Lewis wisely avoids such theoretical issues as he unfolds a masterful narrative that tells us as much about America as about this grand mind who struggled with it" (John Patrick Diggins, the Los Angeles Times). "Du Bois's earlier biographers were notably eager to cite 'contradictions' and inconsistencies in his thought. Du Bois himself wrote of his 'evolving program' and insisted that the Negro did not face a theory but an ever-changing condition. Lewis is the first biographer to make the contrapuntal themes part of a whole life's work that coheres in its emancipatory ends rather than its intellectual means" (Michael R. Winston, the Washington Post). (Click here for interviews with Lewis about the first volume and here for articles on Du Bois and his writings.)— Y.S.

The Informant: A True Story, by Kurt Eichenwald (Broadway). Critics are thrilled with this revival of a genre they claim has been all but dead since the early '80s: investigative nonfiction set in corporate America. By all accounts, Eichenwald's tale of the Archer Daniels Midland price-fixing scandal, which he covered for the New York Times, is a gripping read: "[I]n Eichenwald's hands, a complex case about an obscure business becomes clear. He turns dry FBI files and court testimony into a compelling narrative" (Dick Lehr, the Boston Globe); "one of the most compelling business narratives since Barbarians at the Gate" (Mike France, Business Week). In his review, Barbarians co-author Bryan Burrough agrees: "It ranks with A Civil Action as one of the best nonfiction books of the last decade" (the New York Times Book Review). The critics complain, however, that there is not enough analysis of the book's hero—the delusional and embezzling FBI informant Mark Whitacre—or the scandal's significance. "Mr. Eichenwald would have done better to step outside his reporter's role and give us a meaty chapter on what he thinks of all this" (Allan Sloan, the New York Times). Still, many believe Eichenwald's angle will only make adapting his reads-a-lot-like-a-screenplay story into a box office smash. (Click here to read the first chapter of the book, here for a transcript of Dateline's take on the scandal, and here to read a chat with Eichenwald.)— Y.S.
Music

Stories From the City, Stories From the Sea, by PJ Harvey (Island). This mellow, accessible album from the screaming diva of art rock leaves critics smiling. Though she won't say a word about her private life, critics posit that she may be in love: "[S]ometimes getting laid can really be good for a person. … Even she allows [that this] is the happiest-sounding album she's ever made. What she daren't suggest is that it may also be the best" (Robert Christgau, Rolling Stone). "After a brilliant but difficult five-album repertoire that fetishized rejection, Stories is filled with the kind of high-energy rock love songs that everyone—yes, everyone—can appreciate" (Josh Tyrangiel, Time). No critics come out and call it perky, but they come close, saying that "while other Harvey efforts have to be worked at to be appreciated, this is a fan-friendly rock album … very melodic, often pretty, straight-ahead rock" (Dan Aquilante, the New York P ost). Though almost everyone praises the record, a few seem disappointed by her swing toward the mainstream, complaining that it's "full of clichés she seemed incapable of before" (Billboard). But most don't begrudge her happiness and say this one is "spare, contemplative and as explosive as anything she's done in years" (Peter Orlov, CMJ). (Click here to listen to samples of the album on Harvey's Web site.)— E.T.
---