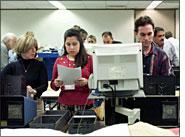 T he Florida recount may take weeks to resolve. Al Gore won the popular vote (by fewer than 200,000 votes among 100 million cast), but with Florida undecided, neither candidate earned the 270 electoral votes needed for the presidency. Florida will announce recount results Tuesday. However: 1) The state will accept absentee ballots until Nov. 17; 2) Gore will likely demand a recount by hand; 3) Democrats are demanding a re-vote in a county where ballots confused voters; and 4) the Justice Department is investigating allegations of missing ballot boxes. Ralph Nader, who failed to reach the 5 percent needed for Green Party federal financing in 2004, received 97,000 votes in Florida. Gore's spins: 1) Congratulations, Dubya, you won. 2) Wait. I take it back. I'm still in the race. Media's spin: Dewey Defeats Truman! Wait—Truman Defeats Dewey! Wait—Defeat Dewey Truman! Democrats' spins: 1) If Bush wins, Nader is responsible. 2) If Bush wins, Gore has nobody to blame but himself. Nader's spin: "Al Gore cost me the election, especially in Florida." Analysts' spins: 1) Even if Gore loses Florida, "faithless electors" could throw the presidency to him. 2) Since Gore won the popular vote, this would be just. (To read Slate's Jacob Weisberg on why Gore probably lost, click here; to read Michael Kinsley on the election's "mandate," click here.)
Republicans retained control of the House and probably the Senate. Victories by Hillary Clinton in New York and the deceased Mel Carnahan in Missouri—his widow will take the seat, pending legal challenge— helped Democrats gain at least two seats. If Democrat Maria Cantwell wins the as-yet-undecided Washington state race, the Senate will split 50-50. (If the GOP wins the White House, Vice President Dick Cheney will be the tiebreaker; if the Democrats win, Joe Lieberman may cede his Connecticut seat to a state-appointed Republican or he may decline the vice presidency and continue as senator—which would tip control to the Democrats.) In the House, the Democrats fell nine seats short of a majority, although recounts could narrow that margin. Notable incumbents defeated: Sen. Chuck Robb, D-Va.; Senate Finance Committee Chair Bill Roth, R-Del. (of "Roth IRA" fame); and House impeachment manager Bill McCollum, R-Fla., who gave up his House seat in a failed bid for the Senate. Bitter GOP spin: We've heard of dead men voting, but dead men winning elections?
Russia will reduce its army by a fifth. President Vladimir Putin announced a 600,000-person cut in the 3-million-plus Russian military—including nearly 400,000 of its 1.25 million soldiers. Analysts' spin: At least the troops will eat now. If Russia shed some of its nukes, it could even afford to equip the army—which might help its post-Kursk PR problem.
Brown University appointed the Ivy League's first black president. Ruth J. Simmons, the daughter of sharecroppers, will leave her current post as president of Smith College. Idealists' spin: If this type of thing happens often enough, it will no longer be newsworthy.
Three-month-old conjoined twins were surgically separated. The sisters, "Jodie" and "Mary," were doomed if left together. If separated, Jodie was expected to live, and Mary was expected to die. Those expectations were fulfilled. The parents, who are Catholic, had opposed the operation but yielded to a court decision permitting it. Doctors' pre-surgery spin: Mary is doomed anyway. Doctors' post-surgery spin: "Unfortunately despite all of the efforts of the medical team, Mary sadly died."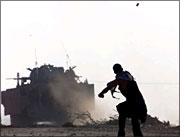 Former Senate Majority Leader George Mitchell will head an investigation into the latest Israeli-Palestinian violence. The panel will include ex-Sen. Warren Rudman, R-N.H., and three Europeans. President Clinton had the primary role in selecting the members, with the approval of a recent Arab summit. Official White House spin: This committee will "provide an independent and objective review of the current crisis." Unofficial U.S. spin: Let's hope this committee satisfies the Palestinians so we can resume the peace process.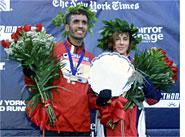 A Moroccan and a Russian won the New York City Marathon for the first time. Abdelkhader el-Mouaziz, who finished seventh in the Olympic marathon five weeks ago, dusted his male competitors. Lyudmila Petrova, who spent seven years away from running to have kids, beat a field of favorites and recorded the seventh-fastest women's time in the race's history. Twenty-nine thousand runners participated. Analysts' spin: Mouaziz won by intimidating his competitors with an early lead—because they could never see him, they had nobody to chase.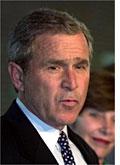 George W. Bush admitted he was arrested for drunken driving when he was 30. He confirmed the 1976 incident after reporters obtained court records about it. At the time, Bush pleaded guilty to driving under the influence (a misdemeanor), paid a $150 fine, and temporarily lost his driving privileges in Maine. Bush's spins: 1) "I've often times said that years ago I made some mistakes; I occasionally drank too much." 2) "I learned my lesson" and haven't had a drink since I was 40. 3) I kept it quiet during the campaign because "I didn't want to talk about this in front of my daughters." 4) "I've got my suspicions" about why this story leaked out just before the election. Gore campaign's spin: We had nothing to do with it. Arresting officer's spin: Bush was "a picture of integrity. He gave no resistance." Media's spin: We won't press a 24-year-old story, but let's see if we can catch Bush covering it up more recently. The Dallas Morning Ne ws reports Bush got himself excused from a 1996 jury in a drunken driving case before the potential jurors were asked about their drinking and driving histories.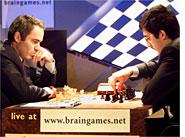 World chess champion Gary Kasparov was dethroned. His former pupil, 25-year-old Vladimir Kramnik, won the 16-game match when Kasparov yielded to a draw in the 15th game, making a comeback mathematically impossible. Kramnik's spin: I gave up cigarettes and shed 20 pounds working out to get in shape for this match. Kasparov's spin: "I was not outplayed at the board, but in the preparation. … I have been tired." Chess pundits' spins: 1) Kasparov never recovered psychologically from losing to a computer in 1997. 2) He won the title at 22 and lost it at 37 due to physical exhaustion. Live by youth, die by youth. (For William Saletan's spin on Kasparov's 1997 defeat by a computer, click here; to read Alex Heard on why Gary Kasparov owes the computer an apology, click here.)
WorldCom will market its data and long-distance divisions with separate stocks. The telecom firm—which in 1998 acquired MCI, the nation's No. 2 long-distance carrier—hopes to boost its core stock price by distancing itself from price wars in the long-distance market. Last week the largest long-distance carrier, AT&T, did the same. (AT&T also sold its cable TV and wireless divisions.) WorldCom's stock price has fallen by two-thirds this year, and it fell by another fifth after its tracking-stock announcement. Analysts' spins: 1) WorldCom hoped MCI would be a cash cow, but since AT&T started long-distance price wars, both long-distance divisions have become dogs. 2) Dumping your liabilities into a tracking stock is a gimmick that won't fool investors. 
---