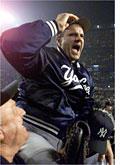 The New York Yankees won their third consecutive World Series. Their 4-2 victory over the Mets in the fifth game gave them the first baseball "three-peat" since the advent of free agency in 1976. The all-New York "Subway Series" was the first since 1956. Mets fans' spin: The Yankees had already won two championships in a row. We deserved one. Yankees fans' spin: Mets fans are low-class Long Island hotheads. We're the real New York team. TV executives' spin: The regional contest was great for the N.Y. Metropolitan Transportation Authority, but it meant lousy national ratings. (For a "Sports Nut" on Joe Torre's David Cone dilemma, click here; for one on Series pre-spins, click here; for one bashing narcissistic New Yorkers, click here; for one on the Yankees' mind games, click here.)
Hackers may have stolen Microsoft software blueprints. The thieves have had access to Microsoft source code—including blueprints for the latest Windows operating system and Outlook e-mail software—for three months, the Wall Street Journal reported. (Microsoft owns Slate.) Microsoft's spin: "The integrity of [our] source code remains secure." Analysts' spin: This is more likely "data hostage"—threatening to release source code publicly—than economic espionage by a competitor. It's still embarrassing for Microsoft.
A note revealed that at least 23 crewmembers survived the initial explosion aboard the Russian submarine Kursk. The message was found on a sailor who wrote it several hours after the blast. All 118 sailors died when the sub sank. Anti-Russian spin: President Vladimir Putin could have saved lives if he had accepted foreign help immediately after the explosion. Now he's risking divers' lives to clear his name.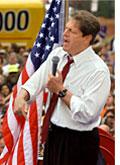 The Al Gore campaign is making an 11th-hour appeal to Ralph Nader supporters. Prominent liberals such as the Rev. Jesse Jackson and Bill Bradley will stump for Gore in states where Nader's candidacy threatens Gore's lead. Gore's spoken spin: My liberal bona fides are as solid as Nader's. Gore's unspoken spin: A vote for Nader is a vote for Bush. "Nader's Raiders for Gore" 's spin: You've made your point, Ralph. Now drop out. Nader's spin: Gore has ignored me for months, and now he's concerned? A vote for Gore is no better than a vote for Bush. (To read Slate's "High Concept" on how Gore and Nader can both win, click here.)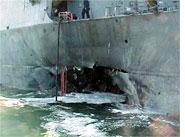 Investigators linked the U.S.S. Cole bombing to Egypt's Islamic Jihad. Officials said the group—composed largely of former anti-Soviet fighters from Afghanistan— has ties to Osama Bin Laden, whom the United States accuses of ordering the 1998 Embassy bombings in Kenya and Tanzania. Terrorists threatened FBI officials in Yemen. (To read an "Explainer" on Islamic Jihad and other terrorist groups, click here.)
A study found that two-thirds of America is online. The UCLA survey—funded by Microsoft, America Online, and Disney, among others—reported that 41 percent of those earning less than $15,000 a year have access to the Web. Eighty-one percent of Internet users have e-mail, and nearly half of all Americans check e-mail at least once a day. Half of Web users purchase goods online. Most say the Web has a "modestly positive impact" on their social lives. (Seventy percent also say Web access does not hurt kids' grades.) Two-thirds are concerned about privacy risks—but mostly by corporate, not government, snoopers. Twenty-eight percent of Web users watch less television. Positive spin: The Internet is not creating a nation of geeky loners. And the digital divide is not as large as we thought.
President Clinton proposed to meet with Ehud Barak and Yasser Arafat separately. Clinton asked Arafat to control the continuing Palestinian violence against Israel, but Arafat stalled. Last week 21 members of the Arab League agreed to cease all economic cooperation with Israel until it agrees to the Palestinians' peace demands. In response, Israeli Prime Minister Ehud Barak formally suspended the peace process with the Palestinians. Israel's spin: Arafat has released his terrorists from jail. Palestinian violence is now less frequent and visible but more professional and effective. President Clinton's spin: There is no other road but peace. It's in Arafat's interest to remain a good neighbor, like Jordan's King Abdullah. Barak's unspoken spin: We can't bear to tell Clinton the peace process is dead.  (To read an "Assessment" of Yasser Arafat, the passive-aggressive Palestinian, click here; to read one on the dashing young kings of Morocco, Jordan, and Syria, click here; for Anne Applebaum on the hopelessness of Middle East diplomacy, click here; to read about coverage of the Middle East in "International Papers," click here.)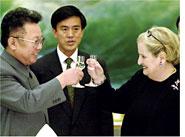 Secretary of State Madeleine Albright met with North Korean leader Kim Jong-il. The highest-level talks between the two countries since the Korean War produced a North Korean proposal to halt its ballistic missile program in exchange for help launching satellites. Albright watched a massive propaganda parade during her visit. President Clinton may visit the country. Albright's spin: I haven't been blinded by Communist propaganda. However, Kim is "a good interlocutor." North Korean paraders' spin: "We will support our powerful nation with rifles."
AT&T will split into four. The nation's largest communications company will spin off its cable TV and wireless divisions and create a separate stock for its telephone long-distance service. In 1984, the government broke up AT&T's telephone monopoly, and in 1996 the company spun off its electronic-equipment division, now called Lucent Technologies. Analysts' spin: Consumers have rejected giving all their communications business—cable TV, Internet access, mobile phone—to one company. They like to comparison shop. Counterspin: Consumers like to bundle, they just don't associate AT&T with new technology. Now the company's wireless and cable TV divisions can adopt silicon-age names, à la Verizon (formerly Bell Atlantic and GTE). 
Hollywood's longest strike ended. The six-month walkout against TV advertisers by the country's largest actors' union ended with the status quo: Actors will continue to receive per-play royalties for ads aired on network TV but will receive flat fees for ads run on cable. (Producers also guaranteed actors a share of revenues for Internet ads.) The strike attracted the support of high-powered film stars—who usually shun ad-industry fights—and cost the Los Angeles economy about $125 million. Tip-of-the-iceberg spin: The real battle will begin next year, when the union renegotiates with the TV networks and film studios. 
---