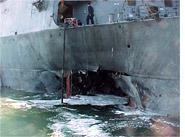 A terrorist bomb in Yemen killed 17 sailors aboard a U.S. Navy destroyer. The explosion came from a smaller craft in an apparent suicide attack. President Clinton's spin: We don't know whether this is related to the crisis in Israel, but we're going on high alert.
Israeli Prime Minister Ehud Barak asked opposition leader Ariel Sharon to join his government. Barak seeks a "government of national emergency" as a result of this week's escalation in violence. On Thursday Israel destroyed Palestinian buildings after a mob killed two Israeli soldiers. The Palestinian rioters stormed a police station, stabbed the detained soldiers, burned their bodies, and paraded them in the streets. Barak gave advance warning of the helicopter attacks to prevent casualties and called the strikes "symbolic." Israel's spin: Yasser Arafat wants to play tough, we'll play tough. International spin: Forget comprehensive peace, let's just prevent war. U.S. pundits' spin: Arafat should have taken control of part of Jerusalem when Barak offered it. Now he'll never get it. (To read an "Assessment" of Sharon, click here; to read the world press on the conflict in "International Papers," click here.)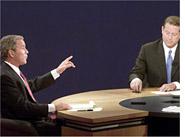 G eorge W. Bush and Al Gore held their second debate. Gore toned down his attacks on Bush, who improved his knowledge of policy details. The candidates agreed on most foreign-policy goals, although Bush opposed military intervention in humanitarian cases where Gore favored it. Bush accused Gore of exaggerating in the first debate. Gore accused Bush of softness on the environment and hate crimes. Gore's spin: "I got some details wrong [in the first debate]. I'm sorry about that, and I'm going to try to do better." Bush's spin: See, I doknow what I'm talking about. Pundits' spin: Which is better—boring, substantive debates or exciting, superficial ones? Americans' spin: We won't watch if it's boring. (To read Jacob Weisberg's instant analysis of the debate, click here; to read William Saletan's "Frame Game," click here.)
The Dow Jones industrial average fell almost below 10,000. The Dow tumbled 379 points (3.6 percent), reacting to violence in Israel and Yemen, which sent oil prices soaring. The Nasdaq stock index has fallen more than 11 percent since Monday and more than 23 percent since Sept. 1. (The Dow has fallen about 8 percent since then.) Analysts' spin: Yahoo! sells at half the price it did six months ago, yet its stock is still worth 265 times what it made last year. (General Motors is worth just seven times its earnings.) The Internet bubble hasn't finished deflating.
South Korean President Kim Dae-jung won the Nobel Peace Prize. The Nobel committee praised him for advancing reconciliation with North Korea as well as democracy at home. Meanwhile, Gao Xingjian became the first Chinese winner of the Nobel Prize in Literature. China has banned his work since he wrote about the Tiananmen Square massacre. Earlier this week, the United States won Nobel Prizes in Economics, Physics, Chemistry, and Medicine. Fox News reported that President Clinton had lobbied for Friday's Peace prize. Clinton, a finalist for the award, denied the charge. (To read Slate's Chatterbox on shameless Nobel lobbying campaigns, click here.)
The European Union ended its oil embargo and flight ban against Yugoslavia. The United States is expected to follow; financial sanctions will be lifted soon. New President Vojislav Kostunica disbanded the parliament and called for new parliamentary elections. The Washington Post reported that Kostunica may attempt to try former dictator Slobodan Milosevic. Milosevic resigned last week after a week of protests following a nullified election. To read Slate's Anne Applebaum on why Milosevic might be back, click here; to read "Explainer" on whether Milosevic was ever democratically elected, click here; to read a dispatch from Serbia, click here.)
Scientists created a human embryo that includes pig DNA. Two embryos, consisting of 97 percent human DNA and 3 percent pig DNA, grew in a laboratory for a week. They were created by transplanting the nucleus of a human cell into a pig egg—similar to the process that has resulted in cloned pigs and sheep. Such embryos could be used to create organs for transplant into humans. The Australian and American scientists have applied for a patent from the European Union. Scientists' spin: The embryos could not have grown into a living animal. Brave New World spin: That's only because you designed it that way. Now centaurs are possible.
The European Union ended its oil embargo and flight ban against Yugoslavia. The United States is expected to follow; financial sanctions will be lifted soon. New President Vojislav Kostunica disbanded the parliament and called for new parliamentary elections. Dictator Slobodan Milosevic resigned Friday after a week of protests following a nullified election.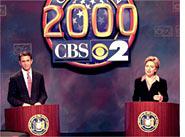 Hillary Clinton and Rick Lazio held their second New York Senate debate. Hillary broke with her husband's administration by criticizing the U.S. refusal to veto a U.N. resolution condemning Israel for violence in the Middle East. Lazio's spin: As a member of the Senate majority, I can secure more federal money for my state. Hillary's spin: The GOP may not be the majority party come January. Pundits' spin: Hillary has a commanding lead in the polls. Lazio needed to debate Hillary's socks off but was merely adequate.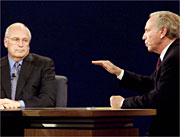 Dick Cheney and Joe Lieberman debated. In an informal, sit-down conversation with CNN moderator Bernard Shaw, the vice-presidential candidates disagreed cordially over Medicare, taxes, military strength, education, and energy policy. Cheney criticized Lieberman for altering his positions since becoming Al Gore's running mate. Cheney's spin: "We've had eight years of talk and no action." Lieberman's spin: "Did Al Gore make promises in 1992? Absolutely. Did he deliver? Big time." Voters' spin: Can we elect one of these gentlemen president instead of Bush or Gore?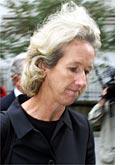 Sotheby's pleaded guilty to antitrust violations. The auction house agreed to pay a $45 million fine for fixing commission prices with rival Christie's for perhaps as long as eight years. Last month, after a civil suit, each house agreed to reimburse its customers $256 million. (Christie's won criminal amnesty by turning over documents to the Justice Department.) Sotheby's former chief executive and president Diana Brooks will also plead guilty. She faces a three-year prison sentence and is expected to testify against former chairman A. Alfred Taubman, who has admitted no wrongdoing. (He paid $156 million of Sotheby's civil settlement.) Media observers' spin: You don't need to be a ruthless mogul to be a monopolist. Even the genteel can become corrupt. 
---