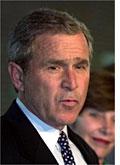 George W. Bush admitted he was arrested for drunken driving when he was 30. He confirmed the 1976 incident after reporters obtained court records about it. At the time, Bush pleaded guilty to driving under the influence (a misdemeanor), paid a $150 fine, and temporarily lost his driving privileges in Maine. Bush's spins: 1) "I've often times said that years ago I made some mistakes; I occasionally drank too much." 2) "I learned my lesson" and haven't had a drink since I was 40. 3) I kept it quiet during the campaign because "I didn't want to talk about this in front of my daughters." 4) "I've got my suspicions" about why this story leaked out just before the election. Gore campaign's spin: We had nothing to do with it. Arresting officer's spin: Bush was "a picture of integrity. He gave no resistance." Media's spin: We won't press a 24-year-old story, but let's see if we can catch Bush covering it up more recently. The Dallas Morning Ne ws reports Bush got himself excused from a 1996 jury in a drunken driving case before the potential jurors were asked about their drinking and driving histories.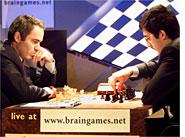 World chess champion Gary Kasparov was dethroned. His former pupil, 25-year-old Vladimir Kramnik, won the 16-game match when Kasparov yielded to a draw in the 15th game, making a comeback mathematically impossible. Kramnik's spin: I gave up cigarettes and shed 20 pounds working out to get in shape for this match. Kasparov's spin: "I was not outplayed at the board, but in the preparation. … I have been tired." Chess pundits' spins: 1) Kasparov never recovered psychologically from losing to a computer in 1997. 2) He won the title at 22 and lost it at 37 due to physical exhaustion. Live by youth, die by youth.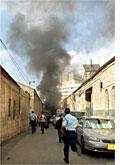 A car bomb punctured a tentative Israeli-Palestinian truce. The explosion, which killed two Israelis—including the daughter of a former member of the government— came several hours after the two sides agreed on a temporary cease-fire. Street battles, which have killed 150 people in the past five weeks, continue. Earlier, the minority government of Israeli Prime Minister Ehud Barak won enough support in the Knesset to remain in office without sharing power with conservative leader Ariel Sharon. Barak's spin: Yasser Arafat will achieve nothing by violence. The peace process is on hold. (To read an "Assessment" of Yasser Arafat, the passive-aggressive Palestinian, click here; to read one on Sharon, click here; for Anne Applebaum on the hopelessness of Middle East diplomacy, click here.)
WorldCom will market its data and long-distance divisions with separate stocks. The telecom firm—which in 1998 acquired MCI, the nation's No. 2 long-distance carrier—hopes to boost its core stock price by distancing itself from price wars in the long-distance market. Last week the largest long-distance carrier, AT&T, did the same. (AT&T also sold its cable TV and wireless divisions.) WorldCom's stock price has fallen by two-thirds this year, and it fell by another fifth after its tracking-stock announcement. Analysts' spins: 1) WorldCom hoped MCI would be a cash cow, but since AT&T started long-distance price wars, both long-distance divisions have become dogs. 2) Dumping your liabilities into a tracking stock is a gimmick that won't fool investors. 
A new Fox TV show features surprise marriage proposals.Surprise Wedding, to air Nov. 2, will lure a commitment-phobic boyfriend to a studio under false pretenses. The girlfriend will then appear in a wedding dress and propose to him on camera. Earlier this month, Fox announced plans for I Want a Divorce, in which couples will divide their assets on a game show. In February, Fox's Who Wants To Marry a Multimillionaire? was canceled after its main contestant was accused of hitting a previous fiancee. Critics' spin: Fox promised to abandon exploitative reality TV after Who Wants To Marry. It's whoring itself for ratings again. Fox's spin: The contestants on Surprise Wedding already know each other. It's only exploitative when strangers propose on television. Wags' spin: At least the show is promoting family values rather than the usual reality-TV violence. And Surprise Wedding contestants can always go onI Want a Divorce if things don't work out. (Did television kill bourgeois marriage? Read Slate's "Culturebox" to find out.)
The 747 that crashed in Taiwan was reportedly taking off on the wrong runway. Investigators say the jet, bound for Los Angeles, collided with construction equipment on a closed runway. At least 81 people died. Old spin: Was the weather too dangerous for takeoff? New spins: Were the runways properly marked, and were the wrong runway lights turned on?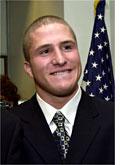 Napster is going legit. German publishing giant Bertelsmann—which owns Random House, BMG Music, and CDNow.com— will drop its copyright-infringement lawsuit against the free music-swapping site and lend it money to develop a pay service. In return, Bertelsmann will receive an ownership stake. A district court found for Bertelsmann and four other music companies in July; Napster is appealing the decision. Analysts' spins: 1) The music industry has finally realized it should exploit online music, not kill it. 2) Like America Online's merger with Time Warner, this deal combines powerful new media with prestigious old media. (The year-old Napster has two-thirds the traffic of 12-year-old AOL.) 3) Free online music-swapping has accelerated the country's high-speed Internet connectivity. 4) The record industry's legal blackmail has forced music-swapping startups to sell out to the big boys.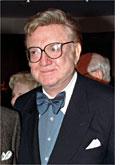 Comedian Steve Allen died at 78. He pioneered the screwball variety-show skit (he founded the Tonight Show), composed popular songs, wrote books about religion and morality, and spoke out on nuclear proliferation. Allen: "I'm the only comic in the business without an act." "If we think about the tragedies on our planet, we could spend all day in bed crying. So we laugh to survive." Analysts' spin: He was an improvisational genius, and "a serious man trapped in a vaudevillian's body."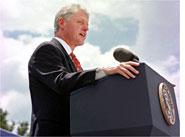 P resident Clinton wants the GOP to apologize for impeaching him. Clinton told Esquire magazine that the Republican Congress should apologize to the nation for impeaching him. ("They haven't necessarily put their abuse of power behind them.") Clinton also told the Advocate that blacks and gays support him because they empathize with his victimization. Clinton's spin: I've apologized for my bad behavior. Now it's the GOP's turn. GOP's spin: The president's self-absorption boggles the mind. Pundits' spin: Clinton can try to rewrite history, but we know what happened. Media critics' spin: Esquire's rationalization—that there was "no formal agreement" to withhold the interview until after the election, despite informal assurances that it would do so—is Clintonesque.
Mel Carnahan's widow will run for Missouri's Senate seat. Jean Carnahan agreed to fill her late husband's seat should he win the election posthumously. Mr. Carnahan, who was Missouri's Democratic governor, died two weeks ago, too late to be taken off the ballot. The new governor has promised to appoint Mrs. Carnahan should the Democratic ticket defeat incumbent Republican Sen. John Ashcroft. The GOP has promised to sue if Carnahan wins. Pro-Carnahan spin: Without a viable Democratic candidate, half of Missouri's voters would be disenfranchised. Anti-Carnahan spin: The governor is playing to the sympathy vote by choosing an empty vessel with no policy positions. This is an anti-feminist way for women to gain power.
---