After a brief post-Labor Day lull and some talk of letting "respectability" creep into their pages, it looks like the tabs have finally fully returned to their senses and are once again bursting with salacious goodies large and small. Just name the tabloid story you'd like to see—New details about the "awful terror" of Carolyn Bessette Kennedy's death, perhaps? Olympic "sex shockers"? Michael Jackson's interest in becoming a Jew? The first photos of a pregnant Celine Dion? Suspicions that John Lennon may have killed Beatle bassist Stu Sutcliffe?—and the last two weeks have got it covered.
But more than anything else, with October upon us, the tabs seem especially fixated on ratcheting up their political coverage. (As National Enquirer astrologer Arlene Dahl explains, October is "the month when political campaigns heat up. Astrologically, it's also the most powerful month of the year.") And nobody, rest assured, covers politics quite like the tabloids.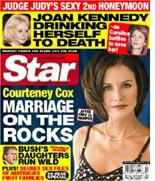 Fresh on the heels of her Rob Reiner's-going-to-be-a-Cabinet member scoop, Globe gossip columnist Charlene Tilton reports that Martin Sheen (of NBC's West Wing) plans to run for governor of California. Sheen, says Tilton, "secretly commissioned a poll to see if he stands a chance, and the results were promising." A two-page investigation in the Enquirer claims that while in law school, New York senatorial candidate Hillary Clinton was a "militant supporter of a group of Black Panthers who tortured and killed a fellow Panther!" If it's White House dirt you're after, the Star has a 26-page special on the "secret sex files of America's first families," complete with a lot of those 1970s posed-on-the-sofa portraits that look like something straight out of Family Feud. And while most of the scandals are old hat—Patti Davis posing for Playboy and the like—the Star does come up with a few singular tidbits. We've all heard the story of young Albert Gore III's recovery after being hit by a car in Baltimore, for instance, but Keeping Tabs was unaware that psychic Uri Geller (he of spoon-bending fame) was involved. Geller, says the Star, "energized his own son's teddy bear" and sent it to the Gore family. Once little Albert began cuddling the bear, he "improved fast." And they think they're so smart at Johns Hopkins hospital!
The National Enquirer has delivered the one piece of political augury that we're sure David Broder and Howard Fineman have been breathlessly awaiting: Astrologer Arlene Dahl says that the stars say Al Gore will be our next president. He'll win, says Dahl, "by a nose" after a "world crisis on Friday, October 13 gives him a heroic opportunity" to prove himself. The race is close, Dahl explains, because the two candidates "have a lot in common astrologically." Both have the "majestic sign of Leo rising in their charts," which "predisposes them to leadership positions and the public eye." As a Cancer, Bush is blessed with "good communication skills, lots of charm and a powerful image" courtesy of the influences of Mercury, Venus, and Pluto—the very same planets that give him a troublesome "king-size ego" that could cause him to "promise more than he can deliver." Gore, on the other hand, "has a very presidential chart," Dahl explains. "Saturn, Mars and Pluto influences give him a determination to fight for the top job, plus a good measure of self-discipline. The election will be close, but my bet is on Al Gore."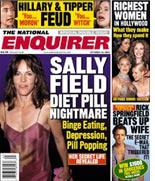 The Enquirer has an in-depth report on the supposed feud between Gore's wife Tipper and first lady Hillary Clinton. (That's them on the cover, mouthing "You … Moron" and "You … Witch" to each other.) A White House "insider" says that the two women got off on the wrong foot on their 1992 campaign bus tour, when Bill Clinton "flirted shamelessly" with Mrs. Gore. "Just look at Gennifer Flowers or Dolly Kyle Browning—big blousy blondes—and you know Tipper's exactly Bill's type," explains the insider. (We're pretty sure they mean blowsy, but you never know with the tabs.) Things have just deteriorated from there, apparently, to the point where the Gores "don't want anything to do with" the Clintons once the election is over.
Speaking of not wanting anything to do with one another, it's breakup city out there in Tabloidland. The Globe's cover story on Matt Lauer's "Marriage Misery" says that he and wife Annette Roque could be headed for a split. We think they must be, because the "then" photo of the couple shows both of them smiling, whereas neither of them is smiling in the more recent "now" photo. Friends' David Schwimmer and his girlfriend, Israeli-born actress Mili Avital, are said to have hit the skids after Jennifer Aniston and Brad Pitt's wedding; they were inspired to put the "full court press" on for their own marriage, only to have it backfire and push them apart, says the Enquirer. "When all is said and done, the hype over Jennifer and Brad's wedding was the undoing of David and Mili," says an insider.
What exactly happened at that wedding, anyway? According to the Star, the Pitt-Aniston nuptials also deepened the major rift between Courteney Cox and her husband, David Arquette, who are said to have "talked seriously about divorce." Cox, the story explains, "looks at [Aniston's] marriage to Brad and she sees two people supremely compatible. They're both grown-ups and their love grows deeper every day. She feels that just isn't the case with her and David. They seem stalled at some shallow level and they can't seem to get any deeper."
Just as we were starting to get used to the idea of a world in which Ellen DeGeneres and Anne Heche were no longer together, comes the startling news of the breakup of rocker Melissa Etheridge and her longtime partner, Julie Cypher. The "blockbuster secret" behind the split, says the Enquirer, is none other than Ellen DeGeneres, with whom Etheridge is said to have had an affair several years ago. DeGeneres' "sudden availability was the push that Melissa needed to leave Julie," says a source. The Globe, meanwhile, blames it on the fact that L.A.'s Evanston Street, where the couple lived, is "definitely jinxed," given that it was also home to Roseanne and Tom and Meg and Dennis, among others. In fact, Etheridge and Cypher lived in the very same house where Rod and Alana Stewart's marriage went belly up. (Somehow, no one managed to point out that Etheridge was a guest at the Brad and Jen wedding. Bingo!) Meanwhile, the Globe also reports that Anne Heche may be pregnant, while the Enquirer says that Heche had a "long affair" with cameraman Coley Laffoon. Laffoon's girlfriend, musician Kamra Delaney, was understandably upset at the news, especially after supposedly finding the two in bed together. "Anne's a heartless bitch! She plotted and stole my boyfriend," Delaney reportedly told a friend.
Is October Lesbian Month, perhaps? The Star weighed in with a cover story on Susan Lucci's "Gay Shocker" saying that the All My Children star was "embroiled in a gay scandal that could make—or break—her career." She's "risk[ing] her 20-year career" with a "shocking soap story line" says an inside subhead. Could Erica Kane be planning to take a walk on the Sapphic side? No, of course not. Her TV daughter, Bianca, is poised to become daytime's first lesbian, a plot line Lucci is said to believe will win her a second Emmy. (The last time she won, it was for a story arc in which Bianca was battling anorexia, the Star points out helpfully.) The fans, however, are said to be less enthusiastic. "Middle America doesn't expect—or want—the show to go this far," an aggrieved anonymous fan is quoted as saying. "This is just too much—and it could backfire badly on Susan and AMC. Some fans might just wash their hands of the soap." Keeping Tabs can't help but think about all the things that were apparently not "too much" for Erica Kane fans to handle, like her abortion, her rape, her nervous breakdown, her stealing a baby, or her addiction to painkillers. (Click here for the whole list.) Will Bianca's lesbian lover be a keeper? Could be. Let's just hope she wasn't at Brad and Jennifer's wedding.
---