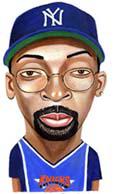 Something weird is happening at your local multiplex, something that hasn't happened for almost a decade. A Spike Lee movie is playing, and it's actually … fun. The Original Kings of Comedy, which documents four black comedians in concert, isn't very funny—only Steve Harvey consistently hits his marks—but it's surprisingly likable—high-spirited, loose, and rambling.
Savor the moment, because Lee will be invading theaters in early October with a more typical Spike Lee Joint. Bamboozled, which is already making headlines in New York for its provocative ad campaign, concerns a black comedy writer trying to get fired from his white-run TV network. He writes a neo-minstrel show starring blacks in blackface, sure that it will be offensive enough to destroy his career. Instead it becomes a national sensation. The preview suggests that Bamboozled may be Lee at his most portentous and hectoring—a somber satire about comedy, if such a thing is possible.
If Bamboozled is heavy-handed, it won't be a surprise. A creeping didacticism has taken Lee hostage. He has always made message movies. His early films, especially School Daze, Do the Right Thing, and Jungle Fever, shouted out his issues: black economic empowerment, black America's color and class divisions, the danger of white hegemony, the vitality of black popular culture.
But Lee's movies were also hopped up with ambiguity, joy, and humor. Do the Right Thing remains as provocative as it was in 1989: Why does Mookie chuck the garbage can through the pizza-shop window? How much sympathy does Radio Raheem deserve? Lee, who has a sharp ear, crammed his movies with bantering and bullshitting. The three black men hanging out on the sidewalk are a profane, hilarious chorus in Do the Right Thing. Mars Blackmon, Lee's nervous Nike-wearing pest in She's Gotta Have It, is one of the funniest and most memorable characters in recent American film. Crooklyn is suffused with a charming, bittersweet nostalgia.
Lee has never stopped working or experimenting. He is endlessly ambitious. He has jumped genres from musical (School Daze) to biopic (Malcolm X) to road tripper (Get on the Bus) to concert movie (Freak). His subjects range from music (Mo' Better Blues) to black colleges (School Daze) to basketball (He Got Game) to phone sex (Girl 6) to the Son of Sam killings (Summer of Sam). Nor has he restricted himself to movies: Lee makes ads and music videos, writes books, runs a successful ad agency, and still has time for the Knicks.
But along the way, the high spirits have leached away and didacticism has swallowed his movies. Lee's recent films are cluttered with stagy speeches in which a character announces the lesson we should learn from the movie. (Get on the Bus is little else.) Lecturing has replaced questioning. Do the Right Thing succeeds partly because it's never clear who's heroic and because its characters are constantly changing. But the basketball recruiters in He Got Game are pure evil. Get on the Bus has the ethical nuance of a buddy movie. Summer of Sam ends with a heavy-handed near-lynching.
Meanwhile, Lee has sliced the humor from his serious films. Consider the characters Lee himself has played. In his early movies, he played a series of nebbishy, funny pipsqueaks, notably Mars Blackmon, Half-Pint in School Daze, and Mookie. But his characters have sobered up. Summer of Sam marks the nadir: He is a dead-eyed, mono-tonal TV reporter, a character as different from Mars Blackmon as you can imagine.
The trash-talking that crackled through School Daze, She's Gotta Have It, and Do the Right Thing has gone missing, too. Summer of Sam, a film about a tense, violent neighborhood during a heat wave, is an update of Do the Right Thing without the verbal flash and humor. Lee is recycling lines he once played for laughs as straight dialogue. The chorus of Do the Right Thing jokes about how blacks never live up to their big talk. In Get on the Bus, the callow black Republican character echoes the riff, almost word for word, but this time it's supposed to show the speaker's cruelty. (Lee repeats himself: the first time as farce, the second time as tragedy.) Lee may be suspicious of comedy because he would hate to be dismissed as a clown. But his sobriety robs his films of the leaven they need.
(Lee did, of course, just direct The Original Kings of Comedy, but even here his message is political. When Lee talks about why he made it, he never discusses how funny the comedians are. Instead, he focuses on the importance of publicizing black entertainers ignored by white America.)
Lee's directing style—why do it when you can overdo it?—emphasizes his didacticism. His films are stagy and expressionist. He favors bizarre camera angles and histrionic lighting. He repeats intrusive film-school techniques movie after movie, notably his distracting practice of having supposedly walking characters rolled on dollies. As my colleague Slate film reviewer David Edelstein puts it, "He has an unbelievably self-conscious style. He never wants you to forget his presence as the director." Because he permits no respite from his message or his direction, Lee's movies feel claustrophobic. (The Original Kings of Comedy does not feel this way because you can't turn stand-up into a sermon and because you can't play too many directing tricks on a live stage show.)
For all his talent, Lee is not much imitated as a film director. His TV commercials, with their quick wit and quick cuts, have been widely copied, as has his entrepreneurial style. But not his artistry. No director, except perhaps John Sayles, shares Lee's unflagging seriousness. And actors are too powerful in Hollywood to allow many control maniacs like Lee to flourish. (When Martin Scorsese directs a film, it can be an "Al Pacino movie" or a "Robert De Niro movie." When Steven Spielberg directs, it can be a "Tom Hanks movie." But a Spike Lee film is never a "Denzel Washington movie" or a "Wesley Snipes movie." It is always a Spike Lee Joint.)
There is a medium where Lee is not disappointing these days: documentary. Perhaps the best movie he has made in the past decade is 4 Little Girls, a nonfiction account of the 1963 Birmingham, Ala., church bombing that killed four black girls. He brought his visual energy and fierce intelligence to the project, but documentary subdued his style. There was only so much "directing" he could do. He was locked to the facts. He didn't have actors he could order around. He had to work with real people. This restraint made 4 Little Girls clear, smart, and passionate.
No one who pays $8 for a feature film on a Friday night really wants speechifying and moralizing, which is why watching recent Lee features is often irksome. But documentary-goers expect and even demand speechifying and moralizing, which is why watching 4 Little Girls isn't.  
---