A World War II memorial for the National Mall received final approval. The National Planning Commission approved the controversial project 7-5. Friedrich St. Florian's classical design features 56 17-foot-tall blocks of granite—representing the states and territories—circling a fountain. It will reside between the Lincoln Memorial and Washington Monument, at the head of the reflecting pool. Prominent supporters include President Clinton, Bob Dole, Tom Hanks, the American Legion, and Wal-Mart. Opponents will sue to delay the Nov. 11 groundbreaking. Proponents' spin: The National Mall recognizes every major war except World War II. That omission is a crime. Opponents' spins: 1) The design is aesthetically flawed. (It is fascistic and vulgar, evoking Albert Speer more than D-day.) 2) The design is conceptually flawed. (What do the states and territories have to do with World War II?) 3) The location is flawed. (It bisects the Mall, blocks sightlines, and overwhelms the reflecting pool.) Analysts' spin: This is what happens when you let interest groups and bureaucrats design a memorial by committee.    
The government attributed 13 more fatalities to Firestone tires. The National Highway Traffic Safety Administration has now blamed the faulty tires for the deaths of 101 motorists. The Senate Commerce Committee approved legislation to establish criminal penalties for executives who knowingly sell defective tires. Firestone quietly settled several defective tire lawsuits out of court. Anti-Firestone spin: Firestone is only settling because they have finally realized that restitution is cheaper than bad PR. Skeptics' spin: Firestone is a fall guy. SUVs roll over too easily, and neglectful drivers refuse to inflate their tires properly. Firestone's spin: That's because Ford didn't recommend the correct tire pressure. Besides, we're not the only tire company doing recalls for Ford.
Scientists created a vaccine against genital herpes. A 3,000-person, four-continent study revealed that the vaccine works only on women. It is only the second vaccine against a sexually transmitted disease, after hepatitis B. If all goes well, the SmithKline Beecham product will reach the market in a couple of years. Doctors' spin: We don't know why it doesn't work for men, but fewer women with herpes means fewer men too. Health watchers' spin: Gonorrhea is growing resistant to antibiotics, and Congress refuses to pay for syphilis eradication. It's about time we had some good news.
Oracle's Larry Ellison is nearly as rich as Bill Gates. Gates retained his No.1 ranking in the Forbes 400 for the seventh consecutive year, but his $63 billion fortune is only $5 billion larger than Ellison's. Ellison was 13th last year, but Oracle's stock has quadrupled since then and Microsoft's has dipped. Microsoft co-founder Paul Allen came in third, investor Warren Buffet was fourth, and five Wal-Mart heirs tied for seventh. New celebrity names to the list: Überhausfrau Martha Stewart and World Wrestling Federation owner Vince McMahon. Analysts' spin: When Gates reached No. 1 in 1994, he was the only techie in the top 10. Now eight of the top 10 are silicon billionaires. Critics' spin: The rankings have more to do with crazed Wall Street speculation than with the moguls' business acumen.
The Cuban baseball team lost its first Olympic game. The squad's 21-game streak ended when they fell to the Netherlands, 4-2. Two more weightlifters were banned from the Games after testing positive for drugs, bringing the total of disgraced weightlifters to five. The U.S. men's basketball squad—the "Dream Team" of NBA stars— nearly lost to the mediocre Lithuanians. Netherlanders' spin: "This is one of the biggest accomplishments in all of Dutch sports." Analysts' spin: The Dutch vs. the Cubans is really just former U.S. major leaguers vs. future major leaguers. TV critics' spin: The NBC coverage is overproduced and looks like an advertisement. Counterspin: Give NBC a break. Americans aren't interested in watching time-delayed sports from Down Under when they can get real-time results on the Web. (To read a "Sports Nut" on how to fix the U.S. men's soccer team, click here; to read a Sports Nut on why doped athletes are better athletes, click here; to read a Sports Nut complaining about the "Sob Sister" coverage of the Olympics, click here; and for a "Diary" of a sportscaster covering the Games, click here.)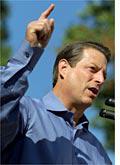 Al Gore urged President Clinton to tap the strategic oil reserve. George W. Bush countered that the United States should combat rising energy prices with diplomacy, while Clinton's advisers split. Oil prices reached $38 for the first time in a decade, and Europe continued to suffer from protests over high gas prices. Economists' spins: 1) A fuel shortage may slow the world economic boom. The West's prosperity may be in OPEC's hands. 2) The United States could stop the crisis by using the reserve. 3) European nations wouldn't be so vulnerable to these crises if they got rid of their quasi-socialist fuel taxes. 4) Cutting fuel taxes simply gives tax money to the producers; in a monopoly market, consumers will see no savings. (Click here to read more on the crisis in "International Papers.")
The independent counsel will not bring Whitewater charges against the Clintons. Robert Ray concluded that there was "insufficient evidence" to prosecute Bill and Hillary Clinton for their 1980s role in a fraud-ridden real-estate company, the Whitewater Development Co., and a failed savings-and-loan, Madison Guaranty. The investigation, formerly run by Robert Fiske and Ken Starr, detoured into Flytrap in 1998. White House's spin: Yet another investigation—at $52 million, the most expensive by an independent counsel—has exonerated the Clintons. Pundits' spin: Good news for Hillary's campaign. Conservatives' spin: "Insufficient evidence to prosecute" does not equal exoneration. Besides, the investigation cost taxpayers less than did the failure of Madison Guaranty, and Ray can still indict the president for lying during his Lewinsky testimony. (For refreshers on Whitewater, click here and here.)
The Senate voted to make China a permanent trading partner. The measure, spearheaded by President Clinton, will relieve China from its annual duty of convincing Congress that it is not violating human rights. It will also give the United States the same access to Chinese markets as enjoyed by European nations once China enters the World Trade Organization later this year. In return, China must dismantle its trade barriers. Labor leaders, environmentalists, and conservative protectionists opposed the measure, which the Senate passed 85-15. (The House passed the bill in May by 237-197.) Analysts' spin: For better or worse, this effectively ends decades of debate over Chinese trade. Cuba and Iran may be next. President Clinton will be remembered for this.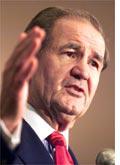 Pat Buchanan started spending the Reform Party's $12.6 million in federal funds. Launching his presidential campaign at Bob Jones University, the former GOP candidate decried "cultural Marxists," homosexuals, and atheistic media elites. Buchanan, who hovers at around 1 percent in most national polls, blamed the major parties for excluding him from the debates. George W. Bush came under fire during the primaries for visiting the university, which has banned interracial dating and called the pope "an anti-Christ."
The European Union may block the AOL-Time Warner merger. The EU's antitrust division issued a preliminary recommendation to block the deal, pending further concessions by the two companies. Analysts' spin in January: This is a vertical, not horizontal, merger, so antitrust regulators won't mind. Analysts' spin now: Vertical integration (pairing Time Warner's content with AOL's delivery) will make it hard for non-Time Warner content to get distributed. Antitrust folks should look into this. AOL and Time Warner's spin in January: This marriage will produce synergy. AOL and Time Warner's spin now: Our businesses do not overlap. The whole will not be greater than the sum of our parts. Consumers' spin: Hey, doesn't Time Warner already do business with arch-rival AT&T? I really can't keep these mergers straight. Anti-globalists' spin: First the EU nixes Sprint-WorldCom, now AOL-Time Warner. The U.S. Justice Department's role may become irrelevant. (To read Slate's "Moneybox" on why AOL overpaid for Time Warner, click here.) 
---