This fall, Slate presents reviews of new fall TV shows by people with real-life knowledge of the experiences the shows depict. Our first "Dispatch" is from Judith Shulevitz on the NBC show Deadline, premiering on Monday at 9 p.m, ET.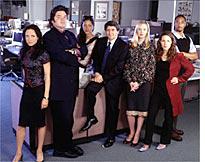 You always forget how off-base journalism can be until you read an article on a subject you know something about. The same is true of television drama. Now that Culturebox, who once worked at a tabloid magazine (New York), has seen Deadline, Dick Wolf's new show about life at a tabloid newspaper, she knows why her lawyer friends roll their eyes at Wolf's Law & Order—even though they know as well as every other competent viewer that TV shows are as likely to represent their profession with verisimilitude as children are to moisten their morning cereal with martinis.
This journalist couldn't help rolling her eyes either. Deadline (Monday at 9 p.m. ET, on NBC) is being promoted as a prime-time recapitulation of The Front Page, positively humming with raffishly cynical journalists and delightful repartee. Our heroes are reporters at a New York City daily called the New York Ledger. (The Ledger's red-and-white logo is identical to the New York Post's.) Oliver Platt is one of the show's many well-known actors—the others are Bebe Neuwirth, Tom Conti, Lili Taylor, and Hope Davis—cast, presumably, to lend depth to what might seem to the non-media-obsessed like a fairly trivial premise. Platt plays Wallace Benton, a bulky, rumpled columnist modeled roughly on Jimmy Breslin or Mike McAlary. When we first meet this fast-talking, affable fellow, he is experiencing a rare episode of self-doubt. It seems there has been a multiple slaying in a fast-food restaurant uncannily similar to one he thinks he helped solve two years ago. The men convicted for the earlier crime are due to be executed in three days, thanks largely to Benton's vigilante-style calls for justice. But what if he were wrong? What if the guys who were fingered didn't actually do it? The new crime echoes the old in several details, even though the original killing took place in New York and the latest one was in Chicago.
At this point, if you are either an investigative or a tabloid reporter or have ever met one, the usual tolerable level of unreality will escalate to unbearable. It's hard to believe that a vaguely comparable murder in another city would provoke such a crisis of conscience in a hardboiled newspaperman, though I suppose it isn't unthinkable. (The similarities between the killings aren't that great: Both took place as the restaurant was closing; in each case the murderers ate the fries and left the burgers.) What's impossible to countenance is the sudden conversion of the stinking rich, right-wing publisher Si Beekman—played by Conti as a sort of Scottish Rupert Murdoch—to Benton's views on possible miscarriages of justice. During the story meeting that day, Beekman asks the editor (who is played by Bebe Neuwirth): Should Benton reinvestigate? Of course not! she says, like the reasonable editor she is. It would look bad if the paper changed its mind! "It would look worse to read about it in the New York Times," observes Beekman, with lilting Scottish sagacity. And off he sends Benton on a three-day goose chase, with nothing but gut instinct (and several disturbingly cozy relationships with homicide detectives and district attorneys) to guide him.
I don't think I'm giving anything away if I say that, at the end of the day, Beekman and Benton prove themselves worthy role models to Benton's students at the Columbia Journalism School. (These, by the way, spend all their free time helping Benton play detective—a bit of altruistic business that, for anyone who knows J-school students and their desperate quest for clips and jobs, also lacks plausibility.)
It's easy to make fun of TV shows for their optimistic view of the professions. It's like complaining that advertisements make life look better than it is. Indeed, there's something comforting about such relentless high-mindedness. Would that every publisher fretted about his publication's credibility with the fine scruples of a Si Beekman! Deadline's nudge is even timely, given the Times' ongoing and somewhat less voluntary reinvestigation of the Wen Ho Lee case. But still, Culturebox couldn't help being disappointed to see journalists being as lionized as if they were doctors on ER. I mean, what is the lesson our children will take away if we offer up the New York Post as a stronghold of ethical and constitutional punctiliousness?
Photograph of Deadline cast by Chris Haston/NBC.
---