A music-industry group offered $10,000 to hack its site. The Secure Digital Music Initiative, which is developing anti-piracy technology for Internet audio and video files, promised $10,000 to anyone who foils its security software before Oct. 7. The association has 175 members, including Sony Music, Warner Music, Compaq, Nielsen Media Research, Napster, and Microsoft. SDMI chief's spin: I invented the MP3 download format, now I'm giving it a lock so that music-makers can get paid for their work. Critics' spin: This is a publicity stunt to get free consulting. And it's not about bootlegging: SDMI wants to bar a legal customer's right to fair use of his property.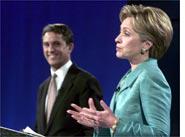 Hillary Clinton debated Rick Lazio in the New York Senate race. The candidates attacked each other repeatedly. Lazio walked to Clinton's podium with a written pledge to stop using unregulated money in the campaign. (She did not sign.) When the moderator asked Clinton to apologize for publicly denying the Lewinsky affair in January 1998, she replied that her husband had misled her too, but that he had apologized for it. Clinton's spin: Lazio is a Newt Gingrich acolyte whose tax cut would bust the budget. Lazio's spin: Clinton is a shameless carpetbagger whose national health plan would have hurt New York. Media's spin: This is a dramatic race, but it's not quite the Hillary-Rudy showdown we expected.
President Clinton criticized the Wen Ho Lee prosecution after Janet Reno defended it. The president called the Justice Department's handling of the case "quite troubling" after the attorney general refused to apologize to Lee. Both comments came after a federal judge apologized to Lee for his incarceration and set him free after Lee struck a plea bargain with prosecutors. Lee pleaded guilty to just one of 59 felony charges against him; in return, prosecutors dropped the other charges, and the judge limited his sentence to time served. The government arrested Lee in December, charging him with illegally downloading classified information. (The feds believe he may be a Chinese spy.) Analysts' spin: The government folded because it had no case. Government's spin: We backed down only when Lee agreed to tell us where the missing data tapes were; national security requires finding the tapes, not punishing Lee. Judge's spin: Lee committed a "serious crime," but Reno convinced me to deny him bail, which was wrong. Reno's spin: Lee could have won his freedom at any time by telling us where the tapes were.
Europe suffered its worst fuel crisis in a generation. Widespread protests over high gas prices blocked shipments of fuel for days. Britain, the hardest hit, may take weeks to recover from the shortage. Prime Minister Tony Blair refused to cut the nation's high fuel taxes. OPEC increased oil production last weekend, but world oil prices are expected to keep rising. Economists' spins: 1) A fuel shortage may slow the world economic boom. The West's prosperity may be in OPEC's hands. 2) The United States could stop the crisis by lending some of its strategic oil reserve to oil companies, but the reserve is a hostage of politics. 3) European nations wouldn't be so vulnerable to these crises if they got rid of their quasi-socialist fuel taxes. 4) Cutting fuel taxes simply gives tax money to the producers; in a monopoly market, consumers will see no savings. (Click here to read more on the crisis in "International Papers.")
Chase Manhattan bank acquired J. P. Morgan & Co. J. P. Morgan Chase will be the world's third-largest bank, behind Citigroup and Bank of America. Analysts' spins: 1) All the big banks are American. The globalization of finance is the Americanization of finance. 2) J. P. Morgan & Co.'s strategy of private banking for the superwealthy worked in the late-19th and early 20th centuries, but in our multinational, millennial era, the margins are in investment banking for emerging and merging companies.
Congress held hearings on violence in children's entertainment. However, Hollywood executives refused to attend the hearings, which followed a Federal Trade Commission report that blamed the entertainment industry for advertising R-rated movies to under-17 audiences. President Clinton ordered the study after the Columbine High School shootings. In response to the report, Disney banned ads for R-rated movies before 9 p.m. on its network, ABC. The Federal Communications Commission announced its own study into violence on children's TV programs. Earlier, Kmart and Wal-Mart banned the sale of violent video games to minors. Hollywood's spin: If we promote violence, how come crime is decreasing? And what's wrong with pitching R-rated films to minors, as long as they attend the movie with a parent? George W. Bush's spin: Hey, Congress, can Lynne Cheney testify? Democrats' spin: Hey GOP, this is our issue now. Pundits' spin: Hollywood money hasn't bought access in the Democratic Party. GOP counterspin: Bashing Hollywood hasn't stopped Democrats from taking Hollywood money. (Click here to read a debate on this issue in Slate.)
Congress grilled Firestone and Ford executives over faulty tires. Senate Commerce Committee Chairman John McCain promised severe penalties for the two companies. Other senators prepared regulatory legislation. Each company blamed the other for the fatal tire bursts and rollovers. The National Highway Transportation Safety Board, which has linked 88 deaths to the 6.5 million tires being recalled, is investigating whether the companies knew about the faulty Explorer SUV tires and concealed the problem. Ford initiated a recall of another car, and the New York Times detailed a history of Ford cover-ups of faulty car parts. Ford's spin: It's Firestone's fault. Firestone's spin: We've had quality-control problems, but we didn't break any laws. Analysts' spins: 1) Trying to save money by delaying recalls doesn't just cost lives—it brings bad PR. 2) U.S. tires aren't designed for high speeds. As Americans drive faster, more companies' tires will fail.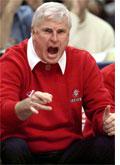 Indiana University fired basketball coach Bobby Knight. Nearly a thousand students protested—and some rioted—after his dismissal. The controversial sports icon, who has led the school to three national championships and 11 Big Ten titles, has a history of physical and verbal abuse of players, alumni, and university administrators. Several days ago, he grabbed a freshman by the arm for making a flip remark. Knight's spin: I'll find work where my talents are appreciated. Hoosier spin: Knight may be rough, but he's a winner. Faculty spin: Now that Knight's gone, perhaps the university will focus on academics? Media spins: 1) This strikes a long-awaited blow for gender equity in college athletics. 2) This is another example of nosy administrators imposing political correctness where it doesn't belong.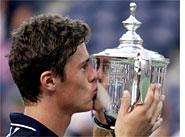 T ennis upstart Marat Safin won the men's singles championship at the U.S. Open. Venus Williams won the women's championship. Safin, a 20-year-old Russian, whipped former champion Pete Sampras in straight sets. Williams defeated Lindsay Davenport in a replay of July's Wimbledon final. Williams' sister Serena, the defending U.S. Open champion, lost to Davenport in the quarterfinals. Sampras' spin: Safin reminds me of myself at 19. "He's the future of the game." Analysts' spin: Venus is now the best women's tennis player, even if the official rankings don't yet recognize it.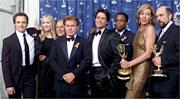 T he West Wing won big at the Emmy Awards. The NBC political comedy won five awards, including best drama series. HBO's The Sopranos, a critical favorite, received just one award—for best actor (to James Gandolfini). Michael J. Fox, who won for his role in ABC's Spin City, earned his fourth lifetime Emmy. Analysts' spin: Voters resented The Sopranos' violence and critical acclaim.
---