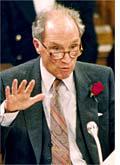 Former Canadian Prime Minister Pierre Trudeau died at age 80. The urbane French-Canadian Liberal—who served, with a nine-month hiatus, from 1969 to 1984—was a federalist at home and a dove abroad. His legacy: 1) He prevented Quebec's secession by championing the rights of French speakers and by refusing to buckle to separatist terrorists. 2) He negotiated constitutional independence from Britain. 3) He provoked scandal by dating Barbra Streisand and by marrying a 22-year-old at age 51. Historians' spins: 1) He was Canada's Abe Lincoln—a reflective leader remembered for saving the Commonwealth, establishing minority rights, and squelching armed revolt. 2) He was Canada's JFK—a Harvard-educated minority remembered for his sophistication, pioneering use of television, and controversial private life. Canadians' spin: He nearly fooled the world into thinking that Canada was hip and exciting.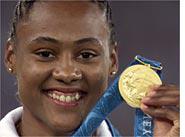 Marion Jones' quest to win five Olympic gold medals was foiled. The American track-and-field star, who has won two golds so far, had to settle for bronze in the long jump. Wednesday, the United States women's soccer team lost the Olympic gold in overtime. The 1996 gold-medal winners and 1999 World Cup champions lost to Norway, 3-2. The letdown came a day after the United States scored upsets in baseball and wrestling. The baseball team's 4-0 blowout dethroned defending champ Cuba, which had won both previous Olympic golds. The American team—composed largely of minor leaguers and managed by Dodger veteran Tommy Lasorda—had dropped a nonchampionship game to Cuba last weekend. Grappler Rulon Gardner ended the 13-year winning streak of Alexander Karelin, considered the greatest Greco-Roman wrestler ever. Karelin had never lost in international competition and had not been scored upon in 10 years. Marion Jones' spin: "I am checking [the medals] off the list." Her opponents' spin: "[On] Saturday night, Marion, we're going to give you one hell of a race." Lasorda's paternal spin: "[My pitcher is] just a baby as far as baseball's concerned and look what he did in front of the whole world!" (To read a "Sports Nut" on how to fix the U.S. men's soccer team, click here; to read a Sports Nut on why doped athletes are better athletes, click here; to read a Sports Nut complaining about the "Sob Sister" coverage of the Olympics, click here.)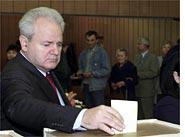 Slobodon Milosevic's opposition launched a five-day national strike. On Thursday the Serbian Orthodox Church and several Milosevic allies in government declared opposition candidate Vojislav Kostunica the outright victor of Sunday's election.. The Yugoslav election authority has said Kostunica won less than a majority and must face a runoff with Milosevic. Kostunica will boycott the runoff. The United States and Croatia staged military exercises nearby, and the West promised an end to sanctions if Milosevic steps down. Realists' spin: Don't expect Milosevic to go without a fight. And don't expect the opposition to be overly friendly with the West if it gains power.
The Food and Drug Administration approved abortion pill RU-486. But patients who use it must make three trips to a doctor trained in prenatal care. (The doctor need not be a surgical abortionist—a requirement urged by pro-lifers.) The drug will reach the market in a month. President Clinton lifted the ban on the drug's importation within days of taking office. The French inventor of the pill, Roussel Uclaf, donated U.S. manufacturing rights to the Population Council in 1994. The pill's manufacturer will remain a secret. Analysts' spin: Private, widespread use of RU-486 may end the abortion wars. Pundits' spin: This may become an election issue. Pro-life spin: Now you can pop a pill to induce a miscarriage. This is immoral, and all the more reason to vote for Dubya. (To read a Slate "Medical Examiner" on types of late-stage abortion, click here; to read a "Frame Game" on the legacy of Roe vs. Wade, click here.)
The maker of a genetically modified corn suspended sales. Aventis CropScience will not sell its GM corn until the Environmental Protection Agency approves its use by humans. Taco Bell and Kraft recalled taco shells made with the corn after an environmental group determined that the ingredient was approved for use only in animal feed. (It may cause an allergic reaction in humans.) GM opponents' spin : This is what happens when the feds gets lax about regulation. Taco Bell's spin : We made a mistake, but we haven't received a single customer complaint.
The U.S. poverty rate declined to its lowest level since 1979. The percentage of Americans living in poverty declined from 12.7 percent in 1998 to 11.8 in 1999, according to the Census Bureau. (The government defines poverty as an annual income of less than $17,029 for a family of four and $13,290 for a family of three.) Most of the decrease was reported in cities and in the Northeast and West. The poverty rate for most ethnic minorities, including blacks, reached historic lows. Median household income rose by 2.8 percent, to $40, 816. Real household income grew for the fifth consecutive year. President Clinton's spin: A rising tide can lift all boats. We're reversing the income disparity of the Reagan years. Al Gore's unspoken spin: Are you better off now than you were eight years ago? GOP's spin: Voters can thank our welfare reform bill, which Clinton signed only to get re-elected. 
The Supreme Court remanded the Microsoft case to a lower court. The justices ruled, 8-1, that the case should follow the normal appeals route and go to D.C.'s Circuit Court of Appeals. Microsoft's spin: The court agreed with us that the case is too complex to justify an expedited appeal. Justice Stephen Breyer's spin: The case is indeed complex, but I think the court can afford the time. The legal certainty would have helped the economy. Wall Street's spin: Buy Microsoft! Legal strategists' spin: Microsoft, settle now!
President Clinton released 30 million barrels of oil from the Strategic Petroleum Reserve. The decision came several days after Al Gore reversed his position and requested the release. George W. Bush accused Gore of playing politics and recommended opening Alaska to more drilling. Oil prices declined from about $38 a barrel to about $31. Pundits' spin: Clinton is manipulating energy prices to get Al Gore elected president. Clinton administration's spin: We released the oil to correct a national supply crisis, not to change the price. Economists' spin: Thirty million barrels is too little to have much effect in the long term. On the other hand, there's not much else to do with the reserve. OPEC's spin: We're producing enough oil, but the West is not refining it fast enough. (To read Slate's "Earthling" on why Clinton's is more justified in tapping the oil reserve than President Bush was in 1991, click here; click here to read about the politics of the oil release in "Pundit Central.")
A World War II memorial for the National Mall received final approval. The National Planning Commission approved the controversial project 7-5. Friedrich St. Florian's classical design features 56 17-foot-tall blocks of granite—representing the states and territories—circling a fountain. It will reside between the Lincoln Memorial and Washington Monument, at the head of the reflecting pool. Prominent supporters include President Clinton, Bob Dole, Tom Hanks, the American Legion, and Wal-Mart. Opponents will sue to delay the Nov. 11 groundbreaking. Proponents' spin: The National Mall recognizes every major war except World War II. That omission is a crime. Opponents' spins: 1) The design is aesthetically flawed. (It is fascistic and vulgar, evoking Albert Speer more than D-day.) 2) The design is conceptually flawed. (What do the states and territories have to do with World War II?) 3) The location is flawed. (It bisects the Mall, blocks sightlines, and overwhelms the reflecting pool.) Analysts' spin: This is what happens when you let interest groups and bureaucrats design a memorial by committee.    
The government attributed 13 more fatalities to Firestone tires. The National Highway Traffic Safety Administration has now blamed the faulty tires for the deaths of 101 motorists. The Senate Commerce Committee approved legislation to establish criminal penalties for executives who knowingly sell defective tires. Firestone quietly settled several defective tire lawsuits out of court. Anti-Firestone spin: Firestone is only settling because they have finally realized that restitution is cheaper than bad PR. Skeptics' spin: Firestone is a fall guy. SUVs roll over too easily, and neglectful drivers refuse to inflate their tires properly. Firestone's spin: That's because Ford didn't recommend the correct tire pressure. Besides, we're not the only tire company doing recalls for Ford.
---