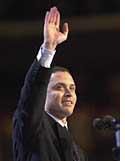 Remember the baby politician in your high school? The girl who charmed the socks off the most brutal teachers and made friends with the most abject losers. The boy who couldn't memorize the periodic table but remembered your mom's birthday—and sent her a card. The kid who was volunteering for the local congressman before you knew what Congress was.
Most tyro-pols grow out of electioneering and go into sales, and everyone has a great laugh about that at the class reunion. But I have had a disconcerting experience this week: My class politician gave the keynote speech of the convention. While I have been futzing through my 20s, Rep. Harold Ford Jr. of Tennessee has been running for Congress, sparring with Rep. Dan Burton, and advising Vice President Gore. Harold—who used to schmooze on the Lafayette Elementary School playground and glad-hand his way through high-school parties—delivered the biggest speech Tuesday night, outshining a very bland Bill Bradley. The Los Angeles Times profiled him on the front page. He appeared on Larry King Live Tuesday and aced Politically Incorrect last night.
On Wednesday, I invite myself to spend the day with Harold to see how a national political star is born. (What about my bias, you ask? It's enormous. Harold is an old friend as well as a classmate.) By the time I catch up with him, he has already done one dawn interview with CNN, another with a local news station, and addressed the Kentucky delegation's breakfast in Hollywood. Now he has schlepped to the airport Marriott to rally the Texas delegates over their coffee and eggs. Harold's remarks are anodyne—he bashes Bush a little here, spreads some love on Gore there—but when he finishes, he is mobbed by delegates. Henry Cisneros, who had preceded Harold at the podium, did not get half the reception.
Harold was born for retail politics. He cut a political commercial for his dad, Rep. Harold Ford Sr., when he was 5. He skipped the first performance of our sixth-grade play (Macbeth) to campaign. His wrists are muscled from handshaking. When the delegates descend on him, he glows. He knows which women to hug (anyone over 40) and which to shake hands with. He has Clintonian body language: He grasps the elbow with his left hand as he shakes with his right. Then he pulls the delegate close and whispers conspiratorially in his ear. He solicits business cards like he is starting a collection.
He poses for 70 pictures and never fails to smile. When one woman snaps him as he is looking away, he notices even though she doesn't. "Take another one, sweetheart, I wasn't smiling for that one." She loves it. When older men stare at him solemnly and say things like, "You are an inspirational young man," he lowers his eyes modestly and calls them "sir." When older women say, "I love you"—and they do—he answers with a kiss. Texas Democratic Party Chair Molly Beth Malcolm pulls me aside and says, "In 12 years, this convention is going to be for him."
The waiters clear the tables; Harold is still gripping and grinning. The doors of the hall are shut; Harold is still listening thoughtfully to a bearded man who runs leadership training programs in Texas. Half an hour after his five-minute speech, he is still pumping hands. "It's impossible to get him out of a room," says his press secretary, Jodi Bennett.
Finally Harold and Jodi hop in the limo to ride back downtown. Harold immediately starts juggling two fiendishly small Motorola cell phones while he sends instant messages on a RIM device. (Pause for a digression about convention accessories. Convention-goers signal their importance with the snazziness of their accessories. The hippest carry RIM devices. You're nothing without an anorexic cell phone and a pager of infinitesimal smallness. Some even accessorize their plastic credential sleeve. I met a guy last night who bought his at Gucci for $100. For women, the hot accessory is Karenna Hair. The convention is overwhelmed with young blondes and bottle-blondes wearing their hair long, straight, flipped out at the bottom, and parted casually on the left.)
In the car, Harold gives an intimate interview to a hometown reporter, salting it with juicy off-the-record gossip. He analyzes the logistics of the Staples Center podium. (The backdrop magnifies audience chatter, he says, making it sound to speakers as if delegates aren't paying any attention.) He coolly dissects yesterday's Clinton-Gore handoff event in Michigan. He asks Bennett to obtain a tape of his keynote speech. President Clinton, he says, watches his own speeches on tape to polish his performance. Harold wants to do the same.
And he is unapologetically delighted about his moment. "To be recognized as a leader of the party is a huge responsibility. But I am reveling in it and loving it. It is what I have wanted to do since I was 9 years old." He learns that President Clinton tried to call him after his speech last night but somehow only reached the sister of his former chief of staff. Harold calls back Betty Currie and leaves a message. He tells a friend delightedly that the Gore campaign wants him to sit in the box with Karenna during the vice president's acceptance speech. He leafs through USA Today and exults when he finds his picture and the story about his speech: " 'The choice of Ford served both to counter Republican claims that the GOP is the party of diversity and to woo moderate voters with his own centrist record,' " he reads. "I could not have written it any better!"
As I listen and watch him, it occurs to me that Gore and the party leadership are interested in Harold for the wrong reasons. They like him because he is young, black, moderate, telegenic, and smart. And all of these are indeed good for the party. But Harold's real importance may be something else.
The Democratic Party is suffering from a pleasure deficit. Since 1992, the Democrats have been dominated by a politician who adores politics, and the party has thrived because of it. On Monday night Democrats said farewell to President Clinton and handed the party off to Gore, Lieberman, Hillary Clinton, Tom Daschle, and Dick Gephardt. The Democratic leaders showcased in Los Angeles may well be the most earnest, most public-policy-oriented, most intelligent group of politicians ever to head a major party. They are intellectually impressive, and they have the best intentions. But they don't really like their jobs. They are skeptical of politicking, or bad at it, or both. Gore, ever obedient, has learned to pretend to love campaigning, but it will never be a natural act for him. Say this for George W. Bush: He loves to shake hands.
On paper, Harold's brashness is arrogant. But in the flesh, it is joyful. Americans distrust politicians, and politicians have replied by hating themselves. They are ashamed of their work, they vow to term-limit themselves, they attack their own tactics, they believe themselves practitioners of a dirty profession. But Harold has no such pretense. He is entirely uncynical about his job. He likes being a politician and, more important, he is very good at it. That delight in tactics and glad-handing is a tonic for these dutiful Democrats.
Harold and I go to lunch at Spago. He is rolling through an excited critique of Gore's fund-raising strategies when two men interrupt us. They are Illinois state legislators. They hand Harold their cards and gush about his speech. "We really need your help," one says. "We really hope you can come on up to John Porter's district and campaign for us." Harold grins and says he'd like nothing better.
Photograph of Harold Ford Jr. by Roberto Schmidt/AFP.
---