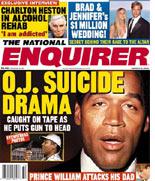 The last few weeks' worth of tabloids have provided Keeping Tabs with a wealth of useful information. First there was the scintillating revelation that Sylvester Stallone's mother's dogs are psychic. Then came Marlee Matlin's noodle kugel recipe. Then Keeping Tabs discovered, contrary to everything she learned in middle school, that the word "suicide" can be used as an adjective, as in the Globe headlines "Forgiven! Jim Carrey's Galpal Now Close With Suicide Fiance's Mom" (translation: The mother of Renée Zellweger's ex-boyfriend, who killed himself, bears the actress no ill will), and "Badboy Rapper Splits With Suicide Wife" (translation: The marriage of Eminem and his wife, Kim, who recently attempted suicide, is over). The most important thing that Keeping Tabs has learned, however, is that nothing is quite as amusing—or satisfying—as when the tabloids are flat-out wrong.
And it's been a banner few weeks for tabloid faux pas. The Globe confidently reported just two weeks ago ("Home Alone Kid Is a Family Man") that Macaulay Culkin and his wife, Rachel Miner, were busily planning an addition to their young family and working on a nursery. "It's definitely time," a "close friend of Rachel's father" told the Globe. "I wouldn't be surprised if, in the next few weeks, we learn Rachel's pregnant." Culkin was said to be telling friends that he felt he could "do it right. Children need a family, and Rachel and I will be great parents." The Star followed suit, reporting in last week's issue that "pals expect good news very soon." Time for those "close friends" to re-evaluate just where they stand: The New York Post reported that the pair had separated last Saturday, a fact that was confirmed by Culkin's spokesman two days later.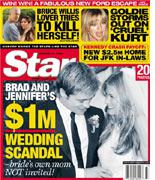 Meanwhile, the Aug. 1 Star reported that Jennifer Aniston's "bitter battle with her mom" was keeping Aniston and her fiance, Brad Pitt, from moving forward with their plans to get married; Pitt reportedly was urging his fiancee to "bury the hatchet," while Aniston was dead set against it. "It's something they'll have to settle before they can name a date," the pal explained. "That's where they're at right now as far as any wedding is concerned. … I don't know what will eventually happen, but I know this is causing major problems with any wedding plans." Pitt and Aniston apparently took a crash course on dispute resolution and wedding planning: The date they named—and the one on which they held an over-the-top Malibu affair that reportedly cost $1 million—was July 29, right when that issue of the Star was probably still lingering on many newsstands. Even the next week's Star apparently closed too early to include word of the Saturday evening affair; by that point, the Star was reporting only that Pitt's ex-fiancee Gwyneth Paltrow had given her "thumbs up" to the couple, which would allow them to "start concentrating on their wedding plans." "Pals" were "even speculating that [Pitt and Aniston] would make it official before the end of August."
Perhaps needless to say, the Pitt-Aniston nuptials provided a veritable cornucopia of priceless tabloid moments. The "Nice Try, Folks" photo prize goes to the Globe, which managed to take a widely circulated photo of the couple, turn Aniston's black formal dress white, and paste the two of them against an ocean background—just cleverly enough that unsuspecting readers might think it was actually a photo of the couple's seaside ceremony. The winner of the purple prose prize is—once again—the Globe, for its story suggesting that Pitt decided it was time to take the plunge after working with Julia Roberts on his latest film. "He couldn't help compare the demanding actress alongside him to the sweet and gentle creature back home," says an insider. "When he got home, he wrapped his arms around [Jennifer] and whispered, 'Oh my love, I've been missing you!' " Keeping Tabs was under the impression that people only spoke that way in Jane Austen novels, so it's especially nice to hear. Equally endearing was the Enquirer's version of Pitt's epiphany, in which he showed up at his intended's home one evening, took her hand, and channeled John Wayne: "I love you. I want to marry you. It's now or never, darlin'." (The best all-around tabloid line of late, however, might have been the Globe's explanation that newly single Bruce Willis has been "bopping from one Big Apple hot spot to another, sampling all the jalapeno-hot honeys swarming around him.")
While most tabloid slip-ups come to light only in hindsight, Keeping Tabs can say with virtually ironclad authority that the current tabs are awash in dubious assertions. How does she know? Well, the Globe and the Enquirer can't both be correct about the dissolution of the Dennis Quaid-Meg Ryan marriage. Either the Globe's source erred in asserting that "nobody but Meg knew the marriage was slipping beneath the waves" and that Quaid was "totally blindsided when she told him they should separate," or the Enquirer's confidante missed the boat in insisting that "one thing is for sure—Meg never expected Dennis to end it. The divorce papers came as a complete shock to her." In a similar vein, while Keeping Tabs is no doctor, she's going to go out on a limb and say that either Loretta Young has successfully beaten cancer and is "not ready for her final curtain call," as the Star has it, or she is, as the Globe says, "bravely facing the final curtain" as friends "pray for a miracle" over her cancer-ravaged body. (The Enquirer, for its part, splits the difference and says only that Young has diverticulitis.)
Finally, either the Star is wrong that Calista Flockhart is "very serious" about her "hot new love," Law & Order's Jesse L. Martin—and that she spent her free time this summer "purring" over him—or the Enquirer got it wrong that she is "madly in love with" and "absolutely nuts about" Garry Shandling. (The third option would be that Flockhart has some very serious issues on her plate, but that's a different story altogether.) Whoever Flockhart's paramour may be, Keeping Tabs hopes that the Enquirer's source is correct that the waifish actress is "a completely different person when she's got a man in her life. She laughs a lot, she's always clowning around—and she eats!" Because there's certainly nothing wrong with that. 
---