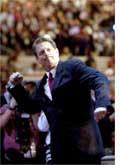 Al Gore stressed economic populism in his acceptance speech. He criticized George W. Bush's tax cuts and allied himself with working families. He also laundry-listed policy proposals and spun his serious demeanor as an asset in the White House. Pre-speech media spin: Voters are sick of rhetoric, and they want specifics, which is the one thing Bush failed to deliver at his convention. Gore's spin: OK, here's a bunch of specifics. Post-speech media spin: Nu, where's the rhetoric? (For Ballot Box's "Instant Analysis" of the speech, click here. For Slate's complete coverage of the convention, click here.)
The NFL fined linebacker Ray Lewis $250,000 for obstructing a murder investigation. The Baltimore Ravens' All-Pro is on a 12-month probation for lying to police after a murder at a Super Bowl party. The fine, believed to be the NFL's largest ever, nearly equals Lewis' salary for a single game. Critics' spin: He didn't even get suspended. This is just another lawbreaking jock getting a slap on the wrist. NFL's spin: Lewis was not involved in the murder, and he will be fined again if he violates parole. (To read "Sports Nut" on why coaches should tolerate problem players, click here and here.)
John McCain has skin cancer. Doctors found malignant melanoma on his left temple and arm. The senator, who was successfully treated for the same disease in 1993, canceled much of his campaign schedule and will begin treatment Saturday. The disease is highly curable if caught early. George W. Bush and Al Gore's spin: McCain is a fighter and survivor.
The British government may allow human cloning for medical research. A government-sponsored commission recommended limited human cloning for stem-cell research, which has the potential to cure diseases such as Alzheimer's and Parkinson's. The government will urge Parliament to pass the world's first-ever partial legalization of human cloning this fall. Researchers' spin: This is just for research, not treatment. Pro-lifers' spin: Killing babies isn't enough; now they want to clone them for slaughter.
Sailors trapped in a stranded Russian submarine may be dead. The Russian navy has tried and failed at least five times to rescue 118 survivors aboard a sunken submarine in the Barents Sea. After initially refusing help, the Russians accepted assistance form Britain and Norway. Officers estimate that only a few days of oxygen remain. Russian military's spin: The situation is "critical." International spin: Not so "critical" that Russia didn't take several days to ask for help.
British Airways grounded its Concorde fleet. The suspension of supersonic flights followed the recommendation of a safety commission. Several days ago, investigators speculated that a piece of metal on the runway may have caused the July 25 Paris Concorde crash, which killed 113 people. The metal may have burst one of the plane's tires, causing chunks of tire to puncture a fuel tank, leading to the fire. Air France has grounded its Concorde fleet since the crash.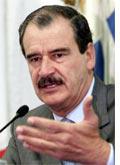 Mexico's president-elect proposed a North American "common market." Vicente Fox said that the North American Free Trade agreement should be expanded into a European Union-style partnership. He also pressed for the United States to open its borders to Mexican workers. Fox, who will become Mexico's first opposition-party president since the revolution, will visit the United States next month. Fox's spin: We can't solve the immigration problem until we solve the economic problem.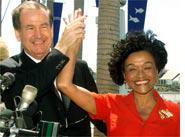 Pat Buchanan's running mate, Ezola Foster, is a member of the John Birch Society. Buchanan said that he does not mind her association with the conspiracy-obsessed group. The revelation comes days after an anti-Pat Buchanan faction walked out of the party's national convention. The "old guard" forces under John Hagelin, a former Natural Law Party candidate, filed a complaint with the Federal Election Commission alleging that Buchanan broke party rules to win the nomination. The FEC must decide whether Buchanan or Hagelin gets the party's $12.6 million in federal campaign money. Pundits' spin: First Perot retires, then Gov. Jesse Ventura splits, then Hagelin walks out, and then Buchanan names a black Birch Society member as a running mate. It's all good fun, especially since the party has no chance of winning.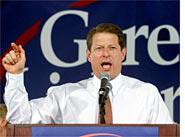 Rep. Loretta Sanchez moved a voter-registration fund-raiser from the Playboy Mansion. Al Gore had threatened to revoke her Democratic National Convention speaking slot if she did not change the event's venue. Hugh Hefner held a party anyway. Pundits' spin: Now that Gore has the upright Joe Lieberman on the ticket, he's getting uptight about ethics. Republicans' spin: Since Gore and the Democrats have taken more than $100,000 from Hefner and his daughter since 1992, Gore should visit the Playboy Mansion, not feign outrage. Reporters' spin: We don't condone smut. We're just here to cover a sto—was that a real bunny? (Slate's David Plotz wrote about the Sanchez fund-raiser in his " Assessment" of Hefner; for links to Slate's coverage of the Democratic convention, click here.)
President Clinton asked voters not to visit his personal sins on Al Gore. During a public Q & A at a church, Clinton said, "Surely, no fair-minded person would blame [Gore] for the mistakes I've made." He added that he has been "trying to totally rebuild [his] life" since the Lewinsky scandal and that if he "hadn't been knocked down in the way [he] was and forced to come to grips with what [he] had done," he never would have confronted his sexual weaknesses. He credited pastoral counseling with restoring his inner peace. Gore aides' off-the-record spin: Hey, Bill, mind repeating those remarks at the Democratic National Convention?
---