A federal judge ordered Wen Ho Lee released on bail. The former Los Alamos National Laboratory employee must post $1 million to be transferred from near-solitary confinement to home arrest. Lee, who was arrested in December on charges of illegally downloading nuclear secrets, was initially denied bail after the federal government argued that he posed a threat to national security. Lee's spin: I'm not a spy, and I've been targeted because I'm Asian-American. Analysts' spin: The government's case is falling apart.
American diabetes rates jumped by one-third in the 1990s. The blood-sugar disease—a leading cause of blindness, kidney failure, limb amputations, and heart attacks— increased 40 percent among fortysomethings and 70 percent among thirtysomethings. It kills about 180,000 people a year. Physicians' spin: In the same time period, the number of overweight Americans rose from one in eight to one in five. That's no coincidence. Diet and exercise, people!
The government report on TWA Flight 800 faulted Boeing's 747 design. The National Transportation Safety Board accused the company of placing air-conditioning units too close to fuel tanks, which in turn produced dangerous gas vapors. Earlier in the week, the NTSB said the most likely cause of the 1996 explosion off Long Island, N.Y.—which killed all 230 aboard—was an electrical short near a fuel tank. The criminal phase of the inquiry, which turned up nothing, ended in 1997. The $35 million investigation was the most expensive in history. Media's spin: This ought to silence the missile-theory zealots. NTSB's spin: Conspiracy nuts are amateurs who torture the victims' families. NTSB skeptics' spin: We're not zealots or nuts, we just want the public to consider the contrary evidence.
The United States will assist in the Gulf Air crash investigation. The NTSB will assist the Bahrain government in the inquiry. The U.S. Navy retrieved the plane's voice and cockpit-data recorders. The U.S. State Department is searching for classified documents carried by a courier who died in the crash. The Cairo-bound Airbus A320 went down in the sea after taking off from Bahrain, killing all 143 aboard. Gulf Air is owned by several Persian Gulf countries. (To read an "Explainer" on the success of commercial-jet water landings, click here.)
Survivor scored the second-highest rating of the TV season. CBS's "reality TV" show about castaways voting each other off an island ended with a business consultant, Richard Hatch, winning the $1 million prize. Fifty-one million viewers tuned in to the finale, making it the most popular TV show this year other than the Super Bowl. TV executives' spin: We never knew you could have popular shows in the summer. TV analysts' spins: 1) The popularity of reality TV may doom the sitcom. 2) Nonsense. Survivor was popular for its novelty, nothing more. Viewers' spins: 1) The show proves that Machiavellian tactics always work. 2) Richard Hatch's backstabbing would never work in the business world. Contestants' spin: Let's enjoy our 15 minutes. (To read Slate's "Culturebox" on Survivor's lessons for Bush and Gore, click here; to read "Moneybox" on why the business consultant won, click here.)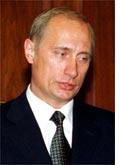 Vladimir Putin's slow response to Russia's submarine disaster came under fire. After days of delays, divers found the sub, which carried 118 sailors, completely flooded. Initially, Russia had refused help from other countries while trying unsuccessfully to rescue the sailors, and President Putin had remained on vacation. Putin has publicly apologized for not doing more. Russian press spin: Our government has lost its honor. Putin is a coward. Foreign press spin: He's an old-style, callous Soviet thug. Sunny counterspin: Maybe this military disaster and public outrage will force Russia to abandon its imperial pretensions and force Putin to behave more like an American president Counterspin: Do we really want Putin to milk national disasters like Clinton? (For more reactions, see Slate's "Foreigners" and "International Papers.")
President Clinton will allow some federally funded embryo research. The National Institutes of Health guidelines require that only embryos intended for disposal (such as those at a fertility clinic) may be used and that no payment be made to the original donors. Moreover, any embryonic stem cells used by federal researchers must be harvested by privately funded doctors. Stem cells have the potential to cure diseases such as Alzheimer's and Parkinson's. Pro-life spin: So, federal scientists can use mutilated embryos as long as private doctors do the killing? Slick Jesuitical reasoning doesn't justify immorality. This is another reason to elect George W. Bush.
There will be no special counsel to investigate Al Gore's fund-raising testimony. Attorney General Janet Reno refused to appoint a prosecutor to look into Gore's testimony about 1996 events for campaign donors, which included White House coffees and a ceremony at a Buddhist temple. One of Reno's advisers had requested the appointment after interviewing Gore in April. Democrats' spin: The public is tired of special counsels and doesn't care about 1996 fund raising. Republicans' spin: This is another example of Reno putting the administration's interest above justice.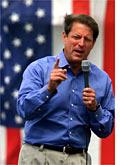 Al Gore has erased George W. Bush's lead. Several polls (click here, here, and here) taken after the Democratic convention show the two presidential candidates in a dead heat. Bush's spin: I need to do a better job explaining my tax cut. Media's spin: Maybe Gore isn't so stiff after all. Come to think of it, he's rather charming. Skeptics' spin: It's not even Labor Day. Besides, the election isn't decided by a national vote, it's decided state by state.
The Philippines dropped charges against the "love bug" suspect. The government did not pass anti-hacking laws until after the 24-year-old college dropout apparently released the May computer virus, which caused billions of dollars in damage around the world. There was insufficient evidence to convict him of violating laws against theft and credit-card fraud. Globalists' spin: This proves that we need an international justice system for high-tech crimes. Anti-globalists' spin: Yeah, and it'll be about as effective as the United Nations.
---