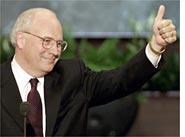 Dick Cheney ripped Al Gore in his GOP convention speech. Cheney punctured the feel-good tone of the convention by portraying Gore as a corrupt clone of President Clinton. Colin Powell opened the convention Monday by encouraging Republicans to reach out to minorities. George W. Bush was to speak Thursday evening. Cheney's spin: "It is time for them to go." Gore's spin: Those are mean, partisan words. GOP's rebuttal: They're the same mean, partisan words Gore used against Bush's dad in 1992. (For a guide to all Slate's convention coverage, click here.)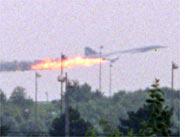 Air France may have failed to replace a part implicated in the Concorde crash. Investigators suspect that a piece of landing gear punctured a gas tank when a tire exploded on the runway, USA Today reported. After a similar incident in 1993, British Airways modified the landing gear on its Concordes, while Air France did not. Air France has grounded its Concorde fleet since the July 25 crash, which killed 113. The supersonic flight costs about $10,000 and halves travel time across the Atlantic. Industry spin: This is the first Concorde crash in 25 years; it's still a safe plane. Media analysts' spin: Crash stories are especially interesting when they produce photos like this.
Israel's foreign minister quit, further endangering the government of Prime Minister Ehud Barak. David Levy accused Barak of making too many concessions for peace. Israel's parliament passed a preliminary no-confidence vote, although Barak has a parliamentary recess to shore up support. Days earlier, Barak survived two no-confidence votes, and his candidate for president—former Prime Minister Shimon Peres— lost to a conservative candidate. The setbacks come a week after the meltdown of the Camp David peace talks. Despite President Clinton's last-minute attempt to negotiate an agreement, Israel and the Palestinians failed to resolve issues such as borders, refugees, and the status of Jerusalem. Clinton's spin: Yasser Arafat and Ehud Barak have pledged to continue informal negotiations this summer. Analysts' spin: That is, if Barak is still in power. If peace doesn't come this summer, it might never come; once Arafat declares Palestinian independence on Sept. 13, there will be no turning back.
Gerald Ford suffered two strokes. The former president had slurred speech and balance problems during the Republican convention, at which he was honored with a video tribute. Doctors said he had suffered a stroke earlier in the week and another small stroke Wednesday morning.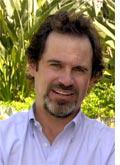 Dennis Miller's Monday Night Football debut received mixed reviews. The comedian's jokes (about genitals and the pope) and his frankness—"I can't tell you how lost I am"—drew varying reactions. Anti-Miller spin: This is a far cry from the days of Howard Cosell. Pro-Miller spin: That's the point. Miller has potential, and at least there's now a reason to watch the game.
The Postal Service will offer a free e-mail address to every U.S. residence. The service will forward messages sent to a person's "Post Office" account to that person's private e-mail account. The Postal Service will also create a national registry of e-mail addresses paired to snail-mail addresses. Marketers' spin: This will help us turn mass-mail into mass e-mail. Webheads' spin: This is a spam database. Privacy advocates' spin: This is a Big Brother database. Financial analysts' spin: The Postal Service will try to make money from e-mail accessories to make up for declining snail-mail volume.
A federal appeals court granted Napster a last-minute reprieve. Two days after a district court ordered that the site be shut down, the 9th Circuit Court of Appeals stayed the injunction. It will rule on the appeal this fall. District court's spin: Napster enables copyright infringement. Napster's spin: We enable users to make legal copies for personal use. Record labels will suffer for shutting us down. Legal analysts' spin: Napster is the tip of the iceberg. Other, more legally savvy sites will replace it. Napster users' spin: Download now, before it's too late! (To read Slate's "Moneybox" on the true scourge of sites like Napster, click here; read this " Earthling" on why copyright law should be scrapped.)
The West Nile virus appeared in Massachusetts. The African virus, which killed seven and sickened dozens of Americans last year, has also been identified in New York, New Jersey, and Connecticut. Last week New York City temporarily shut down Central Park to spray for West Nile-infected mosquitoes. Epidemiologists' spin: Exotic infectious diseases may become the United States'$2 21st-century scourge.
The White House and online advertisers agreed to privacy regulations. The Federal Trade Commission and the Commerce Department struck a deal with a group representing 90 percent of online ad companies. The voluntary restrictions on the use of consumer demographic data aim to avoid legislation. Consumer advocates' spin: This agreement is weak. White House's spin: Self-regulation will cover more of the industry than Congress has jurisdiction over.
Viruses may contribute to obesity. Mice and chickens injected with a human cold virus accumulated far more fat than uninfected mice did. The same virus is prevalent among obese humans. Circumspect spin: Obesity is caused by many factors, only one of which may be viruses. Speculative spin: Viruses may cause far more human maladies than we suspect.
---