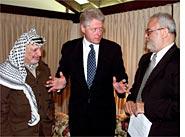 The Camp David talks died and were born again. After nine days of mediation, President Clinton pronounced the Israeli-Palestinian talks dead and left for an economic summit in Japan. Rather than go home empty-handed, Yasser Arafat and Ehud Barak resumed negotiating under the auspices of Secretary of State Madeleine Albright. Clinton plans to return Sunday. Optimistic spin: Arafat and Barak fear war more than they fear compromising on Jerusalem. Clinton's brinkmanship worked. Pessimistic spin: Clinton wants Jerusalem left off the table, but Barak will lose power if he cedes the West Bank without securing Jerusalem.
The West Wingand The Sopranos led the Emmy-award nominations. NBC's first-year show about the White House and HBO's second-year series about the mob received 18 nominations apiece, including Best Drama. West Wing's Martin Sheen and Stockard Channing received acting nods, as did The Sopranos' Edie Falco and James Gandolfini. NBC's Will & Grace dominated comedy with 11 nominations, including one for each of the four principal actors. Surprises: Fox's 6-year-old MadTV received as many nominations as did NBC's venerable Saturday Night Live. Ally McBeal, last year's comedy winner, received no nominations. ABC will broadcast the Sept. 10 ceremony. (To read Judith Shulevitz and Jeffrey Goldberg on The Sopranos' second season, click here; to read Evan Smith on why The Sopranos is better than The West Wing, click here; to read a "Dialogue" on whether television or the movies is better written, click here.)
Congress passed bills to repeal the "marriage penalty" and "death tax." President Clinton promised a veto of the marriage-penalty bill, and the GOP promised an election issue. The bill would eliminate a provision that taxes two-income couples more than if they were single. It also would cut taxes on married couples across the board. The estate tax bill would eliminate, over 10 years, a provision that taxes inheritances but exempts the first $675,000. Democrats' spin: Both bills fatten the rich.  Republicans' spin: Penalizing marriage and robbing the dead are unfair, especially with record tax revenues rolling in. Public's spin: We've got a surplus, why not cut taxes? President Clinton's spin: Can we cut a deal? (To read Slate's Michael Kinsley on specious conservative arguments against the estate tax, click here; to read a "Dialogue" on the estate tax with former Sen. Bob Packwood, click here; to read why the marriage penalty is largely a myth, click here.)
The Congressional Budget Office doubled its surplus projections. The CBO predicted a $2.1 trillion surplus over 10 years, more than double April's estimate of $893 billion. GOP's spin: So, our estate-tax cuts and marriage-tax cuts (totaling $350 billion over 10 years) aren't so foolhardy after all. Democrats' spin: They may not break the budget, but they reward only the rich. George W. Bush's spin: So, my "risky" plan for income-tax cuts wouldn't be so risky after all. Al Gore's spin: We need to pay down the debt instead.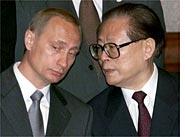 Vladimir Putin and Jiang Zemin teamed up to denounce the United States. At a summit, the two leaders vowed to elevate Sino-Russian relations, criticized U.S. "hegemonism," and warned that American implementation of a missile shield would have "the most grave adverse consequences." The New York Times said Putin is trying to build "a Chinese-Russian axis to counter American influence." Geostrategists' spin: China and Russia are slowly undoing Nixon's triangulation strategy. Globalists' spin: Saber rattling is an obsolescent way of projecting power. China would never give up its economic ties with the United States.
A jury ordered the tobacco industry to pay $145 billion to 500,000 smokers. The punitive damages levied against five cigarette companies are nearly 30 times as large as the previous record for punitive damages. Cigarette companies' spin: We will appeal. This award would bankrupt us. Plaintiffs' spin: Nonsense. With a payment plan, the industry can afford it. Analysts' mainstream spin: Whatever the final damages amount to, a psychological and legal barrier has been broken. Analysts' contrarian spin: Despite the award, legal prospects for the industry are rosier than they've been in nearly 10 years.
A book says Hillary Clinton made an anti-Semitic remark in 1974.State of the Union: Inside the Complex Marriage of Bill and Hillary Clinton, written by a National Enquirer reporter, has several eyewitness accounts of Clinton calling her husband's then-campaign manager a "fucking Jewish bastard." Hillary Clinton says "it never happened." She released a 1997 letter in which the chief accuser apologizes for having said bad things about her "without factual foundation." President Clinton's spin: They're smearing my wife and trying to scuttle the Camp David peace talks. Pro-Hillary spin: Enquirer writers are hacks, not journalists. She should sue for libel. Media critics' spin: Twenty-six-year-old rumors about a Senate candidate on the front page? Either it's a slow news week or the media has hit a new low.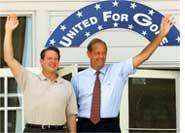 Bill Bradley endorsed Al Gore. Bradley's spoken spin: " Winning is a team sport!" Bradley's unspoken spin: The enemy of my enemy is my friend. (Even if he is a liar and negative campaigner.) Gore's spoken spin: I will " carry the [Bradley] banner high." Gore's unspoken spin: I, not Ralph Nader, am the heir to Bradley's cerebral politics and maverick style.
Teen pregnancy declined nearly 8 percent nationally from 1995 to 1997. Reported pregnancies fell from 9.8 percent to 9.1 percent among 15- to 19-year-olds, the government reported. The drops continue a downward trend begun in 1991. Abortions declined by nearly as much. Analysts' spins: 1) Education has increased condom use. 2) Female contraception has become more convenient. 3) Teen-age girls are having less sex.
A twin study suggests that environmental factors account for two-thirds of cancers. The study examined the medical records of 44,788 pairs of identical and fraternal Scandinavian twins. On average, environmental differences accounted for 65 percent of cancers. Prostate cancer (42 percent heritable) is the least susceptible to the environment, followed by colon (35 percent) and breast (27 percent). Researchers' spins: Just because we've mapped the genome doesn't mean it's important. Moreover, a genetic susceptibility to cancer hardly ever derives from just one gene. Geneticists' retort: Every cancer is a genetic mutation of some sort, whether inherited or triggered by the environment.  New England Journal of Medicine's spins: 1) Identifying the genetic susceptibility to a cancer may suggest its environmental trigger, and vice versa. 2) When a nature-plus-nurture cancer risk is greater than the sum of its parts, removing either component dramatically reduces risk. 3) Environmental factors are not always preventable, and genetic factors are not always unpreventable. We should address both.
DNA tests implicate the death-row inmate reprieved by George W. Bush. Lab results link Ricky McGinn to a pubic hair found on the body of his 12-year-old stepdaughter. McGinn, who was convicted of the slaying in 1995, was the first death-row prisoner to receive a stay from Bush, who has presided over 136 executions. Civil libertarians' spin: DNA tests are the best of both worlds—they exonerate the wrongly accused and debunk appeals by the guilty. Death-penalty opponents' spin: But appeals by the guilty are the last barrier to state-sanctioned murder. Prosecutors' spin: If convicts agree to the tests, they have to live (and die) with the results. (To read Slate's "Frame Games" on the media's role in Bush's death-penalty "controversies," click here and here.)
Acommon spermicide does not decrease the risk of HIV infection. A study of sex workers in Africa and Asia found that the vaginal detergent nonoxynol-9 actually increased the transmission of HIV, possibly by causing genital ulcers. Glass-half-full spin: Less frequent use among non-sex workers probably does not increase HIV risk. Half-glass-empty spin: That's great for the First World, but in the Third World HIV is spread primarily by prostitutes, and there's still no effective microbicide for them to use.
Scholastic will print 2 million more copies of Harry Potter. The Saturday release of Harry Potter and the Goblet of Fire (you can buy it here), which had an initial American press run of 3.8 million copies, led to Barnes & Noble's biggest weekend ever. Author J.K. Rowling, who wrote the first volume while on welfare, has sold 21 million books and has become the third-richest person in Britain. Pro-Potter spin: It feeds your inner child. Backlash: Potter is derivative and unimaginative; it appeals to "reader non-readers" (Harold Bloom, the Wall Street Journal). Warner Bros.' spin: Just wait for the movie! (And action figures, and key rings …) Parents' spin: We may have to camp overnight at the bookstore, but at least our kids are reading again. (To read a Slate "Book Club" on The Goblet of Fire, click here; for one on the first three Potter books, click here.)
---